Bonhams Aston Martin Sale at Newport Pagnell - 22 May 2010 - Review
Jamie Knight sells 'VMF 65'
With the obligatory sensational 'barn find', a motorised child's DBR2 selling for £21,850 and two £475k+ sales, it was very much 'business as usual' at this year's Newport Pagnell sale.
Top-selling car, not surprisingly, was 'VMF 65', the ex-Works 1950 DB2, chassis LML/50/9, which sold strongly for £513,000. This was closely followed by DP2155, a quite superb DB4GT in all but name, developed by Works Service from a 1959 DB4.
The independent-suspension, 4.7-litre car was tested by Classic Driver last month and sold deservedly well for £485,500.
Of the DB5s, top price of £287,500 went to the perfectly restored Ogle interior car. At £194,000 (impressive silver/red 1964 example in original condition), £144,500 (part-restored 1964 car desperately in need of a less alarming paint scheme), £144,500 (pick of the bunch: an early 1963 DB5 with an honourable competition record in Club racing and sprinting) and £139,000 (a tired 'Bond clone' that has been in the market for a while), the other coupés generally sold on estimate. The 1965 DB5 Convertible sold for £359,000 – a lower-end-of-estimate price, but one that reflects the £100,000 – 200,000 restoration bill necessary to bring it up to scratch.
'VMF 65' The ex-Works, Eric Thompson, Rob Walker, George Abecassis, Major Tony Rolt, Stirling Moss, Peter Collins, 1950 Aston Martin DB2 Team Car CLML/50/9 - Sold for £513,000
Two 'barn finds' were catalogued, and while the saleroom murmured appreciation at the £84,000 achieved by the
1962 DB4 Series IV Vantage
requiring full restoration, it was held spellbound as determined bidding pushed the quite ordinary,
red 1968 DB6 Vantage
to a final price (with premium) of £124,700.
An extraordinary figure considering the £78,500 achieved by the also red, perfectly pleasant, running 1968 DB6 Vantage and the generally excellent, blue £80,700 1966 DB6.
As always, the annual Works Service sale is much more than an auction
Other cars sold of note included the immaculate
1974 Lagonda Series 1 7.0-litre Saloon
(£337,000), the
LHD 1962 DB4 Series IV Vantage
(£214,900) and the ex-1962/63 Targa Florio,
1954 DB2/4 3.0-litre Drophead Coupé
(£150,000). The latter requiring an awful lot of work to make it a respectable runner.
| | |
| --- | --- |
| 1960 Aston Martin DB4 Series II - Sold for £166,500 | 1995 Aston Martin Virage Volante 'Wide Body' Convertible - Sold for £32,200 |
| 1989 Aston Martin Lagonda Series 4 Saloon - Sold for £26,450 | 1962 Aston Martin DB4 Series IV Vantage - Sold for £214,900 |
Of the
80s V8s
, Lot 334 was a stunning,
AMOC Concours-winning 1984 Vantage
in Rolls-Royce Blue/Parchment and it sold way over estimate at £89,500, while of the two
Volantes
that sold, prices varied from £67,500 for the
green 1982 Vantage
to £106,000 for the red,
1989 Vantage 'Prince of Wales'
. Now if that had been green, blue or grey...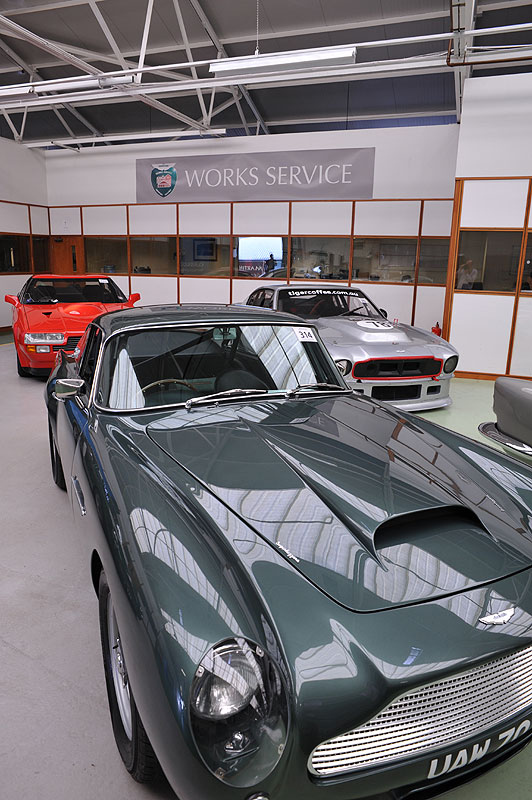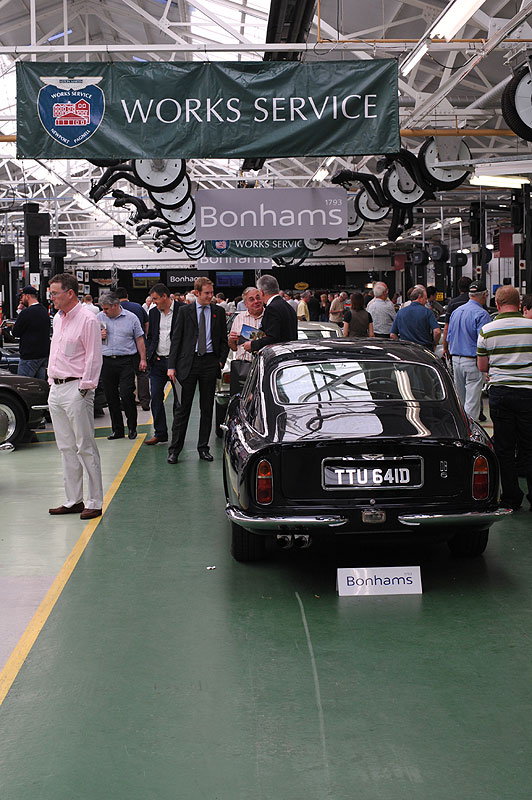 Virages always provide excellent value and, at Bonhams' 2010 Aston sale, buyers were able to join the 'hand-made at Newport Pagnell' set for a modest outlay. Just £12,650 bought a 1991 Virage Coupé, while if the Cornish Silver/Mushroom colour scheme of that car did not appeal, an ex-Rowan Atkinson, sober-suited (Cumberland Grey/Grey) 1990 Virage Coupé went for just a few pounds more: £18,400. Or you could have bought either of the convertibles - a 1993 Volante for £25,875, or the 1995 Volante 'Wide Body' for £32,200.
The Virage's later iteration, the supercharged V600, fared less well as none of the three cars entered found new owners. It was, however, nice to see the Gladiator Red 1987 V8 Vantage Zagato Coupé sell well (£128,000) against a pre-sale estimate of £80,000 – 100,000.
| | |
| --- | --- |
| 1954 Aston Martin DB2/4 3.0-Litre Drophead Coupé - Sold for £150,000 | 1974 Aston Martin Lagonda Series 1 7.0-Litre Saloon - Sold for £337,000 |
| 1968 Aston Martin DB6 Vantage Sports Saloon - Sold for £124,700 | 1959 Aston Martin DBR2 child's motorised car - Sold for £21,850 |
In addition to the superb, four-door 'V8 saloon-based'
Lagonda
, the sale included two proper 'wedges'. Both
Series 4
cars, the
1989
sold for £26,450 and the Litchfield Black
1990
(last off the production line, with just 3700 miles from new) went way over estimate at £84,000.
Before the motor cars, over 230 lots of automobilia were offered to an always-appreciative saleroom. The highlight of this section of the sale had to be £21,850 for the 1959 Aston Martin DBR2 child's motorised car, while copies of 'Racing with the David Brown Aston Martins' were as popular as ever.
You can see the complete results HERE.
Text - Steve Wakefield
Photos - Classic Driver
---
ClassicInside - The Classic Driver Newsletter
Free Subscription!