Bonhams all-Ferrari Sale at Gstaad 19 Dec 2003 - Preview
The title of Bonhams' final car sale of 2003 says it all; 'Exceptional Ferrari Motor Cars, Automobilia and Fine Wristwatches...' The fact that it is in the Swiss skiing resort of Gstaad is a bonus and if questioned 'Exactly how exceptional?' the Bonhams Europe team would no doubt answer 'Well, we have one of the original ex-N.A.R.T. 1972 365GTB/4 'Daytona' Grp IV Competiziones'
This car is the earliest member of a triumvirate of customer-racing GT cars with Le Mans history including a 1980 Ferrari 512BB LM Series II (ex-NART, Le Mans, Sebring) SFR580.000 - 600.000 and, right up to date, a 1999 Ferrari 550 Maranello GT (ex-Le Mans 2003) SFR400.000 - 450.000. The Daytona is estimated at SFR 2.000.000 - 2.500.000 which is serious money but there can be few cars with the brooding presence of a true competition Daytona with wide Campagnola rims, bonnet 'fence' spoilers, racing tyres and side exhausts. As a previous owner of the ex-Maranello Concessionaires Daytona once said to me many years ago "They're great cars – you really ought to get one". Second-placed GT at the 1972 24 Hours in classic North American Racing Team Rosso Corsa with broad Blue/White stripes, this particular car ticks all the emotional boxes; Le Mans history, ex N.A.R.T., FIA papers, eligible for the Tour Auto and Classic Le Mans – and you could drive it on the road. Utterly superb and highly desirable, they don't come better than this.
| | |
| --- | --- |
| Ferrari 512BB LM Series II (ex-NART, Le Mans, Sebring) | Ferrari 550 Maranello GT ex-Le Mans 2003 |
Of course a significant part of the Sale is the Lepeltier collection. Extensively
previewed in Classic Driver
some weeks ago, the story of Michel Lepeltier, the simple garagiste from Normandy who moved to Geneva in the early 60s and over 25 years built up a business that could finance the purchase of the fourteen Ferraris included in the Gstaad auction - before his tragic death in a car-hijacking in 1990 - is a fascinating one.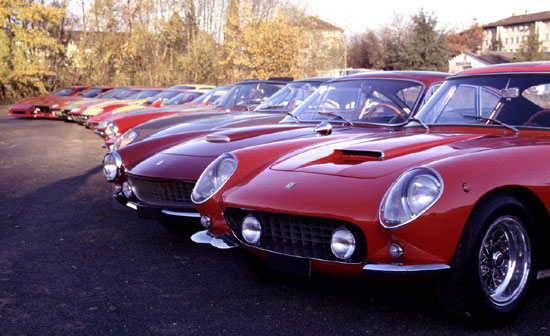 All the significant models of the era are included, from his first Ferrari, a 1963 250GT Lusso estimated at SFR220.000 - 280.000 to one many people consider the zenith of 1980s supercar excess, a 1989 F40 at SFR300.000 - 350.000. 275GTB? There's an Oro Metallizato 1965 2 cam at SFR230.000 - 280.000 and a gorgeous Argento Auteil 1967 275GTB/4 for SFR400.000 - 480.000. Two Dinos (one Yellow, one Red), two Daytonas (ditto, the Yellow car being the 1972 Geneva Motor Show car at SFR 130.000 - 160.000) a 1988 288 GTO and a 1965 275GTS, SFR180.000 - 220.000, a 365 Boxer as well as 512BB an extraordinary Verde Germoglio fibre-glass 308GTB (SFR 25.000 - 35.000) lead on to the collection's star lot – the 1960 Ferrari 250GT SWB steel street version with unique faired-headlamp treatment. Estimated at SFR1.100.000 - 1.300.000 the car, like all the Lepeltier collection, has been in storage since 1990, but started recently, and comes with quotes by a specialist garage on work necessary for full re-commissioning.


| | |
| --- | --- |
| Ferrari 250GT Lusso | Ferrari 365GTB/4 'Daytona' Plexi-glass |
| Ferrari 512BB | Ferrari 275GTB |
The rest of the sale includes a broad cross-section of sublime Ferrari models from the early 50s to 2000. The earliest models being a
1952 Ferrari 340 342 America Coupé by Pininfarina
at SFR500.000 - 600.000 and
1952 Ferrari 212 Barchetta by Allegretti
SFR320.000 - 360.000 while current models are represented in the form of a
2000 Ferrari 360 Modena Challenge
with just 250kms on the 'clock' at SFR150.000 - 170.000.
| | |
| --- | --- |
| 1952 Ferrari 340 342 America Coupé | 2000 Ferrari 360 Modena Challenge - a similar car |
The
1964 Ferrari 500 Superfast Speciale
, ex-Prince Bernhard of the Netherlands (SFR400.000 - 500.000) is worthy of special mention. One of the 37 500 Superfasts built (although unusually with a 330-based 4-litre motor at the Prince's request), it has no rear seats, air-conditioning or power-steering but does have an unusual 'bench' front seat arrangement. A truly bespoke car in a series that only the richest dynasties of the world could afford. There is also the prototype of one of the marque's most celebrated series the
1956 Ferrari 250GT Prototype 'Boano'
, at SFR220.000 - 250.000 FIA papered and ready to go on the Mille Miglia retrospective or any one of many worlwide racing events.
| | |
| --- | --- |
| 1964 Ferrari 500 Superfast Speciale | 1956 Ferrari 250GT Prototype 'Boano' |
The Motor-Car auction is preceded by an Automobilia sale that includes a 1994 Ferrari 4-litre F1 motor (SFR30.000 – 50.000 no reserve) and watches comprising collectable examples of Rolex, Patek Philippe, Blancpain, Heuer and many more.
The Sale is held at the Palace Hotel Gstaad, Friday 19th December. It starts with Automobilia at 15.30 than Watches at 17.00. The Motor-Car Sales commence at 18.00.
To view the complete lotlist please CLICK HERE .
To view the latest lots entered on the Classic Driver car database please CLICK HERE.
Bonhams Europe also conduct Private Treaty Sales please CLICK HERE for a current stock listing.
Text - Steve Wakefield. Photos - Bonhams.