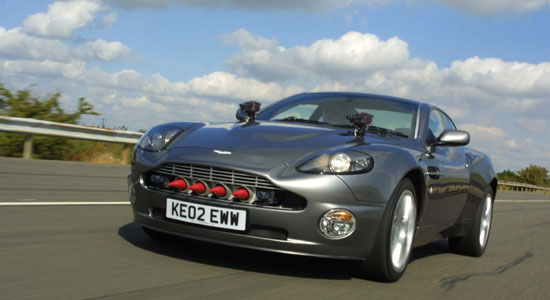 The Aston Martin Vanquish specially built for the latest Bond film: Die Another Day, has arrived at the Heritage Motor Centre in Warwickshire and will be on show next to the Jaguar XJR Bond, until the New Year. This Aston Martin was driven by Pierce Brosnan in Bond's quest to destroy the enemy. In a spectacular opening sequence of the film, the car features in a dramatic chase on a frozen lake
Aston Martin engineers helped create the special effects Vanquish, equipped with various gadgets; a pair of machine guns that appear through the bonnet vents; five heat-seeking missiles and a brace of shotguns that operate from the front radiator grille. The car had an eight-cylinder engine retrospectively fitted and is equipped with a special gearbox that allows the car to travel up to 90 mph in reverse. The car also has four-wheel drive.
See the car up close with all its gadgets and gizmos, in the main exhibition hall as well as the Driven by Design exhibition, which charts the design of iconic cars over the last century. All at the Heritage Motor Centre, which is open every day except 24, 25, & 26 December, from 10 am to 5 pm.
Entry fees to the museum are: adults £8, concessions £7, children aged 5-16 years £6 – under 5 years FREE, family ticket £25 (2 adults & 3 children).

www.heritage-motor-centre.co.uk

Telephone enquiries: 01926 641188