Boeing 787 Dreamliner Business-Jet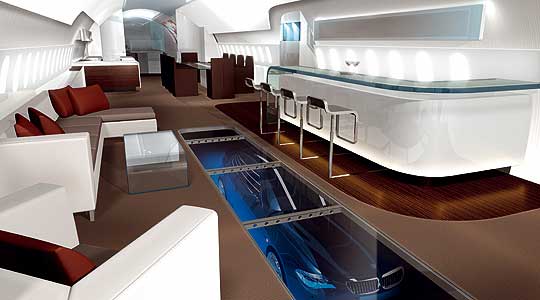 This jaw-dropping interior design for a Boeing 787 Dreamliner is still a fiction in the mind of the design team – for now. Created by BMW Group DesignworksUSA to a brief from Boeing Business Jets, the concept captures the ultimate level of luxury and exclusivity in long-range aircraft.
Designed to accommodate approximately 19 passengers, the concept is a three-dimensional mobile working and living space. It doesn't only provide an office, with state-of-the-art communication technology, but also incorporates a superlative leisure environment for the international business traveller.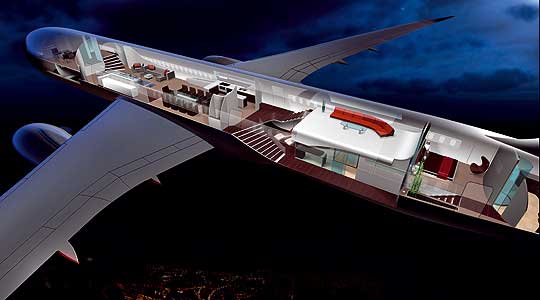 From the desk, the traveller can see through electrochromatic glass into a main lounge with a cocktail bar in the foreground. There is also a fully-equipped gourmet kitchen, a large-screen theatre and an elegantly furnished master suite – plus two spacious guest suites. On the lower level of the passenger area are the fitness centre, sauna and wellness facilities.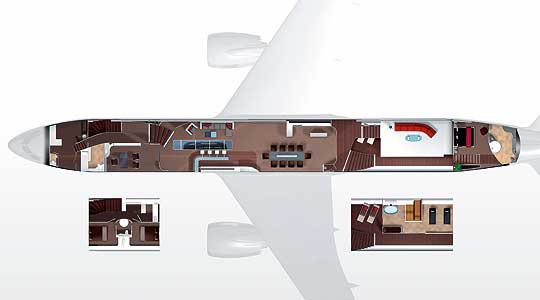 The designers have aimed for elegant and distinctive fittings throughout the interior, featuring bright, high-grade materials, state-of-the-art technology and architecturally sophisticated details.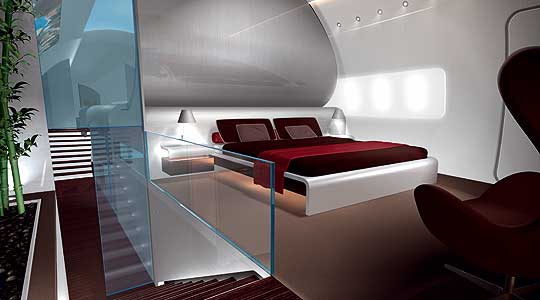 The lateral usage of space, combined with the multi-level design which includes part of the cargo hold, allows an open-spaced atmosphere so that even the longest flight becomes a pleasant experience. There is, for example, a glass floor giving a view down onto the vehicles parked in the cargo hold below… so the traveller knows that wherever the Boeing 787 lands for a stopover, there is immediate road transport available.

For further information please visit www.designworksusa.com

Text: Classic Driver
Photos: DesignworksUSA / Boeing

---
ClassicInside - The Classic Driver Newsletter
Free Subscription!