BMW Vision EfficientDynamics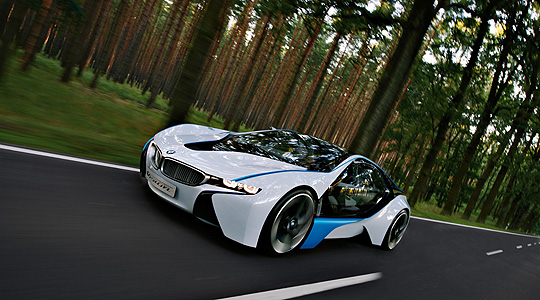 It's the new holy grail: high-performance motoring with supermini economy. BMW's answer is 'Vision EfficientDynamics', to appear at the forthcoming Frankfurt motor show.
I just wish BMW would give us the facts without copious adjectives and made-up words. When you've trawled through 19 pages of hyperbolic 'media information', you learn that the Vision EfficentDynamics is, in fact, a concept car. The fully hybrid 4wd sportscar is powered by a three-cylinder turbodiesel plus two electric motors, one on the front and one on the rear axle, combining to give a total output of 356HP plus 590lb ft of torque.
But the (deep breath) Vision EfficientDynamics is remarkable not just for the hybrid powertrain. It also uses lightweight construction– derived from F1 knowhow – and fuel-saving aerodynamics, resulting in a claim for the concept of 0-62mph in 4.8 seconds, fuel consumption in the region of 75mpg and CO2 of just 99g/km. Not bad. Stupendous, in fact.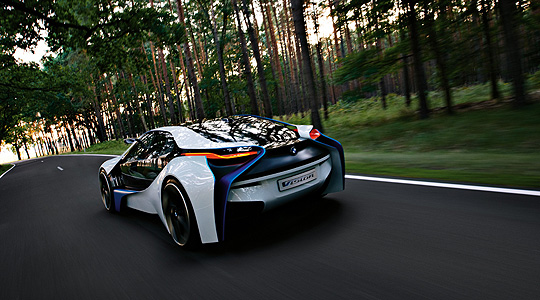 As you might expect from BMW, the manufacturer's Brake Energy Regeneration technology adds a lot to the eco credentials, and means the electric power can be generated without the slightest increase in fuel consumption. By storing the energy in 98 lithium polymer cells, the car is expected to cover more than 30 miles in electric mode alone. As well as being recharged by the braking, the batteries can be topped up by plugging the car into the mains.
As to the styling, the most immediately obvious detail is the polycarbonate glass of the roof and door inserts, which automatically darkens in bright light. The body line of the Vision EfficientDynamics (can't they call it something shorter; like the M3?) is low and sweeping, with access via gullwing doors. And, says BMW, the "Vision EfficientDynamics symbolises BMW's commitment to offer an unprecedented driving experience for up to four occupants". In other words, it's a 2+2.
The developments are highly impressive and will no doubt appear on BMWs in the not-too-distant future. If only they could describe these outstanding technologies without pages of corporate waffle.
Text:Charis Whitcombe
Photos: BMW

---
ClassicInside - The Classic Driver Newsletter
Free Subscription!