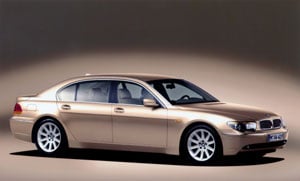 Following the launch of the new 735i and 745i in March 2002, BMW will add two long wheelbase models to the range, the 735Li and 745Li. Both models will arrive in the UK this May and will be priced at £55,800 for the 735Li and £60,000 for 745Li – a premium of £3050 over the standard cars.
Despite a small increase in weight (40 kg), both the long wheelbase models still achieve the same impressive acceleration figures as their shorter companions. 0-62mph for the 735i and 735Li is reached in 7.5 seconds and the 745i and 745Li take just 6.3 seconds.
In addition to the 7 Series' lengthy list of standard specifications, the 735Li and 745Li will also feature self-levelling suspension at the rear and an electric blind for the rear window – as well as the active anti-roll system fitted to the standard cars.
These new models will also feature the option of BMW's unique Concours service package launched with the new 7 Series as an option. A one off fee of £500 (a fraction of the retail cost) will cover service and maintenance by BMW technicians, including engine oil and filters, wiper blades, brake pads and discs, spark plugs, air filters, microfilter, brake fluid and coolant.
This entirely new package offers peace of mind free servicing and maintenance for five years or 75,000 miles. When the car is sold Concours passes to the new owner.
Photo and Text: BMW Press