21st Century Coupe
Text - Steve Wakefield
Photos - BMW
The first BMW Coupé to wear the 6 Series badge since 1989 and though it carries the heritage of its predecessor, the new model from the Bavarian manufacturer is very much a modern design using components from the recently announced 5 series. At its launch in the UK it will feature a 4.4-litre V8 motor and a choice of three different six-speed transmissions.
BMW claim the new car is 'a luxury Coupe for the 21st century'. With dimensions almost identical to the new 5 Series, itself not a familiar sight on roads outside Germany, it's clearly an alternative to the four door car, offering a similar specification but with a more stylish appearance – and no doubt a higher price.
The looks are from BMW's latest family of cars (which do not please everyone); from profile the car has an element of the 911 about it, while from ¾ rear it has similarities with any manner of coupes from less exalted marques. The classic 50:50 weight distribution is retained as is the front engine/rear drive layout giving the car the familiar BMW long muscular bonnet with low rounded roof effect.
Weighing just 1,600 kg, the new 6 Series uses a combination of aluminium, steel and synthetic materials, not only making a significant contribution to driving performance, but also giving an impressive fuel economy that is now becoming a watchword for the marque. This is achieved by the bonnet, doors and entire front body structure being made of aluminium, thermoplastic front wings, and a boot lid is made a material known to BMW as 'sheet moulding compound' or 'SMC'.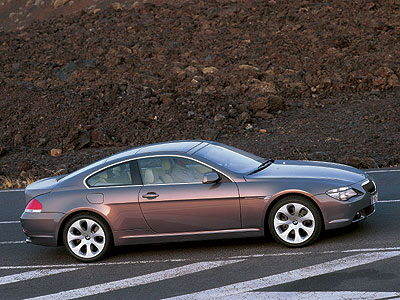 Stay informed! Subscribe here to our weekly newsletter.
2003 Driver aids
As you would expect, the car is a technological marvel and the usual-for-2003 BMW driver aids are all part of the package. Dynamic Stability Control (DSC) and Dynamic Traction Control (DTC) are standard across the range, while the highly rated variable steering ratio, seen in the new Five, is available as an option as is Dynamic Drive, which features step motors which build up counter forces on the car's anti-roll bars, improving ride comfort while cornering.
The option list continues with Active Cruise Control. More 'intelligent' than normal cruise control, it keeps the car at a pre-selected speed while monitoring traffic ahead to ensure a programmed distance is maintained. If a car pulls out in front, or lane speed suddenly slows, ACC automatically adjusts speed, braking if necessary. The system then accelerates again when a safe distance has been reached.
Adaptive Headlights improve visibility, allowing drivers to 'see' round corners. Swivelling by up to 15 degrees, the headlamps turn towards the direction the vehicle is steering rather than where it is pointing. This illuminates more of the road ahead, allowing earlier recognition of any obstacles or pedestrians.
Bringing aircraft technology to the 6 Series, BMW will debut Head-up Display (HUD) in March 2004. HUD projects a host of salient information directly onto the windscreen, including navigation directions, speed and the Active Cruise Control display.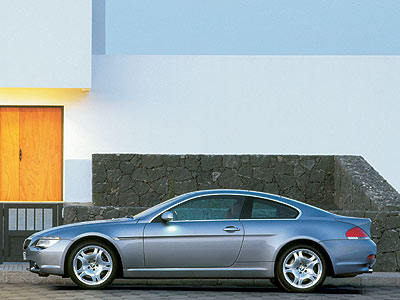 Two plus Two
Inside, the car benefits from the internal packaging improvements made to the Five. The new 6 Series features the largest luggage compartment in its class, with enough space for two golf bags and a suitcase as well as very good 2 +2 accommodation. This is likely to be on a par with the outgoing 5 Series. Needless to say automatic air conditioning and a hi-fi audio system, matching top-of-the-range home entertainment system in quality, come as standard.
You are unlikely to see a new 6 Series driver stranded by the roadside, waiting for help or facing the prospect of a wheel change due to a puncture as, with run-flat tyres as standard, they can continue to drive for up to 90 miles at 50 mph, reaching a safe destination or garage with the minimum of inconvenience.
Under the bonnet power and refinement come as standard. At launch, the 6 Series will feature the 4.4-litre engine with 'Valvetronic'. The same engine which lies at the heart of BMW's luxury 745i model. Its V8 power plant produces a 0-62 mph time of just 5.6 seconds and a top speed electronically limited to 155 mph. No doubt in time to come the company will introduce V12 and straight six versions, and who knows perhaps a diesel, as both Audi and Mercedes make diesel versions of their popular convertibles and coupes.
Power from the mighty engine is transmitted via a choice of three different six-speed gearboxes. As well as a manual six-speed transmission, the new BMW 645Ci comes with an optional six-speed automatic with Steptronic. Yet to find proponents in the super-luxury market, there is also a Sequential Manual Gearbox (SMG) with steering wheel paddles and gearshift lever.
So having produced the very popular 3 Series coupé for many years now, discontinued the slow-selling Z8 supercar and introduced the well-regarded Z4 performance convertible, BMW are heading back to the more up-market coupé sector with the new Six. It will be wonderful to drive, beautifully built and will no doubt have long delivery times and 'grey-market' values. For this writer the jury is out on the looks (and that's someone who likes the Z4) but perhaps I am not a 'BMW person'. We have no idea on pricing but it could well be knocking on the door of Maserati's 4200 GT, the V12 will be at any rate. BMW rightly expect to sell a lot of these – and they don't normally get it wrong.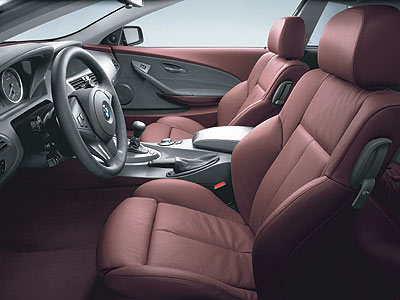 The facts;
Engine:
4398cc V8
Bore and stroke 92 x 82.7 mm. 10.5 compression ratio
Four valves/cylinder
Power:
333 bhp @ 6100rpm
Torque:
332 lb-ft @ 3600 rpm
Transmission:
Choice of three different six-speed transmissions -
Manual six-speed
Six-speed automatic with Steptronic
Sequential Manual Gearbox (SMG) with steering wheel paddles and gearshift lever
Dimensions:
Length:4820 mm Width: 1855 mm. Height 1373mm.
Weight: 1600 kgs
Acceleration:
0 - 100 kmh/62 mph 5.6 seconds.
Top speed:
Limited to; 250 kmh/155mph
Price & availablity:
Available in the UK from December 2003, the BMW 645Ci will be supplemented by a convertible model in 2004.
On-the-road prices and standard specification will be confirmed later.