The Münch Mammut was the ultimate '70s superbike
Seldom has a motorcycle been more aptly named than the two-wheeled behemoth known as the Münch Mammut…
Tipping the scales at an elephantine 600lb and originally powered by a 1,000cc, four-cylinder engine from the NSU Prinz car, engineer and racer Friedel Münch's original Mammut of 1966 preceded Honda's comparatively weedy CB750 'Four'– officially 'the world's first superbike' – by a full four years.
During those four years, the Mammut was nothing short of the mightiest motorcycle a man (or unusually strong woman) could get his (or her) hands on, boasting a top speed of 120mph and an effortless, 10omph cruise – all for a mere $4,000, three times the price of a BMW R69.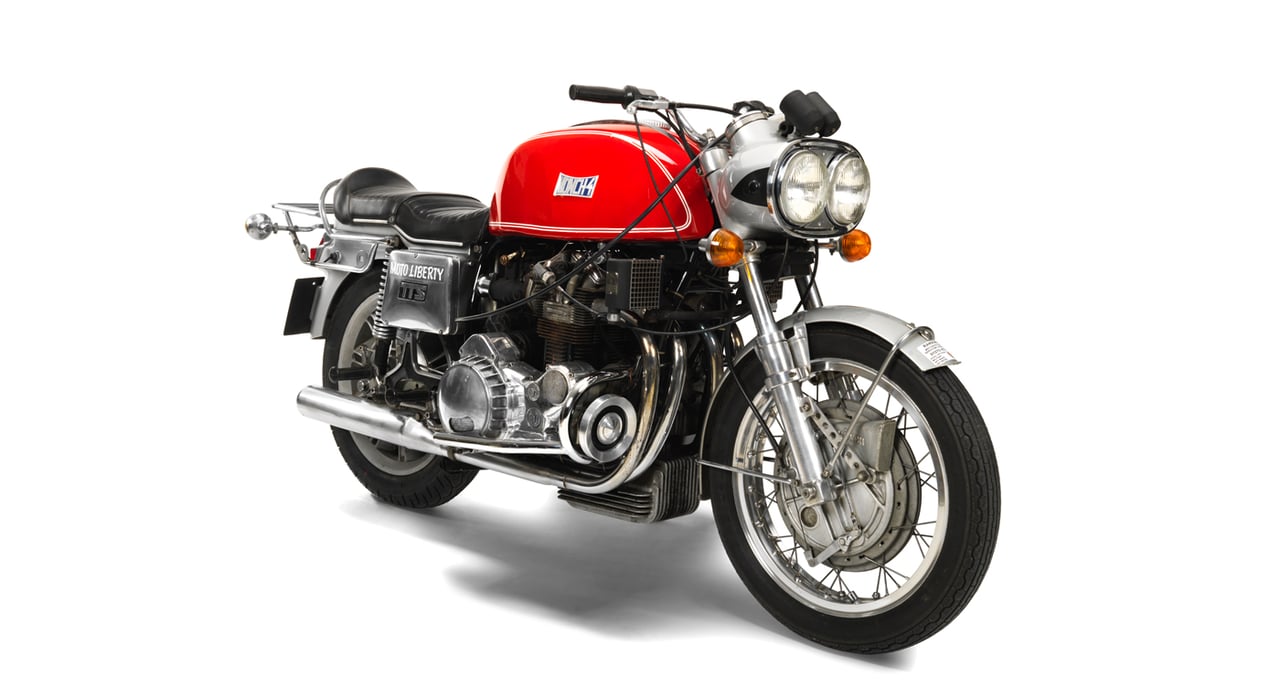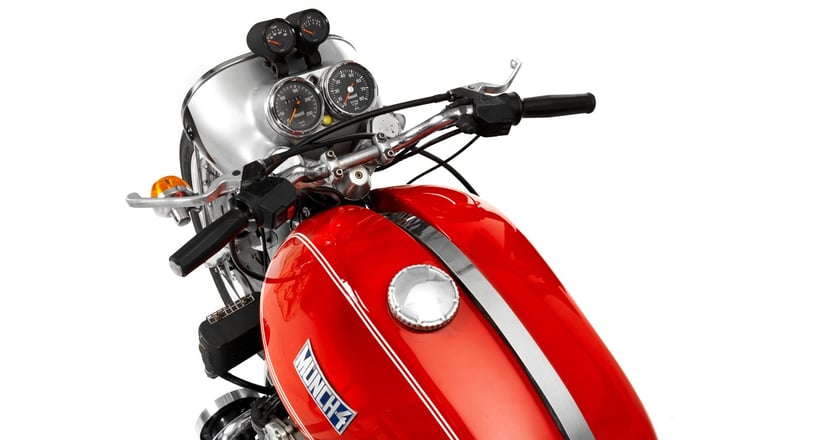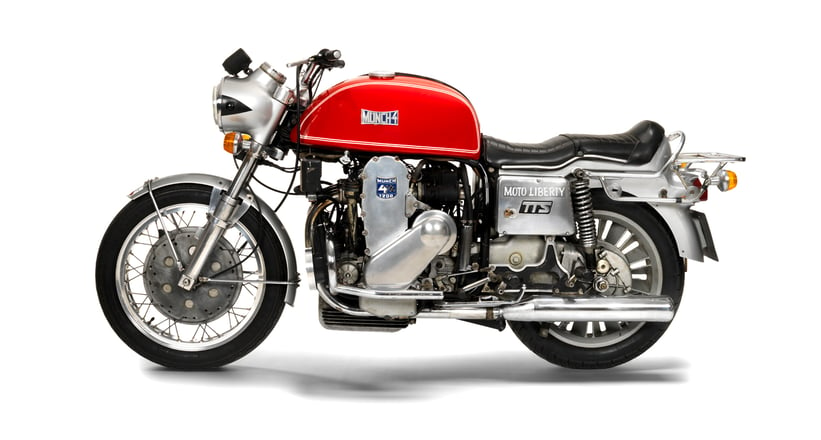 Handmade to order and thus extremely exclusive, it's thought that fewer than 500 Münch machines were built across the various model lines, which included the 1200TTS 'Münch 4' that appeared in 1968 and the Titan 2000 of the 1990s. The latter offered 150 horsepower and was so heavy that it required a hydraulic centre-stand to get it off the ground.
On Sunday 18 October, Bonhams will offer the rare chance to own a Mammut, when a TTS 1200 model from 1971 goes under the hammer at its Autumn Stafford Sale with a modest 30,000 kilometres on the clock. Tidy and original, it boasts all the classic Mammut features such as Münch's own-design, 10-inch diameter front brake, a 'turbine'-style rear wheel and that distinctive headlamp nacelle that envelops the instruments.
By dint of being exotic and individual, Mammuts have traditionally attracted the rich and famous – so it comes as no surprise that the late, motorcycle-mad publishing tycoon Malcolm Forbes owned two (he gave one to actress Elizabeth Taylor), that French actor Gerard Depardieu rode one in the film 'Mammuth', or that insatiable petrolhead Jay Leno has got one tucked away in his legendary garage.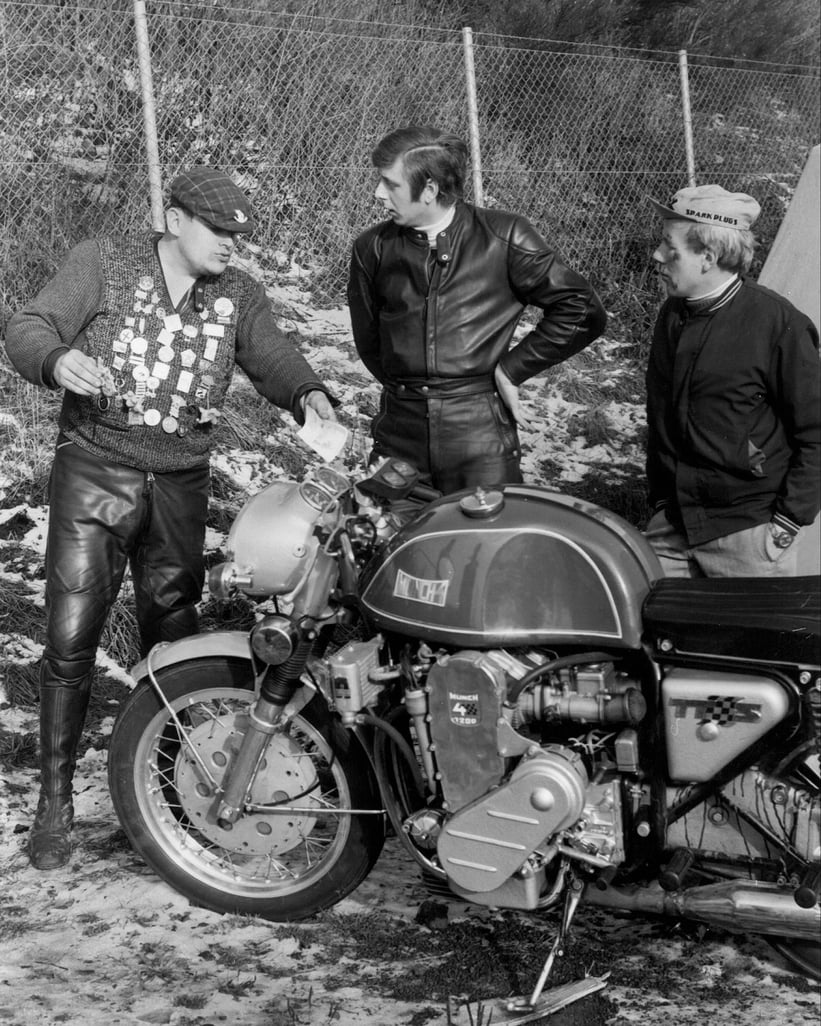 Few, however, have looked quite so 'right' on a Mammut as the late playboy Gunter Sachs. When Sotheby's dispersed his remarkable art collection in 2012 following his death the previous year, it issued cocktail party invitations that depicted Sachs riding his beloved Mammut at speed while dressed in the entirely appropriate outfit of white linen shirt, white trousers, white plimsolls and – never one to overlook the importance of safety gear – a pair of flying goggles.
For an estimated £28,000 - £35,000, you too could make like Sachs by buying the 1200TTS offered for sale by Bonhams. Save for a cracked front brake casting, it's on the button, ready to go and looks like an awful lot of rare motorcycle for a relatively small amount of money. And, like the Mammut itself, we reckon values can only get bigger...
Photos: Bonhams / Getty Images
Bonhams' Autumn Stafford Sale takes place at noon on Sunday 18 October in Staffordshire, UK. You can find the full catalogue listed in the Classic Driver Market.