Bentley Speed 8 and Continental GT at BDC Silverstone 30 Aug 2003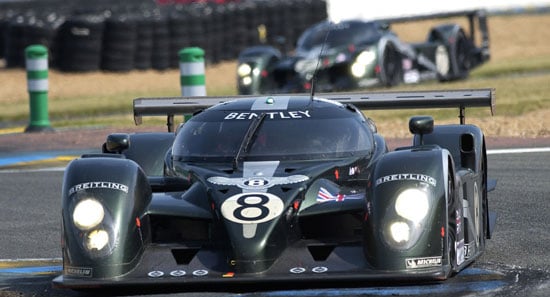 Team Bentley and Bentley Motors are delighted to confirm that examples of their Le Mans winning Speed 8 prototype and new Continental GT will be in action at the annual Bentley Drivers Club meeting at Silverstone on Saturday, August 30th.
Both cars will be driven by Le Mans winners. Though the Speed 8 that will attend Silverstone is actually the second-placed car of Johnny Herbert, Mark Blundell and David Brabham, it will be driven by Guy Smith, the man who drove the winning Speed 8 over the line at Le Mans, to claim Bentley's sixth win in the French classic and its first for 73 years. Guy will be doing ten laps in total, split into two five lap sessions, the first at approximately 12.30pm, the second in the mid-afternoon. For those unable to travel to France in June, the sight of this, the fastest sports-prototype in the world, is not to be missed.
Another even greater Le Mans legend will be at the helm of the Continental GT when it does its laps at about 4.30pm. Five times Le Mans winner and Bentley Motors consultant Derek Bell will be driving Bentley's new 552bhp, 198mph coupe on the limit during a 5 lap demonstration. Its grace, power and pace will be on show to perhaps the most informed Bentley audience in the world, proving the marque now once more subscribes fully to the values originally conferred upon it by WO Bentley in 1919.
As usual at BDC Silverstone there will also be a host of races for Bentleys, Grand Prix cars and other great marques to provide a truly memorable day out for all true enthusiasts of road and racing Bentleys, both old and new.
For further information about the event, contact the Bentley Drivers Club on +44 (0) 1844 208233.
Editor's Note: Readers may remember last year's BDC meeting was the Continental R-Type reunion. In addition to the tremendous display of 'Contis', there was the usual exciting racing and an extraordinary variety of cars in the car parks, on display and offered fo sale via dealers. This is one of the UK's premier Club racing events - not to be missed!