Bentley Mulsanne: Handcrafted Interior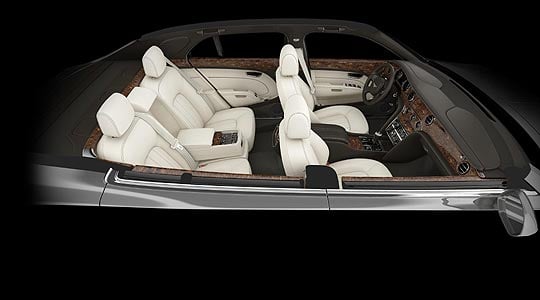 The fourth in the series of Mulsanne production videos looks at the leather and wood interior of the new flagship Grand Tourer, evoking the world-famous quality of a Bentley.
Watching the highly skilled workforce at Crewe as they cut and sew, sand and lacquer, will surely add to the pleasure of any potential Mulsanne owner. It is the time invested in each stage which is so awe-inspiring in an age of automation: such as the three hours it takes to inspect and cut the leather for a single car, from 15 hides. And that's just the cutting. The creation of the hand-sewn leather rim around the Mulsanne's steering wheel, for example, takes two days of intense, expert concentration; or even longer, if the customer opts for cross-stitching.
Then there are the 50 full hours for the 'wood process' – from selecting the veneer, through to the final finish. In fact, it takes five weeks to turn a rough 'root ball' (individually selected by Bentley experts) into a full set of mirror-matched, fine-polished leaves. Each piece of veneer is carefully stored in a humidity-controlled chamber and then applied onto a solid walnut base, a process that alone takes two weeks to complete.
The raw materials are, of course, of outstanding quality. The pre-production research included an investigation into the smell of leather hides… which led to the 'reintroduction of a complex, traditional tanning process to create a rich, mature leather aroma', reminiscent of vintage Bentleys.
And again, refusing to resort to production-line automation, the durability of a hide is tested over 20,000 times by a team of people of varying height and weight – rather than the robots used by other manufacturers – to provide 'the most authentic, real-world assessment possible'.

Enjoy the video.
Text: Charis Whitcombe
Photos/Video: Bentley
---
ClassicInside - The Classic Driver Newsletter
Free Subscription!