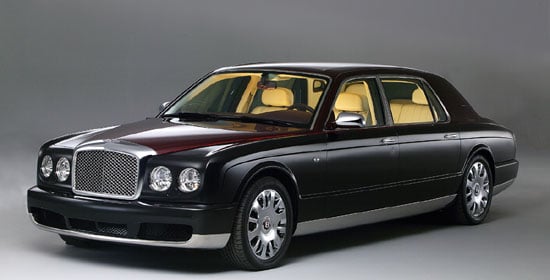 Bentley Motors is delighted to confirm that the unique Arnage Limousine concept, created by its Bentley Mulliner coachbuilding division for the 2004 Geneva International Salon is to be put into a limited production run. Such has been the demand following its unveiling, 20 individually numbered, bespoke Arnage Limousines will be commissioned for customers looking to own a truly luxurious car that provides extraordinary levels of comfort and craftsmanship as well as valuable privacy.
In the same spirit as the coachbuilt Bentleys of the 1920s and '30s, customers will be able to commission a car to their own specification, and create a unique statement that will be valued in the future. Like the spectacular Speed Six and 8-litre Bentleys that wowed the motoring world in their Roaring Twenties heyday, the Arnage Limousine will represent the pinnacle of handbuilt, individually crafted luxury cars. Nothing can come close to its unique qualities, nothing will match its rarity and value.

Echoing Bentley's acclaimed past – when customers would personally commission a coachbuilder such as HJ Mulliner to design and fit a body to a Bentley chassis – the process of ordering and owning an Arnage Limousine will entail the same degree of creativity and attention to detail. It is this unique service which makes an extended wheelbase Arnage the limousine of choice for those looking to create a car unlike any other.

When a customer decides to order an Arnage Limousine they will receive a level of service commensurate with their status as a buyer of the world's most exclusive limousine and have access to a personal team of account managers and designers. At the start of the process, customers will be offered a 'blank canvas' by Bentley Mulliner on which to express a vision of their ideal, bespoke car. Each customer will be able to communicate directly with the factory through their personal account manager, while a Bentley Mulliner designer will visit their home or office during the pre-production phase to assess the prospective design criteria and assist in interpreting their requirements for such a highly specified car.

By starting with this 'blank canvas', Arnage Limousine customers will be able to choose between palatial interiors or fully-integrated mobile offices. The scope for personalisation is as wide as the customer's imagination and whilst the concept is still in the virtual world of computer-aided design, styling sketches and renderings, Bentley Mulliner can be as flexible and creative as that vision demands.

Following delivery, customers will be visited on an annual basis by a factory representative, who will undertake a full inspection of their car. This service is offered for the duration of the Arnage Limousine's warranty.

Extended cabin means total luxury, complete privacy

The Arnage Limousine is designed for those who value their privacy and are not prepared to compromise when on the road. By widening the 'D'-pillar behind the rear doors, the Arnage Limousine's designers have fashioned a deeply recessed seat area that provides a safe and shielding cabin for passengers, as well as significantly enhanced rear legroom. In addition, a smaller rear 'privacy' window adds to the feeling of seclusion and ensures back-seat passengers are kept well away from prying eyes.

To create that broad 'D'-pillar and enlarged interior, the Arnage Limousine has been designed with a generous wheelbase measuring a total of 3566mm (140.4 inches). This ensures that passengers will enjoy all the benefits of a longer cabin. To retain the car's aesthetic visual balance, an extra 200mm (8 inches) is located in the 'D'-pillar alone, a further 200mm is added to the rear doors and a final 50mm (2 inches) in the front doors. This process was carried out entirely by hand, a challenge that could only be attempted by Mulliner's brilliant craftsmen and women, according to Ashley Wickham, head of projects, Bentley Mulliner:

"The Arnage Limousine is the epitome of Mulliner craftsmanship," he says. "Everything you can see – from the beautiful line of the new D-pillar to the stainless steel sills – was shaped by hand. That's why a Mulliner-built Bentley can take up to 6000 man hours to complete. It is a labour of love."

A perfect appearance is not just important for our passengers, it is imperative for our cars as well. Aesthetic purity in design and shape has always been the hallmark of Bentley cars and, as has been recently observed by many influential commentators, the bigger the car, the harder it is to retain a degree of subtlety and understatement. The Arnage Limousine, however, achieves that visual perfection, succeeding in being stately and imposing without appearing vulgar or ostentatious.

By evenly distributing the extended areas within the car's wheelbase, the graceful balance of the classic Arnage silhouette is retained. To round off its aesthetic impact, the original Geneva International Salon Arnage Limousine is finished in dual tone paintwork, with a Royal Burgundy cabin, bonnet and boot sections on top of black side-panels and nose. Unique stainless steel sills and bumpers act as a visual counterpoint to the two-tone colour scheme.

To emphasise Bentley Mulliner's desire to start with a blank canvas for its customers, the interior of the Arnage Limousine shown at Geneva has been kept deliberately restrained. A classic combination of linen and burgundy hide is mixed with a dark burr walnut veneer, the effect being to produce a cabin that is light, spacious and open to interpretation as customers see fit.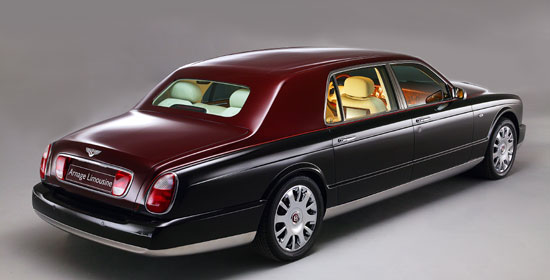 Technology under the skin and at your fingertips
Although customers will start with a blank canvas, 'Number One' in the limited run of Arnage Limousines does have certain special features designed to illustrate just what Bentley Mulliner can offer. Split rear seats will come as standard but in the concept car these have been replaced with a broad, rear bench that provides an inviting and sumptuous place to relax, while optional electrically-powered rear foot rests that slide backwards and upwards to support your calves allow passengers to recline in total comfort. Lastly, a rear DVD entertainment system is fitted, with twin 12-inch screens mounted in the rear of the front seats. All these options and, of course, many more will be available on every Arnage Limousine.
Again, the imperative is providing choice. Our entertainment and communications technology can take the form of individual LCD televisions or a single wide-screen plasma unit that can be stowed from view when not required. The rear compartment can be provided with options such as an on-board computer with Internet access, a cooled refreshment cabinet or cigar humidor.
Bentley Mulliner's expertise in bespoke interiors does not mean attention is taken away from the critical design and engineering requirements of such a complex car. As with the remainder of the Arnage range, the Limousine benefits from all the modifications announced for the 2005 model year, meaning it carries the revised front end design introduced to lend Arnage an even stronger visual identity within the Bentley model line-up. Twin individual headlights reflect the styling direction evolved for the Continental GT Coupe and the bonnet line is raised to give a more purposeful appearance.
The Arnage's interior centre console is also completely revised with new, unique switchgear for the air-conditioning controls and repositioned switches for the electric windows and seat and mirror adjusters. The satellite navigation system is re-engineered to give a more integrated, attractive appearance on top of the dashboard.
Bentley's renowned 6.75-litre twin-turbocharged V8 engine provides the Arnage Limousine with the sort of performance you would expect from any of our cars. The Bentley hallmarks of phenomenal power (400bhp) and colossal low-down torque (616lb ft/835Nm) mean the Arnage Limousine will accelerate to 60mph in just 6.7 seconds. Despite its remarkable power output, the V8 engine also meets stringent Euro IV and US LEV emissions standards.
To allow the car to cope with such impressive performance, the Arnage Limousine's chassis is based upon the Arnage's formidable underpinnings with strengthening where required. Double wishbone independent front and rear suspension with uprated springs and reinforced subframes works in unison with the computer-controlled adaptive electro-hydraulic damping system (ARC) to provide a refined ride at all times and high levels of grip when needed. Uprated 8-cylinder front and 4-cylinder rear brake callipers operating on ventilated alloy brake discs produce awesome stopping power time and again.
To ensure complete security on top of unparalleled privacy, the Arnage Limousine may be specified with armour protection. When armouring is specified, it is the first, and not the last task to be performed upon the bare bodyshell. This brings several advantages. It allows the whole body shell including armour to benefit from comprehensive anti-corrosion protection and paint top-coats. It ensures engineering integrity, allowing armour and energy absorbing materials to be placed precisely where needed for optimum protection. It enables weight to be distributed in a way that makes the least effect upon handling and ride; and above all, it ensures that the protection is discreet and, to the casual observer, all but invisible. As the armour protection is an integral part of the car, the full range of Bentley interior features and options can also be specified without restriction.
Words/Photos: Bentley Motors