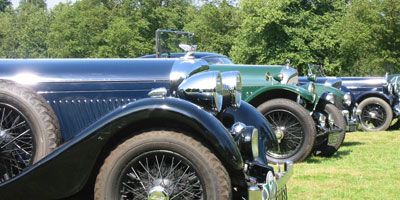 The most perfect English summer weather descended on the Elizabethan home of Lord and Lady Salisbury last weekend when Hatfield House played host to the Eastern Region of the Bentley Drivers Club for their annual Family Day.
The following photo-gallery shows some of the delightful cars on display, by the time your photographer arrived the Gypsy Moth Biplane, (actually owned by Bentley Motors when new), had taken off from the field and the audience was treated to some spirited flying by Andy Wood of Bentley and Rolls-Royce specialists P & A Wood.
Out of interest the De Havilland aircraft factory is also located in Hatfield, so the plane was very much 'coming home'. The Salisbury family is also associated with Salisbury Hall - where a lot of the development of the legendary De Havilland Mosquito fighter bomber was carried out.
A date not to be missed for all Bentley fans is the annual Race Meeting at Silverstone on the 31st August. This year sees the 50th anniversary of the celebrated R-Type Continental model and the Club's initial hopes of seeing 50 models on display has been surpassed with a promised entry of around 65 examples from the four corners of the globe.
For further information on the Bentley Drivers Club please visit www.bdcl.co.uk/
For further information on historic Hatfield House please visit www.hatfield-house.co.uk/