Bentley Continental GT "Birkin Edition" from MTM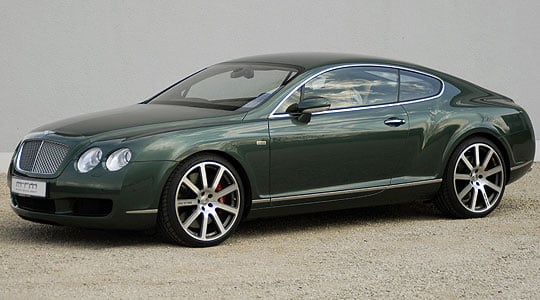 German tuners Motorentechnik Mayer have made some important changes to the Conti GT that not only give a different visual stance, but also boost power to a maximum of 650 bhp. In this configuration the tuned motor generates a staggering 795 Nm of torque with ease, instead of the already impressive 650 Nm of the production version.
The MTM Continental GT achieves this increased power by means of an MTM exhaust system from the catalytic converter, including a centre- and end-muffler with throttle control all developed on a dyno. The crucial factor in the development is to ensure a maximum level of throughput and performance whilst abiding by the legally prescribed noise limit values. By means of an intelligent choice of material, namely high-grade, polished stainless steels, MTM achieves a low-weight design, which offers maximum durability at the same time. A 4-pipe rear apron visual effect is available both for the sound-optimized MTM exhaust system and for the standard-fitted exhaust system.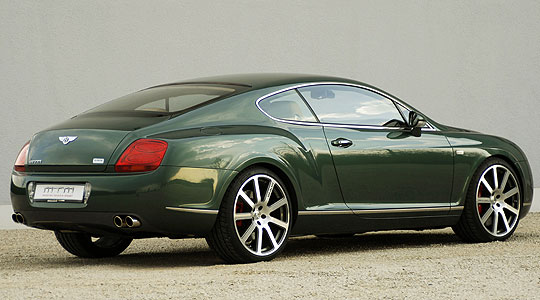 On the high-speed Nardo oval in Italy, where the 300 km/h+ elite meet up every year for a showdown, the MTM Continental GT produced the proven 331 km/h! This makes it the fastest (production) Bentley ever built.

MTM also offers electronically lowered suspension by means of a complex reprogramming of the software. The calibration developed at Nardo and Hockenheim ensures a maximum level of ride comfort with the necessary residual spring travel. The sportier look obtained by lowering the suspension is complemented by the MTM "bimoto" wheel rims, which MTM supplies for the front and rear axle in 10.5x21" ET40 LK 5x112 sizes, in two variants; "polished titanium" and "shiny silver". Combined with 285/30 Dunlop tyres MTM can also supply these separately. The MTM alloy rim has been developed to ensure the problem-free fitting of the MTM sports braking systems that involve fitting a two-piece brake disc (412x38 on the front axle and 355x28 on the rear axle).
Text: Classic Driver
Photos: MTM
---
ClassicInside - The Classic Driver Newsletter
Free Subscription!