Barons at Sandown Exhibition Centre, Esher, Surrey 21st Oct - Preview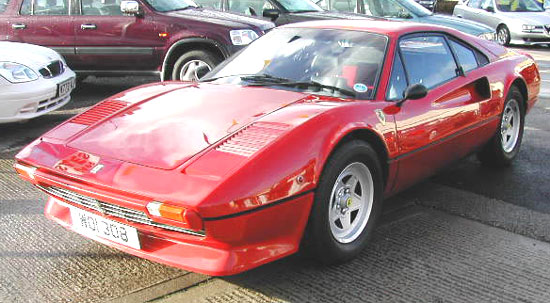 Barons will be holding their customary Tuesday Sale at the Sandown Park Exhibition Centre, Esher, next week and as usual have gathered a fine selection of classics to appeal to all pockets. Mercedes SL's of the 80s are something of a speciality and no less than five are entered as well as ten Jaguars and five MGs, including a rare 'RV8. One of the highlights of the sale is a glassfibre, dry-sump 1977 Ferrari 308GTB at £20 – 23,000.
The vendor assures Barons that the car comes with its original tool kit, original yellow jack, original and unused spare Campagnola spare wheel, a spare set of GTO split-rim alloy wheels + tyres and the original 1970's car cover, complete with Prancing Horse logo. It also has an extensive service history within the original Ferrari leather bound booklets. A common site in the 1980s these very original early cars are now quite sought after and would offer someone a classic Ferrari at reasonable money with a specification to talk about.

Other bigger value items include a wonderful 1939 Daimler Straight Eight Limousine, £18 - 22,000. Having spent some time in the USA from 1983 to 2002 the car is now back in the land of its construction, believed to be one of just 225 chassis built before WW2.
The 1963 Bentley S3 Standard Steel Saloon £14 - 18,000 looks very attractive in its sable livery and, as the catalogue says, offers 'outstanding value and more exclusive than a Silver Cloud'. Also on the R-R/Bentley front there is a 1957 Rolls-Royce Silver Cloud Hooper Coachwork at £20 – 25,000. Of that interesting post-war period of British car design, the car has also spent some time on the other side of the Atlantic and is said to be number 5 of 12 built by Hooper with this coachwork.

We mentioned the Mercedes SLs in the opening paragraph and once again several examples are for sale of a car built at Mercedes' zenith for quality of construction and integrity of design. Prices range from £4 – 6,000 for a Wine 1980 280SL to £11 – 13,000 for a later shape, red 1990 300SL. .
Jensen's Interceptor has always had a loyal following over the years and Barons are fortunate in having a Convertible from the 1990s included in the auction. Used to promote the model at the Paris Motor Show, it has had two previous owners and has covered only 20,000 miles from new. Estimate; £28 – 32,000, Barons claim a tenth of what one would have to pay for a car of this bespoke quality today.
Over 60 cars are included in the sale at the excellent venue at the Sandown Park Exhibition Complex on the Sandown Park horse-racing course estate, which is located within easy reach of the M25, Heathrow & Gatwick Airports and has a huge free car park.
Viewing is from 10.00 am. Sales commence 1.30pm Tuesday 21st October.
Barons final auction of 2003 is on Tuesday 2nd December at the same venue.
For a full listing, see the Provisional Auction Lotlist
To see all the stock on Classic Driver PLEASE CLICK HERE.
Text - Steve Wakefield