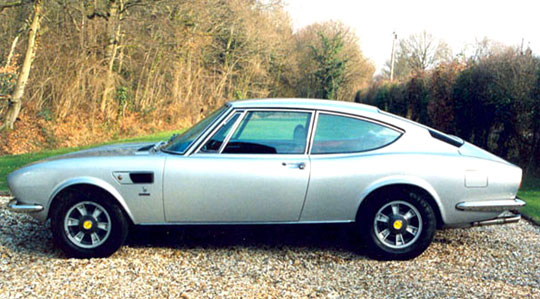 Once again the Sandown Park Exhibition Complex, Esher, Surrey will welcome the Barons Auction team when over 40 lots are due to be sold in the company's second sale of 2004. Amongst the usual selection of Mercedes SLs and Bentley's are an Aston Martin Virage for £22,500 - 26,500 - and a Ferrari-engined Fiat Dino Coupé for just £ 6,750 - 8,750.
Described by the vendor as 'probably the best example in the UK', the Fiat is one of the rare Bertone-bodied coupés, totally different from the more familiar Spiders. Further information from the seller states that a bare-metal, oven-baked repaint was carried out by specialist Richard Banks in 1987. The car was also treated with Waxoyl while stripped for painting, and remains in outstanding condition. Also on the Italian front is the real McCoy - a 1972 Ferrari 365GTC/4, seemingly reasonably estimated at £23,000 - 30,000, a figure that also includes the numberplate GTC4. As always, these V12 cars can be ferociously expensive to run but (the 400 Auto model shape excepted) 12-cylinder Ferrari ownership does not come much cheaper than this. Painted in red, with black leather interior, the car has an indicated mileage of just 19,595, not very much over 32 years.
Two Bentley saloons are entered, a Westminster Blue
1989 Mulsanne S
for £11,000 - 13,000 and a Royal Blue
1986 Turbo R
for £13,000 - 15,000. There are of course the familiar entries of
Mercedes
(both SLs and saloons), together with six
Jaguars
, three of them being the classic Mk II.
American fans will like the two Mustangs, both from the 1960s' period when engines were big and power outputs even bigger. The 1965 GT350 Replica is an homage to the series of performance cars built by Shelby on stock Mustang fastback chassis, the originals of which carry big price-tickets Stateside. At £11,500 - 13,500 it's some £25,000 shy of what an original would be worth. The other car is a very rare 'big-block' 1968 390GT, this time a 'notchback' body car. Complete with what is said to be a 6392cc 'FE' motor the Rangoon Red machine is estimated at £8,000 - 10,000. As they say, at this sort of money - it's got to be done.
Remember Barons are now able to offer pre-auction viewing on the Monday preceding their sales. This additional viewing period will run from 3pm to 7-30pm on the Monday and will be in addition to the 9am to 1-30pm currently offered on the sale day. Sales commence 1-30pm. Barons next sale will be on the 19 - 20th April. It will be a 'British Heritage + Classic', where a minimum £5,000 selling price applies for the Heritage entries.
Barons are accepting entries for the March 9th sale right up to the last minute. To view the latest lotlist, with car details and estimates, in colour in the Classic Driver Car Database please CLICK HERE
Barons (Auctioneers) Ltd
Quayside House
23 St Johns Street
Hythe
Southampton SO45 6BZ
Hants
UK

Tel: +44 (0)23 8084 0081
Fax: + 44(0)23 8084 7164
Email:

[email protected]
Text - Steve Wakefield
Photos - Barons