Barons Sale 3rd February 2004 Sandown Park, Esher
Barons' first sale of the year includes such regular favourites as Bentley Turbo saloons from £7,000 and a variety of W107 Mercedes SLs. Two years too late for 2001, motoring film buffs will have a chance to buy the 1985 Mercedes-Benz 500 SEL that once belonged to famous director Stanley Kubrick for £3,000 – 5,000. There is also a one-family owned Rolls-Royce Silver Shadow I LWB for £13,000 – 20,000.
First registered to Mr. Searle in November 1972, the car has remained in the same family throughout and is now owned by his son. The car is understood to have been well maintained throughout its life and is offered complete with a comprehensive history file. The mileage of 20,100 miles must be remarkable for the age of the car. It has not been held in storage, does not require any recommissioning being an ultra low mileage, apparently immaculate, vehicle.
For those with more sporting tastes there are two Lancia Integrales. This 1988 8v is estimated at £4,000 – 5,000.The example shown here was originally supplied in Switzerland and is said to have been maintained by Lancia Switzerland on a "no expense spared" basis. The car was imported into the UK in 1998, is understood to have been very well maintained since and has full service history. Another car is entered, a white 1988 16V, at £3,000 – 5,000.
The 1957 Bentley S1 2-Door Saloon by James Young, £20,000 – 30,000, is said to be one of three two-door saloons built by James Young between 1955 and 1959. It's one of three Bentleys entered, the others being turbocharged saloons, a 1984 Mulsanne Turbo £7,000 - 9,000 and a 1991 Turbo R at £18,000 – 19,500. Apart from the previously mentioned LWB Shadow I, there are two other Shadow IIs (a 1977 at £5,000 – 7,000 and a 1978 at £4,000 – 6,000 ) and another 1975 Shadow I (regular wheelbase) for £5,000 – 6,500, as well as a 1982 Silver Spirit for £5,500 – 6,000.
No less than five Mk II Jaguars will be sold with prices ranging from £3,800 – 5,000 for a 1962 2.4 Man O/d to £15,000 – 20,000 for a 1961 3.4 Man O/d. The latter is interesting, being as it is a one-owner car from new and finished in Old English White with Red leather with wire wheels looks every inch the classic Mk II.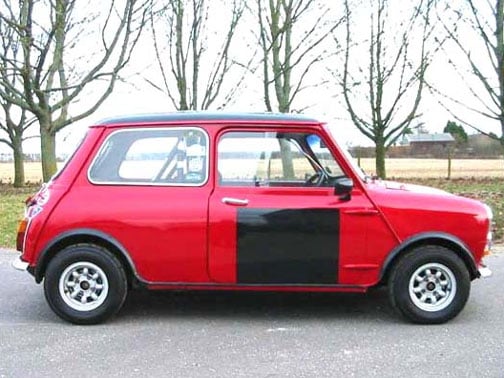 Lastly, a 1971 Jensen Interceptor II. At £6,500 – 8,000, this particular car has been the property of the wife of a Barons director and seems to represent the chance to buy a bespoke GT car at reasonable money. And for a bit of fun, why not bid for the 1969 Austin Mini Cooper at £4,000 – 6,000? Its complete with a BMI Heritage Certificate (to support its identity) and is fully prepared for Historic Rallying being equipped with a 1380cc engine, roll cage, full harness seat belts, uprated disc brakes, oil cooler, FIA fuel cut-off switches, fire extinguisher system, driving lights and a spare set of alloy road wheels. Just the job for some historic special stages this summer or a rather cosy machine for two-up semi-competitive touring.
Remember Barons are now able to offer pre-auction viewing on the Monday preceding their sales. This additional viewing period will run from 3pm to 7-30pm on the Monday and will be in addition to the 9am to 1-30pm currently offered on the sale day. Sales commence 1-30pm.
To view the complete lotlist in colour in the Classic Driver Car Database please CLICK HERE
To look at a simple lotlisting please CLICK HERE