Autosport Designs Aston Martin DBRS9s at Laguna Seca 2006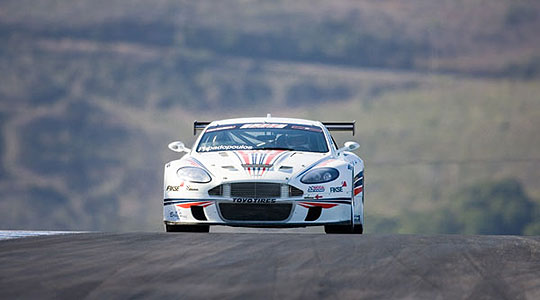 The Mazda Raceway Laguna Seca, Northern California. Sunny weather and a mild breeze for the pair of Autosport Designs Racing Aston Martin DBR9s - perfect for the last round of the SCCA Speed World Challenge GT Championship.

Practice was uneventful, with both Tom Papadopoulos (#43) and Johnny Mowlem (#44) continually lapping in the top half of the 34 car field. Qualifying was all about the battle for supremacy amongst the championship contenders, and the team's hope of putting both cars in the top half of the grid was not to be, with Johnny Mowlem taking the #44 car to thirteenth on a tight grid with just 3.2 seconds covering the first 15 places.

Johnny was one of the drivers who broke the existing track record. Tom Papadopoulos, fighting oversteer for the whole of qualifying, placed his DBRS9 20th on the grid. Immediately after qualifying both cars underwent thorough examination by their mechanics, Johnny's crew working on a snapped gear selector and Tom's working on suspension and damper settings to try and dial out the oversteer.

Race day dawned bright and sunny and by race time (2:00pm Pacific Coast Time) the temperature was up in the high 70s Fahrenheit. At the start, Johnny moved away well only to experience gear selector problems yet again and was unable to get the car out of third gear so he pulled into the pits where he sat for two laps while the problem was sorted out. Once fixed, he stormed away and finished in a creditable 22nd, two laps down. To make matters worse, Tom's car was losing clutch fluid on the warm up lap and when the lights went out, he pulled away very slowly. Once under way he gained several places before spinning into the gravel trap in turn three, 12 minutes into the race.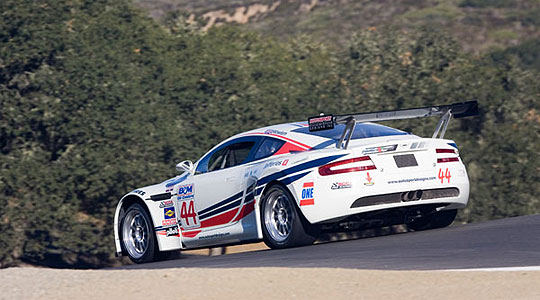 The last race of the year will not be remembered fondly by the team, however this was their first season with these cars and they have learned a lot.

The first race of 2007 will be at Sebring in March and with the benefit of substantial off-season testing, the Autosport Designs Racing Team is confident of much better results.

The team wishes to thank their sponsor, Jeffries, for their support and to all its fams wordwide fans for supporting "the best looking car in the series".

For the latest news please visit www.world-challenge.com and of course Autosport Designs homepage: www.autosportdesigns.com where you can also view Tom and Barry's extensive inventory of automobiles.

Story: Classic Driver
Photos: Autosport Designs/Richard Prince - Strictly Copyright
---
ClassicInside - The Classic Driver Newsletter
Free Subscription!