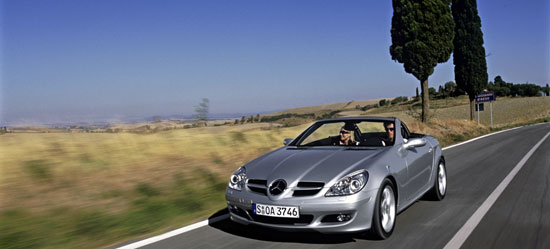 The readers of "Auto Zeitung" magazine have voted the new Mercedes-Benz SLK-Class the best German convertible and awarded it the "Auto Trophy 2004". The trophy was presented to Peter Pfeiffer, Head of Mercedes Design in Berlin on 12th October 2004.
A total of 44 models were nominated in the "Convertibles" category of the competition, in which more than 84,000 readers of the motoring magazine took part. The Mercedes-Benz SLK-Class received the most votes and easily took first place in the ranking.

The new SLK-Class, which celebrated its world premiere at this year's Geneva Motor Show, offers a choice of three engines with outputs ranging from 120 kW/163 hp to 265 kW/ 360 hp. For the first time in this vehicle class, these include an eight-cylinder unit by Mercedes-AMG. The two-seater also continues to justify its reputation as a trendsetter and technological leader among sports cars in this category: standard equipment includes a further development of the vario roof, which transforms the SLK-Class into a coupé in just 22 seconds, head/thorax sidebags, adaptive front airbags and two-stage belt force limiters. As a world first, Mercedes-Benz also offers the AIRSCARF neck-level heating system; this causes warm air to flow from the head restraints at the touch of a button, which means that even at low outside temperatures, SLK occupants can travel with the roof open and enjoy open-air driving all year round.
Text/Photos - DaimlerChrysler