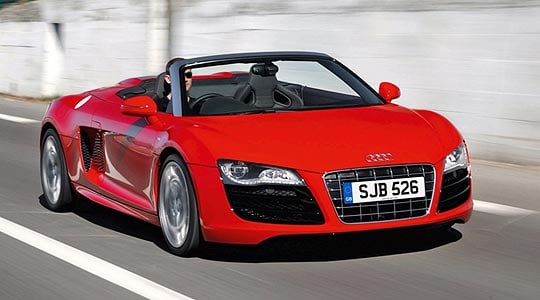 "That's the greatest car in the world." So said a young male admirer as I burbled into a petrol station for yet another fill-up. The roof was down, so it was easy to hear his praise. I resisted the usual outbreak of "It's not mine" embarrassment, and just basked in the glow of approval. The Audi R8 V10 Spyder, it seems, has max cred.
Now, here is the curious thing. A Porsche 911 Turbo Cabrio does not trigger the same responses. Most of us would agree that it is not the sort of car a true Porsche enthusiast would drive and, on another level, even the casual observer knows it is an unfortunate mutant of something purer. Massively fast as it may be, it is somehow compromised and not made of quite the right stuff. A proper 911 is a coupé, end of story.
The same might be said of a Ferrari 430 Spyder or a similarly open-air Lamborghini Gallardo. Why, then, is it not true of an open Audi R8?
Several reasons. A closed R8 has those striking 'blades' on its flanks, just aft of the doors, and clearly they are a styling feature unusable on a Spyder. So the Spyder has, instead, extended side-scoops flowing into where the blade would be, which completely alters the R8 look. Already the R8 Spyder is its own car and not a chopped-down version of another one. The scoops give the Spyder an impression of a proper sports-racing car such as, well, an Audi R8 (or indeed R10) of the Le Mans variety.
And there's the fact that like a 911 and unlike the too-wide Italians, the R8 is quite compact. With its snub nose and rear wheels pushed right out to the rear corners, it looks neat, agile, ready to pounce. Next to it, an open 911 looks awkwardly over-bodied with ludicrous overhangs and too short a wheelbase.

Of course, the R8 Spyder is laden with lavish goodies (B&O stereo system, parking sensors, LED headlights, sat-nav and a microphone in the driver's seatbelt), but they are discreet and don't spoil the impression of functional starkness. It's a pure sort of car, built for a purpose higher than showing-off. That said, an audience will surely gather when the powered roof performs its kinetic art.

As the cabin meets the air above, the fabric roof folds into a Z-shape, the flying buttresses at the rear fold onto themselves and the whole lot disappears under a painted carbonfibre cover, all in 19 seconds. There's a small, vertical rear window which can retract electrically into the rear deck, and a clip-on wind deflector to fit in front of it, if needed.

With the roof open, the Spyder occasionally shows the merest structural shudder over a particularly hefty and sharp-edged bump, but otherwise the driving experience is as focused and as acoustically intense as it is in the coupé. Roof closed, there's hardly any audible difference, thanks to the roof's perfect fit and impressive sealing ability against wind rush. It's entirely leakproof too, of course.
As acoustically intense, with the roof open? No, make that yet more intense – because unlike the coupé, the Spyder lets your ears connect directly with the exhaust pipes as well as the echoes their aural outputs create. This 5204cc, 525bhp, direct-injection V10 has always sounded gutterally fabulous, like two Audi Quattro S4s in full rally trim accelerating at full bore side by side, except that here you have 8500rpm to play with (peak power arrives at 8000). Now that there's no roof, you can hear every sputter and crackle and harmonic battle as 10 cylinders with uneven firing intervals bellow their intent. It's marvellous.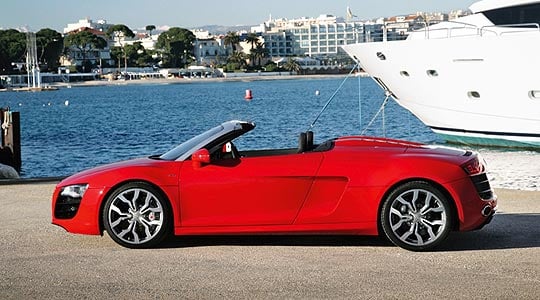 It starts as a deep, menacing, granular hum, goes through an almost Rolls-Royce Merlin-like vibratory growl around 3000rpm, then morphs into that 10-cylinder harmonic howl as the revs head skywards. But this is not a peaky engine; top torque (390lb ft) doesn't arrive until 6500rpm but the Spyder – which weighs 100kg more than the coupé, a penalty barely noticeable with such outputs – pulls lustily from under 2000rpm whatever the gear.
Given its head and the help of the launch control, the Spyder will reach 62mph in 4.1 seconds as all four wheels share the traction. Both manual and paddleshift R-tronic versions have the electronic getaway aid, which automatically manages throttle and traction control (and clutch engagement on the R-tronic) for optimum acceleration. It works perfectly.
At least it did in my R-tronic test car, as I squirted it up the hill on the Goodwood press preview day for the Festival of Speed and the Revival meeting. With the magnetorheological dampers (standard fare) set to Sport, the R8 scythed tidily through the hill's rapid twists and felt, well, like a civilised sports-racing car. Out on real roads, though, with mere remnants of a once-smooth surface, Sport is redundant and Normal mode gives a more compliant ride than most other Audis, sporting or not, even begin to offer. Yet it remains crisp and responsive, making this a supercar as civilised as it is engaging. Usable, too; unlike a Ferrari, you're not scared to thread the R8 down country lanes.
Two snags. The R-tronic still surges annoyingly in automatic mode, although used manually it's now very good (though not so much as to dissuade me from a proper manual). And you won't be carrying much luggage on your weekend away, because the front boot is small and there's nothing aft.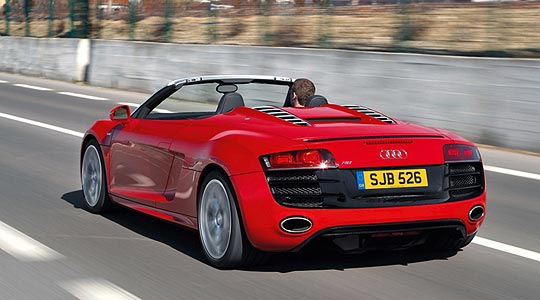 At £112,500, plus £5200 for the R-tronic, it's expensive for an Audi. But that misses the point, for this is a proper almost-200mph supercar, and a very good one, which just happens to wear four rings. The most credible open-top supercar of all? You're looking at it now.
Text: John Simister
Photos: Audi


---
ClassicInside - The Classic Driver Newsletter
Free Subscription!