Audi Q5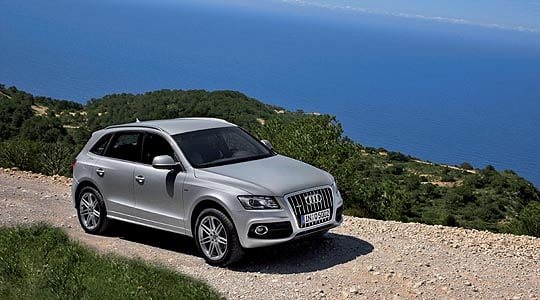 Exactly where, on the scale of social damnation, do we place People Who Drive an SUV? Do they sit above or below the nefarious Bin Criminals who stalk the night, callously over-filling their green bins until the lids jut dangerously open with a surfeit of dead leaves?

Fortunately for SUV drivers, Audi has just introduced a mid-sized 4x4 that might help to tip the balance in the motorists' favour. Whereas the existing Audi Q7, a vast seven-seater behemoth of ungodly proportions, would raise the ire of even the most mild-mannered eco-warrior, the new Q5 is an altogether more benign soft-roader. Even the range-topping 3.0-litre V6 TDI keeps CO2 emissions (just) under 200g/km, with combined fuel consumption at a very acceptable 37.6mpg, despite posting a 0-62mph time of 6.5 seconds – acceleration worthy of a sportscar, never mind a five-seater mud-plugger.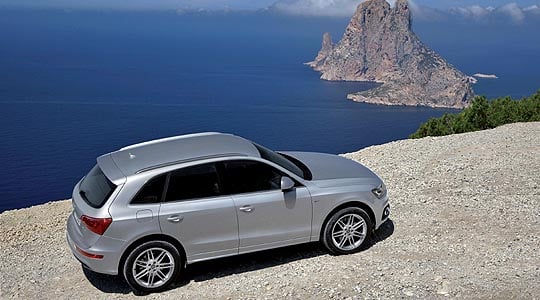 So much for moral absolution; is the Q5 any fun to drive? The general mutterings of motoring journalists, prior to getting behind the wheel of the new compact SUV, suggested it would not be. Built on a modified A4 chassis, it was predicted that the Q5 would be dynamically average. At best. But off we went to Andalucia and the region's vast range of roads – from motorways to mountain twisties, spiced with some gently 'off-road' gravel tracks – to see whether the Q5 would live down to expectations. And here was the huge surprise: Audi's claim that the Q5 offers the sharpest, most car-like driving experience in its sector is fully justified.

It's on the twisting mountain roads that the Q5 shows the most unexpected talent. Far from being unwieldy and cumbersome, as you might expect from a tall vehicle with generous ground clearance developed from a road car's chassis, the Q5 carves its way through the bends with – for an SUV – nimble precision, neither leaning too luridly nor jiggling too nervously. The 3.0 V6 TDI comes only with Audi's new seven-speed double-clutch 'S tronic' transmission, whose seamlessly slick gearchanges are all but imperceptible, while the diesel engine pulls with smooth, quiet efficiency, aided by the traction of the Quattro all-wheel drive, standard across the range.

The Q5 is not engineered for serious cross-country adventures but, when you do leave the Tarmac, you'll be glad of the specially developed 'off-road' version of the ESP, configured to maximise traction, and the hill descent control. There's even a roof-rack sensor that tells the ESP to adjust its parameters to suit the shift in centre of gravity. I don't know how the Audi engineers kept a straight face, however, while extolling the virtues of the thermal cupholder with both hot and cold functionality. I simply can't picture a situation where you'd thank your lucky stars for its hot-cold assistance. Does no one take a thermos flask on country jaunts, anymore? And even if you stop for a coffee, or Coca-Cola, at some grim motorway service station, don't you try to empty the cup before accelerating away?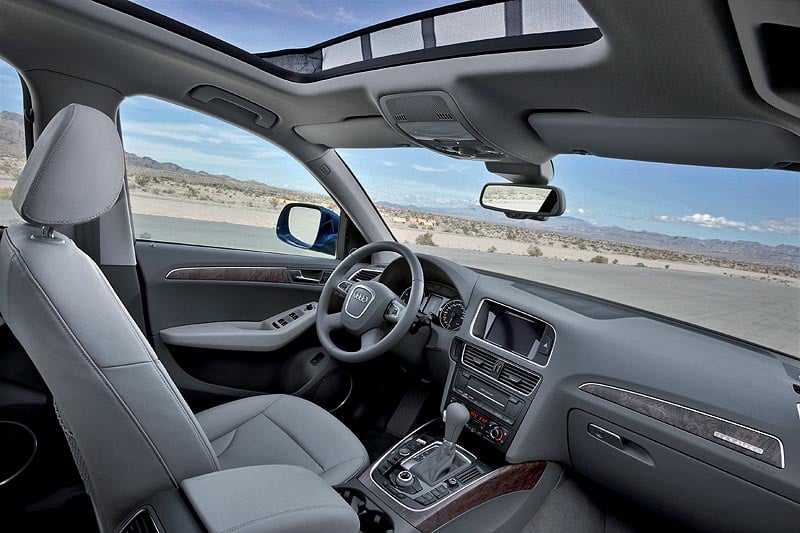 While the cupholders failed to impress, our text model's sat nav was outstanding, with its bird's eye view showing the landscape in topographical relief, complete with three-dimensional images of landmark buildings. I've never found it so easy to navigate unfamiliar roads with a genuine understanding of where we were heading, and which towns lay in which direction.

So, back to the moral problem of SUV-driving wickedness. Are Q5 drivers exonerated? I suggest a sliding scale of forgiveness, rated according to whether the SUV driver has ever actually been off-road. I wouldn't be unreasonable: I'm not insisting on boulder-strewn rivers and Saharan expanses of soft sand. After all, Audi claims that only 2% of 4x4 owners have ever driven across 'rough country'; set too strict a standard and the pits of Hell will be fuller than a British prison before you can shout 'penalising tax band'.

No, for 'off-road', I'd accept a remote byway in mid-winter; somewhere gritting lorries never venture – where generous ground clearance plus the traction of 4WD is a practical, rather than a psychological, advantage. Or anyone whose hobbies require them to turn up, with sports kit and a good bottle of Laphroaig, in some farmer's field. These SUVers would get my personal recommendation for a ticket to the Pearly Gates. But those who think 'off-roading' is to scrape an alloy over the kerb of Kensington and Chelsea, and whose idea of extreme sport is to reverse-park into other people's motor cars, would go straight to the fiery pit.

The Audi Q5 3.0 TDI Quattro S Line costs £37,540, with first deliveries due in early 2009.

Text: Charis Whitcombe
Photos: Audi


---
ClassicInside - The Classic Driver Newsletter
Free Subscription!