Audi allroad quattro concept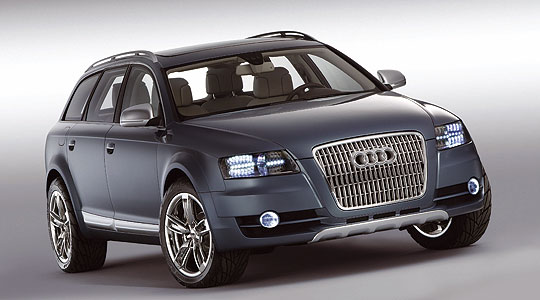 Debut in Detroit: Audi is unveiling the allroad quattro concept at this year's North American International Automobile Show in Detroit. This unique crossover has been developed especially for this presentation at the most important car show in the USA - indeed an appropriate highlight entering the 25th anniversary of quattro drive. At the same time this concept car serves as a spearhead in technology demonstrating innovative electronic systems destined to enter series production in just a few years.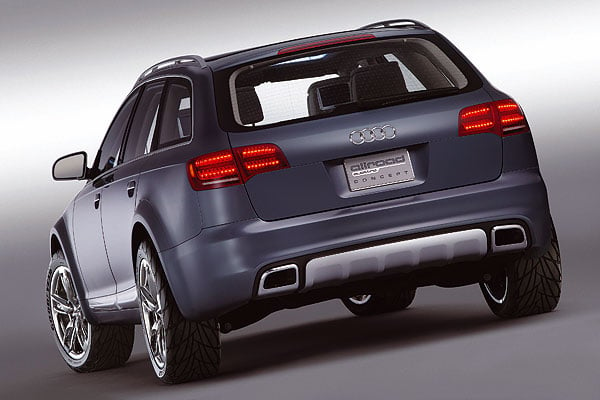 The visual appearance of the allroad quattro concept measuring 4.93 meters in length and 1.89 meters in width provides a perfect match for the many new highlights in technology it has to offer. Features quite natural on an Audi of this caliber are the powerful engine, permanent quattro all-wheel drive, and highly advanced suspension, simply perfect both for excellent ride comfort at high speeds and for supreme dynamic performance both on-road and off-road.

A brand-new power unit is all set for action within the engine bay: Displacing four liters, the V8 TDI boasting common rail fuel injection and piezo injectors is the world's most powerful and advanced eight-cylinder self-ignition engine. Maximum output of 210 kW (286 bhp) and peak torque of 650 Newton-meters ensure the muscle and performance of a thoroughbred sports car: Featuring six-speed automatic transmission, the allroad quattro concept accelerates to 100 km/h in just 6.4 seconds, with top speed limited electronically to 250 km/h. And fitted with a particle filter, the allroad quattro concept is the first eight-cylinder TDI to outperform the strict EU 4 European emission standard.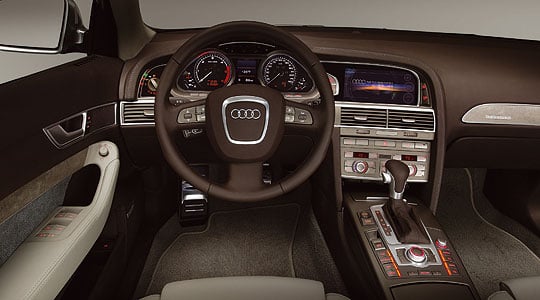 Audi's permanent quattro all-wheel drive featuring a torsen centre differential conveys the power of the engine to all four wheels both on-road and off-road, ensuring maximum traction and lateral stability at all times as essential prerequisites for the very best in driving dynamics and motoring safety.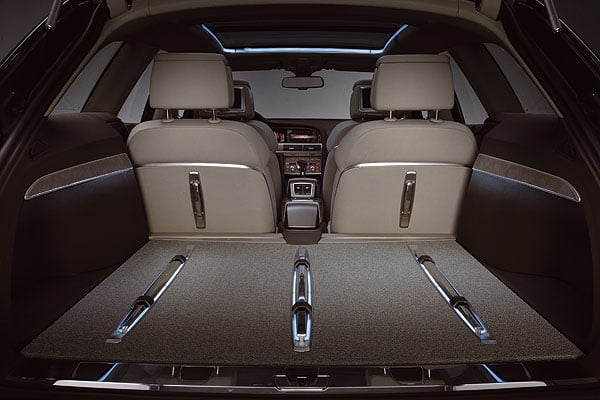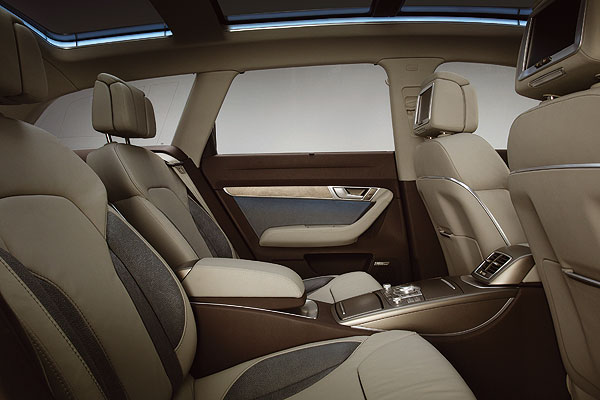 The chassis and suspension of the Audi allroad quattro concept also offer genuine all-round qualities: Adaptive air suspension, a combination of air suspension and electronically controlled dampers, offers a perfect synthesis of dynamic handling and supreme suspension comfort. Variable ground clearance adjustable from 160 to 210 millimeters enables the Audi allroad quattro concept to take even rough terrain without problems.

High-tech is the name of the game not only when it comes to the dynamic talents of the Audi allroad quattro concept. High technology in this cutting-edge vehicle goes a lot further, boasting several innovative driver assistance systems which Audi is now presenting for the first time and which will go into regular production in just a few years' time.

An outstanding world-first achievement is Audi road vision, an optical sensor system able to recognize the condition of the road and its surface, thus providing a quantum leap in terms of driving safety: The system not only informs the driver on potentially critical conditions such as gravel or black ice, but also gives the ESP electronic stabilization program and the adaptive cruise control additional, crucial parameters for even better proactive control.

Audi lane assist, a further feature of the concept car, induces vibrations on the steering wheel to inform the driver as soon as he inadvertently leaves his lane. Audi side assist, in turn, incorporates radar sensors monitoring the area behind and next to the car. So once the system detects vehicles approaching the Audi allroad quattro concept or driving in the car's blind angle, the driver is informed accordingly by a warning light coming on in the exterior mirror on the appropriate side
Text/Photos: Audi
---
ClassicInside - The Classic Driver Newsletter
Free Subscription!