Promotion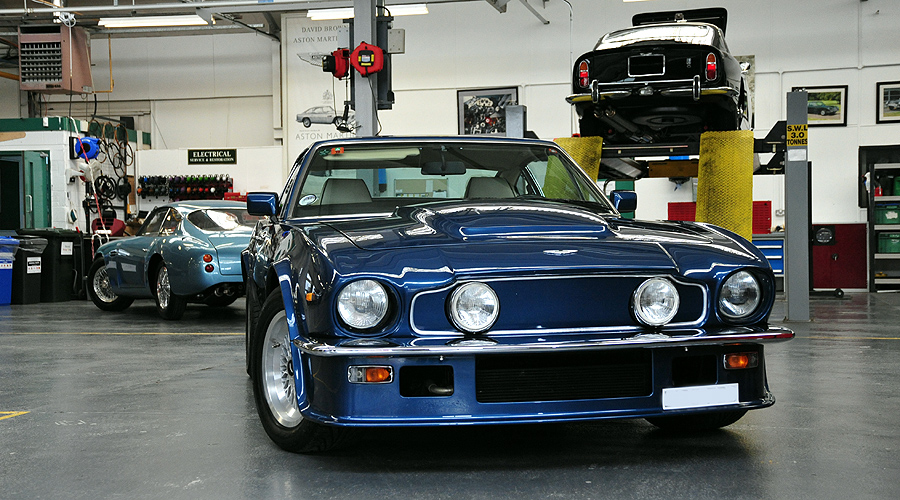 In the spring, a young man's fancy might lightly turn to thoughts of love, but Aston Martin owners will be just as interested in getting the most out of their cars in time for the summer driving season. The latest upgrades from the Heritage Centre at Aston Martin Works Service really transform the usability of the classic V8 Vantage and Saloon.
Having driven a 6.3-litre, classic V8 Vantage equipped with the Works Service braking and steering modifications, I have to say to any owners: "You've got to have it..."
The lines of William Towns' saloon do not date; from the earliest DBSV8 to the very last, Ronal-wheel, tail-spoiler cars, the design is timeless. And improvements to engine performance, via modern electronics and bigger capacities such as 6.3 litres, have made what was at one point 'the fastest car in the world' into a still seriously quick, 450+bhp modern classic, more than able to hold its own on today's roads.
In recent years there have also been suspension and transmission enhancements to match the ever-increasing power – yet, in many cases, the brakes and steering have remained very much 'of their day'. Which were pretty good (for the 1970s), but a definite weak spot in the otherwise formidable car's specification today.
So, if Aston Martin itself – via Works Service in Newport Pagnell, where the cars were first built – were to address this issue, the company would be on to a winner. And that's exactly what Kingsley Riding-Felce's team has done, with two options for brakes and a nifty modification to the steering that can, in conjunction or separately, transform the driving experience.
Both versions of the braking upgrade include larger-diameter front discs and all-new calipers which replace the as-standard 285mm/three-piston units. Working closely with AP Racing UK (Britain's leading original equipment and aftermarket brake development company), Works Service has produced a complete package (with braided flexible hoses, pads and CNC-cut bespoke mounting brackets) very much 'ready to go'.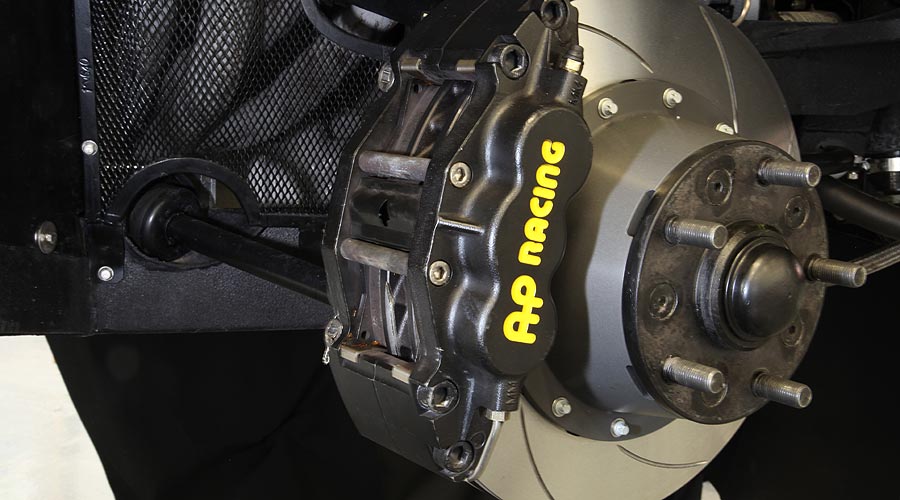 The first option ('Kit 1') is a four-piston caliper coupled with a 304mm, straight-cut grooved disc. This can be fitted to all V8s produced from the early 70s to the end of production in 1989.
For those running cars with the larger, 16in Ronal road wheel, 'Kit 2' is the one for you. It includes even bigger (330mm) discs, grooved with swirl-pattern cuts, and mighty six-piston calipers, the latter having unique mountings on the kingpin. There's a bespoke brake-proportioning valve, too, that optimises the front/rear bias.
Pricewise, to supply and fit the biggest braking package Works Service quotes £4537.47 including VAT. For 'Kit 1' it's a very reasonable £3498.16 (incl. VAT) which, when you consider a comprehensive overhaul of an existing system could cost £3000, shouldn't make the average owner think too hard before booking their car in.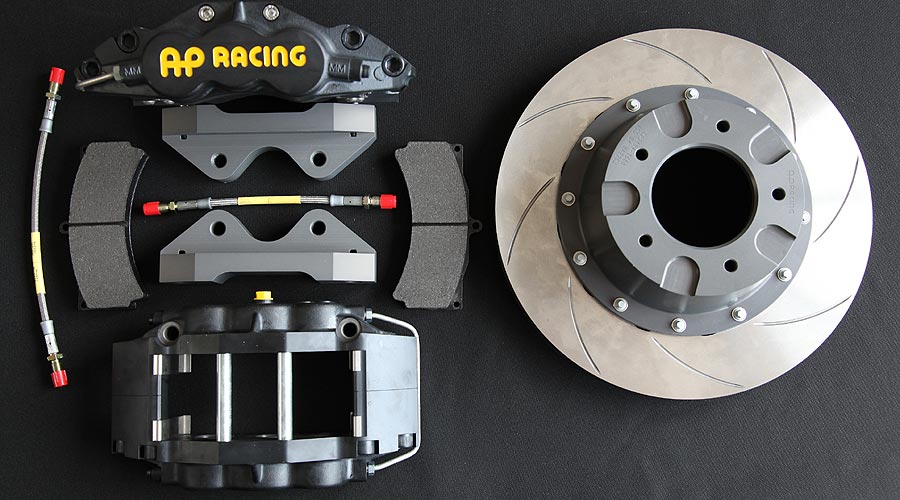 The proof of the pudding is, of course... where we came in. I was in Newport Pagnell for the
V12 Vantage Day
and took the opportunity of trying a V8 Vantage equipped with the big brakes package, a Works Service 6.3-litre conversion on the standard car's X-pack engine and – most importantly – the latest steering and front suspension upgrade.
A (£2017.21 incl. VAT, fitted) modification suitable for all V8s with the flat-face reactor bush mounting, this takes the form of new wishbone brake reactor shafts, bushes to suit from the Supercharged Vantage and crack-tested, modified steering arms. The rack and power steering set-up remain as standard.
The effect can be felt immediately; there's no kick-back, the steering feels far more positive and direct and the car rides the road so much better. Under braking, even in gentle everyday conditions, the big car pulls up straight-as-a-die. You really can feel the new components doing their job – and what was once a service item (the bushes requiring regular replacement) has now gained a much longer life expectancy.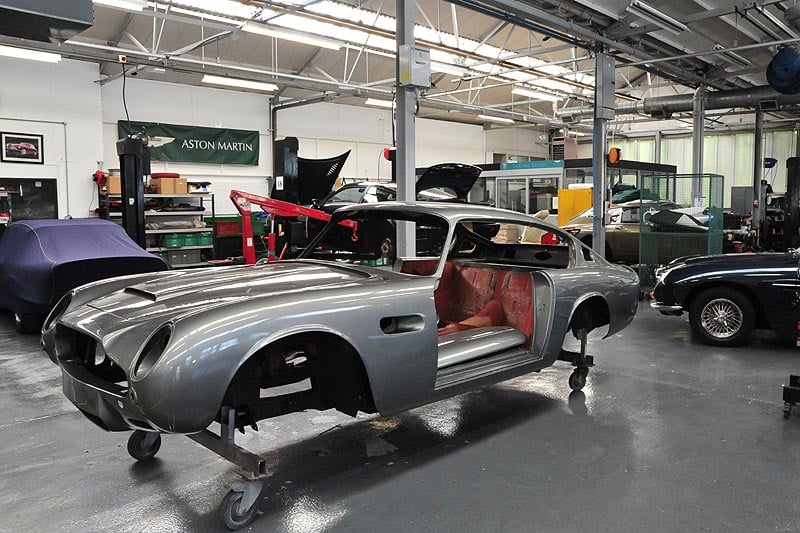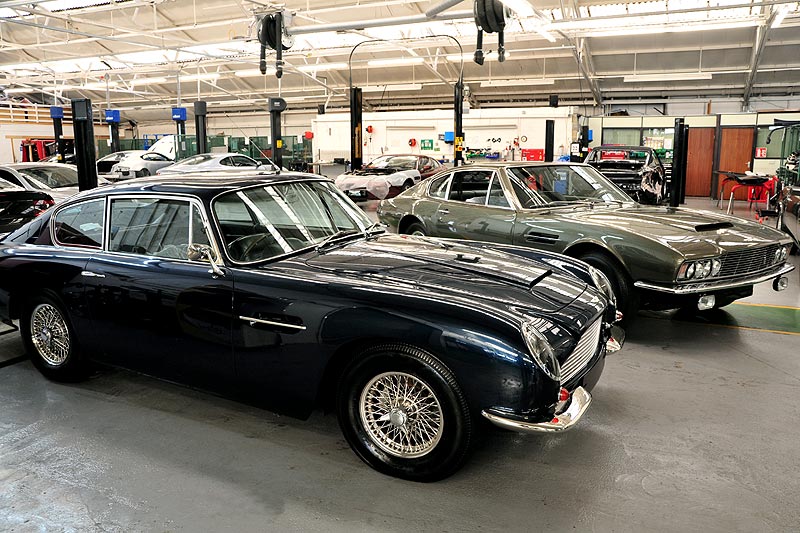 So, when all 6.3 litres of bored and stroked Aston Martin V8 are unleashed (and, at around 500bhp, this one doesn't half go!), you can be confident that the stopping and steering departments are up to the task. This car will be returning to its home in Switzerland, all the better-prepared for some serious driving in the mountains.
Chatting to Works Service Heritage Centre Manager, Nigel Woodward, on the way back to Newport Pagnell, I asked him what sort of work the Heritage Centre is seeing right now.
"Apart from restoration – which always keeps us busy! – we have been preparing owners' cars for the summer; you know, hoses, water pumps and pulleys. A thorough check-over before that long holiday, AMOC event or the trip to Le Mans.
"And don't forget the
Bonhams Aston Martin Sale at Works Service on May 21
. We're looking forward to welcoming visitors once more, and it's a great opportunity for us to show potential customers exactly what we can do."
So, if you can wait another few weeks, do mention the steering and brake upgrades to Nigel when you go to the sale.
For the more impatient (with good reason, I should add), give the Heritage Centre a call now, on +44 (0)1908 619619, email
[email protected]
or visit
www.astonmartin.com/worksservice
for more information.
Aston Martin Heritage Centre
Works Service
Tickford St
Newport Pagnell
Bucks MK16 9AN
Tel:
+44 (0)1908 619619
Fax:
+44 (0)1908 216249
Email:
[email protected]
Web:
www.astonmartin.com/worksservice
Text:
Steve Wakefield
Photos:
Aston Martin Works Service / Classic Driver
---
ClassicInside - The Classic Driver Newsletter
Free Subscription!