With modified suspension and an uprated V8 now producing 425bhp - an increase of 45bhp on standard - Prodrive's enhanced V8 Vantage is now firmly knocking on the door of the DB9.

A full road test of the two-seater coupé reveals a superbly engineered motor car that is a genuine alternative to either the regular production V8 Vantage (a car that will no doubt be soon receiving the chassis improvements seen in the Roadster, and is ripe for an engine upgrade of its own), or a more expensive DB9 or pre-owned Vanquish.

The performance package is just that - a complete set of bespoke parts that can be ordered and fitted in stages but really benefits from a complete installation, a total conversion that improves the already excellent car's dynamics in all areas bar braking.

It's quicker, has a more responsive engine and chassis, and with its clever exhaust valve button can switch from fire-breathing noisy NASCAR racer to sophisticated muffled V8 GT in the manner of AMG Mercedes and RS Audis.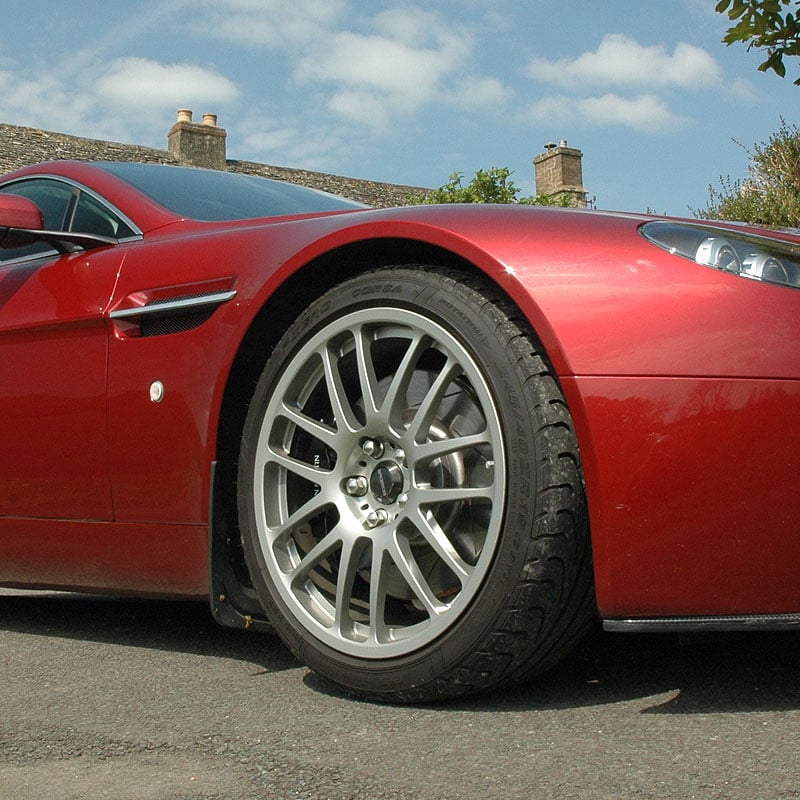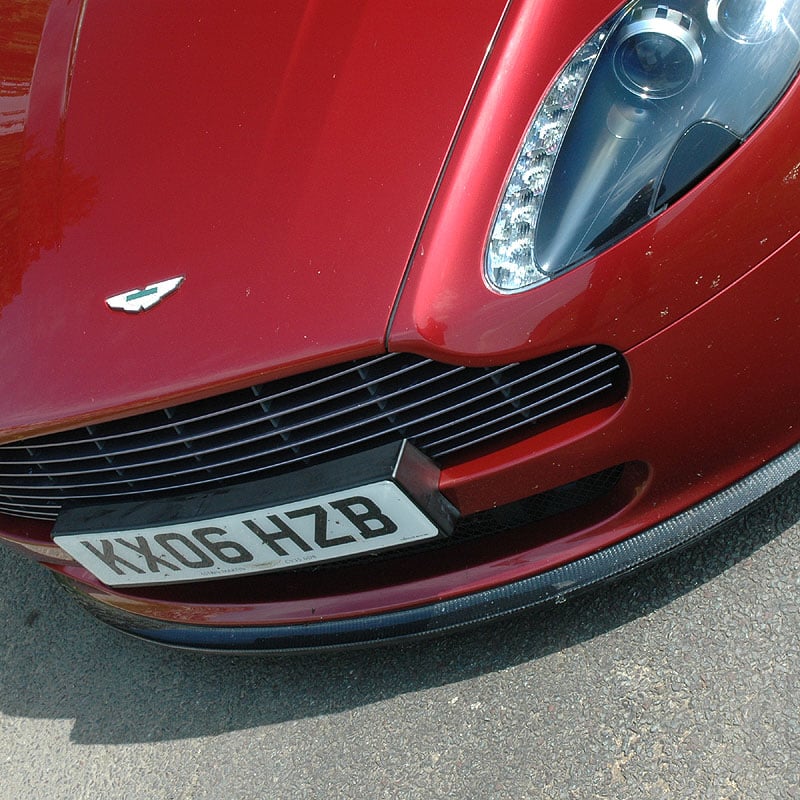 As well as increasing peak power from 380bhp to 425bhp, the Prodrive engineers have raised torque from 410Nm (302lb ft) to 440Nm (325lb ft). A new throttle map - combined with the increase in torque - make the engine more responsive throughout the rev range, and from a driving perspective this shows itself in two areas.

First, acceleration in 6th from 70 - 100mph is considerably improved and a real-world benefit, while revving the V8 to the max gives a noticeably sharper power delivery right up to the (now 'hard') rev limit. Acceleration to 60mph (97kph) is 4.3sec (DB9 and standard V8 4.9), while 100mph comes up in 12.0sec, a reduction of 2.0sec over the regular production car.

Fuel consumption is no worse, and may well show a degree of improvement over the standard (admittedly thirsty) car.

Top speed is estimated to now hit 295kph, a figure that's nearly up with the DB9 and quite a bit faster than standard. And to help it at these sorts of velocities, the Prodrive carbon fibre front splitter and rear spoiler pack will reduce lift by up to 45%.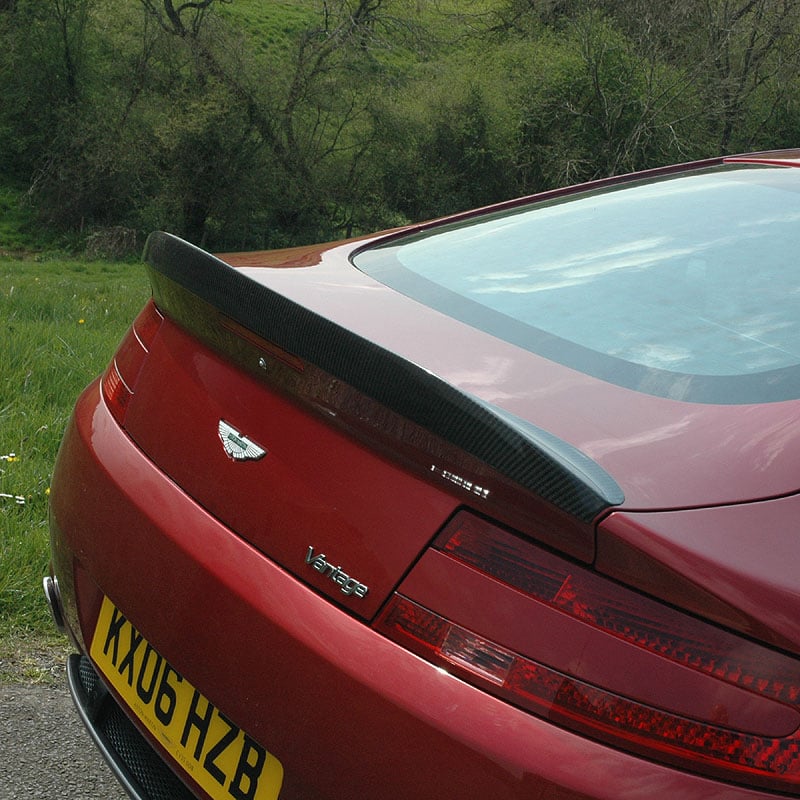 Changes to the exhaust contribute to the gains in power and Prodrive has fitted a driver-operated button to switch between the usual arrangement of valve-opening at 4000rpm heralding the complete V8 barrage, a quiet 'early morning drive through the village' setting where the valve is always closed, and a full-on treatment where the whole world can enjoy your car's performance.

Flying in the face of over-enthusiastic mainstream motoring journalism, I have to say I rather liked it with the valve closed. It's very much like a big German hi-tech V8 droning away ahead of you, with little discernable drop in performance and a definite increase in subtlety that matches the overall package of the car. The criticisms of the regular car's performance are generated by a perceived sound/speed mismatch and Prodrive addresses that in a clever way - less noise if you like, with more performance.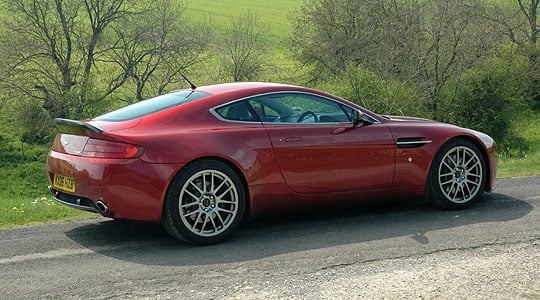 So you've got a button to regulate the decibels, and you've also got one to change the ride and handling. Working with specialists, Bilstein and Eibach, Prodrive has developed a new driver-adjustable suspension that in 'normal' approximately replicates the V8 Vantage's existing suspension characteristics, while the firmer 'sports' mode is more suitable to track or real 'press-on' motoring.

Clicking between modes on a rough piece of Tarmac elicits a definite change in ride but the unusual aspect is that on roads with a certain frequency of undulation it's sometimes smoother in 'sport' than 'normal'. It's a handy option that you can play with at will to get the most out of the car. Prodrive reports that regular commuters on British 'concrete section' motorways have commented on the revised car's ride over the expansion joints being much improved, too.

I would also say that a big benefit of the revised springing and damping is better traction out of corners at full throttle in 2nd, helped no doubt by the car's special 14 spoke 19in forged alloy wheels made by Prodrive Japan and Pirelli P-Zero tyres. They've gone up by half an inch at the rear - to 10in - and this no doubt has an effect as well.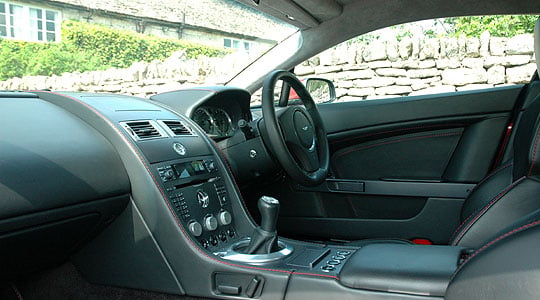 In conclusion, Prodrive has made a very good package that bit better. It's not a dramatic transformation, and it's not cheap, but as a way of getting even more out of Aston's highly rated little car, it's to be recommended.

Text: Steve Wakefield
Photos: Classic Driver - Strictly Copyright

---
ClassicInside - The Classic Driver Newsletter
Free Subscription!