Aston Martin DB9
Design Technology
Frankfurt's IAA sees the debut of what AML's CEO Dr Ulrich Bez describes as "A car that we believe will lead the 2+2 seater sports car class for many years to come." Indeed with this car, and the 2005 'small' AMV8 Porsche 911-beater, in full production at the Gaydon factory the company is aiming for an annual production figure of 5000 cars per year in 2006. That puts the DB7's total 10-year production of 7000 cars into perspective. Will it be better than the DB7? Oh yes, say the design team who have painstakingly crafted the first real production model of the Bez/Ford/Gaydon/Aston partnership.
It's well known that the car utilises Aston's 'VH Platform' but what might appear at first sight to be parts-bin raiding at PAG could not be further than the truth. The 'V' part of it represents the Vertical integration of the platform's hardware up and down the Aston range so, for example, the AMV8 model can share a similar but shortened aluminium chassis and suspension, while the 'H' stands for the Horizontal incorporation of design and engineering expertise along the full width of Ford's various divisions. This has meant the DB9 having its crash performance developed by Volvo, who also assisted in airflow management and aerodynamics, and the V12 engine, a variation on the Vanquish motor, being designed by Aston Martin engineers in partnership with Ford's RVT (Research and Vehicle Technology) - and is unique to the marque.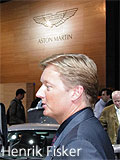 Visually the car looks a more feline take on the Vanquish/AMV8 look that the company has developed for the 21st century. With the styling project commenced by Ian Callum, and completed by current head of design Henrik Fisker, it is a 2 + 2 that is able to offer much more cabin room than the outgoing DB7 but is still a car in the tradition of the V8 and older DB series that can seat two in the back - but really this space is for extra luggage and the inevitable bits and pieces that accompany the long trans-continental trips Aston anticipate its potential buyers making. Its brand-new chassis means that the long body overhangs of the '7 are gone and the wheels fit nicely to the edges of the bodywork giving a muscular, 'machined from solid' look, without the overt aggression of the Vanquish. One styling feature is the long bonnet opening, reaching down to the top of the traditional Aston radiator.
Aston describe the innovative doors as 'swan wing' (perhaps a tongue-in-cheek reference to Mercedes-Benz 'gull-wings'). They are certainly unique and will become one of the car's trademarks. They open out and up (by 12 degrees) making for easier access, especially for the driver's feet into the footwell. Angled at 12 degrees, it also means there is less chance of the doors scuffing high pavements, and being angled, the doors are easier to close; shutting partly under their own weight, rather than relying on the driver having to slam them. Beyond a 20 degree opening angle there is also infinite door checking, allowing the door to stop and hold at whatever position the driver (or passenger) chooses, thus minimising the risk of hitting adjacent parked cars.
Stay informed! Subscribe here to our weekly newsletter.
50:50 distribution
Technically the car, with the exception of the Vanquish-based motor, is very new and really does represent the future for the company and its brand-new Gaydon facility. In a long list of technological innovations, the most important is the bonded aluminium frame which Aston Martin believes to be the most structurally efficient body frame in the car industry. It is very light, (an aid to performance, handling, economy and durability), and it is also tremendously strong - despite being 25 percent lighter than the DB7 bodyshell, the DB9 structure has more than double the torsional rigidity. The body panels, and many other components, are bonded to the frame with computer-controlled precision, the bonnet, roof and rear wings being aluminium while the front wings and bootlid are moulded composite.
Interestingly, given varying opinions of the Vanquish 'sequential-only' transmission, only two gearbox options are offered, both of them six-speed, one conventional manual by Italian company Graziano, and one conventional auto (with 'touchtronic' override), both rear mounted in unit with the rear axle. Engine and transaxle are connected via a cast aluminium 'torque-tube' (pioneered in the Ferrari 275GTB in the 60s), and power is transmitted via a carbon fibre propshaft turning, of course, at engine speed. This ensures a perfect 50:50 weight distribution and allows greater cockpit room without a front-mounted gearbox taking up internal space.
As the car is totally new, the chassis designers were able to start from scratch, rather than be forced to develop the suspension from either a previous model or a saloon elsewhere in the manufacturer's product range. Forged aluminium wishbones are used front and rear, as are aluminium-bodied dampers, both mounted on subframes - cast aluminium at the front.
The prodigious performance of the car, (180+mph maximum speed), means that extensive work has gone into the braking system with grooved, rather than cross-drilled, discs. "Grooving is more efficient than cross drilling," says Aston Martin DB9 Chief Programme Engineer David King. "The pads are kept cleaner and work more effectively. Also, brake pad dust can block cross-drilled discs, which reduces braking performance." The calipers are made from a single casting, rather than being fabricated in two halves and then bolted together, thus increasing strength and rigidity and giving superior braking performance from high speeds.
1st Class Cabin
Inside the cabin, the designers have managed to incorporate the more modern features of the Vanquish with an elegant 'gentleman's club' look that the press photos show to be extremely attractive. Features include full leather Bridge of Weir upholstery, available in 20 colours, as well as three different types of wood (including bamboo, and 'oiled' rather than high polish finish). "We spent a lot of time considering how best to use wood," says Interior Designer Sarah Maynard. "Today wood is typically used as an appliqué, strips of highly polished veneer simply adding decoration to the car. We wanted the wood in the DB9 to look more structural, as it does on avant-garde modern furniture. We also wanted to use large pieces of wood, rather than little strips - again, as in top furniture."
The driving controls have benefited from this thoroughness of design, for example the automatic transmission settings are simply distilled into four black buttons set into the central console; Drive, Neutral, Park and Reverse. They flank the clear glass starter button. Sarah Maynard again. "It seemed wrong to us that most car starter buttons - the first point of contact between driver and engine - are a plastic button. We wanted something better so decided on crystal-like glass. The Aston Martin logo is sand etched into it. It's lit red when the ignition is on, and afterwards changes to light blue. I think it's a really cool piece of design".
Another technological first in the cabin is the 'message centre' in the dashboard. Aston call it an 'organic electroluminescent display' (OEL). As well as giving a match-winning Scrabble score, OELs are said to have a higher resolution than LEDs and with better contrast, easier to read - especially when viewed at an angle. So watch it, your passenger can see how fast you are going.
The In-Car-Entertainment system is said to be state of the art. Developed by Scottish-based Hi Fi experts Linn, it includes its own amplifier and speakers that are specially designed for the DB9. It also benefits from the DB9's high-quality fibre optic electronics, which pass signals with total clarity. The top-of-the- range 950W Linn Hi Fi system uses 10 speakers and a 200W sub-woofer controlled by an in-built accelerometer that even compensates for changes of pressure in the car's interior. "The goal was to make the finest ICE system of any car in the world," says Aston Martin's Chief Engineer for Electrical and Electronics Sean Morris., "and I think we have succeeded."
The company plans on producing around 2000 DB9s a year once production gets fully underway in 2004/5. Price is undisclosed at time of launch but will inevitably be a DB7ish £100,000 in the UK with extra options to increase the bill – a handy £10,000 discount on Bentley's storming Continental GT. First impressions of the DB9, and the wealth of information on the car and its development coming from Aston, are showing it to be a very strong contender in this segment of the market.
Aston do not seem to have put a foot wrong.
Photos: Aston Martin Ltd. / Words: Classic Driver
The facts;
Engine:
All alloy quad overhead cam, 48valve 5935cc V12. Compression ratio 10.3:1.
Visteon engine management controlling fuel injection, ignition, diagnostics and misfire detection system. Stainless steel by-pass valve exhaust system.
Power:
450 bhp @ 6000rpm
Torque:
420 lb/ft at 5000 rpm
Transmission:
Shift by wire six speed auto transaxle. Six speed manual transaxle.
Limited slip differential. Final Drive Ratio 3.15:1 (auto) 3.54:1 (man)
Body:
Two door coupe body style with 2+2 seating. Extruded aluminium bonded monocoque. Aluminium and composite skin panels. Extruded aluminium door side impact protection beam.
Suspension:
Front: Independent aluminium double wishbone incorporating anti-dive geometry. Coil over aluminium bodied monotube dampers and anti-roll bar.
Rear: Independent double aluminium wishbone, coil over monotube dampers and anti-roll bar.
Steering:
ZF Rack and pinion, servotronic speed sensitive power assistance 3.0 turns lock to lock. Column tilt and reach adjustment.
Brakes:
Front: Ventilated grooved steel discs 355mm diameter with alloy four piston Brembo monobloc calipers.
Rear: Ventilated steel discs 330mm diameter with four piston monobloc calipers and separate handbrake caliper.
Conti Teves stability control system including anti-lock braking activation system (ABS), electronic braking distribution (EBD), traction control (TC), electronic brake assist (EBA) and dynamic stability control (DSC).
Wheels and tyres:
Unique lightweight aluminium alloy wheels 8½J x 19 (front), 9½J x 19 (rear), Bridgestone REO 50 235/40 ZR19 tyres (front), 275/35 ZR 19 (rear)
Dimensions:
Wheelbase: 2.660 mm
Length:4.697 mm
Width: 1.875 mm
Height: 1.318 mm
Kerb weight: 1710 kgs (Man)/1760 kgs (Auto)
Acceleration:
0 – 60 mph (Manual) 4.7 secs
0 – 60 mph (Automatic) 4.9 secs
0 – 100 km/h (Manual) 4.9 secs
0 – 100 km/h (Automatic) 5.1 secs
0 – 100 mph (Manual) 10.8 secs
0 – 100 mph (Automatic) 10.9 secs

Top speed:
186mph/300kmh
Price & availablity:
In the region of £100,000.
To be officially launched at the Frankfurt Show - September 2003.
Photo gallery