Aston Martin DB AR1 - Special Roadster for the US Market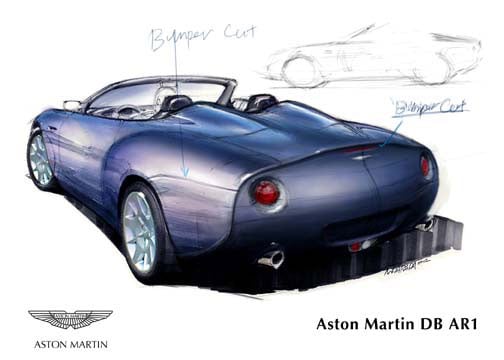 At the 2003 Los Angeles Motor Show on Thursday 2nd January, the Aston Martin DB American Roadster 1 (DB AR1) will be officially unveiled to customers and the world's media.
Based upon the current DB7 Vantage Volante (Convertible), this two-seater sports car has been designed to specifically appeal to US clients. This will be the international debut of the car and Aston Martin is showcasing the DB AR1 to gauge customer and public reaction.
Featuring revised lightweight bodywork by Zagato and a 435bhp V12 engine, DB AR1 has been created to be a true roadster in the best US tradition - no hood (roof), the use of aluminium panels and a unique interior. If there is sufficient interest from clients Aston Martin will hand-build a number of cars in 2003 at Bloxham in the United Kingdom where the DB7 is currently made.
Text & Photo; Aston Martin Lagaond Ltd