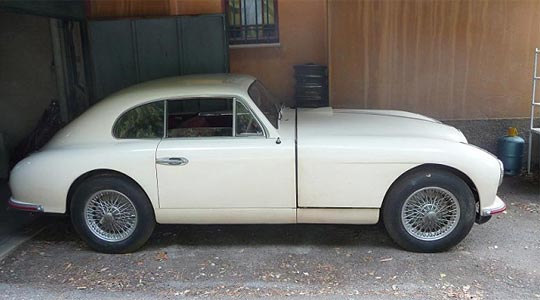 Paris-based auctioneers Artcurial held a highly successful first 'Champs Elysées' sale which grossed 2.7m euros. Top-selling car was the 1970 Lamborghini P400 Miura S which sold to a French collector for 379,600 euros.
The sale was held in the private garage of the Hotel Marcel Dassault, Artcurial's headquarters. While the 1956 Mercedes-Benz 300 SL 'Gullwing' (estimate: 350,000 - 400,000 euros) failed to sell, an impressive 85% sale of the motor cars did, mostly bang on estimate.
The Aston Martin marque maintained its popularity in collecting circles with all four cars finding new homes. The 1958 DB Mk III (188,100 euros) came out on top, with the rather nice 'garage' (rather than 'barn') find 1952 DB2 Vantage (pictured top) achieving 106,100 euros.
The French collectors' market has a traditional fondness for all things Italian so, in addition to the sale-leading Miura, other cars moving into new ownership included the 1971 Lamborghini Espada 400 GT (29,500 euros), the 1987 Ferrari 328 GTB (a 'you wouldn't get this in the UK' 49,500 euros) and the 1964 Alfa Romeo 2600 Cabriolet (a solid 53,100 euros).
On the home-grown front, the rare 1971 Citroën DS 21 Berline Lorraine by Chapron wafted majestically to 68,400 euros, while the ex-1961 Geneva Show 1962 Facel Vega Facellia F2 Cabriolet went for 47,200 euros and the original-condition, late-model 1976 Alpine A110 1300 VC, for 43,600 euros.
Artcurial's next sale will be at Paris Rétromobile on 4 February 2011.
You can see the full results HERE.
For further information, see www.artcurial.com, or email Matthieu Lamoure.
Text: Steve Wakefield
Photos: Artcurial
---
ClassicInside - The Classic Driver Newsletter
Free Subscription!