It did not take long for Gerald Laing to realise that the army was not an environment suited to his rebellious outlook on life. He penned a letter to his commanding officer announcing his resignation from service in 1960, to which the reply came, "if you continue writing letters of this sort, you'll have no future in the army!" It was true, he wouldn't, but at that time no one – not even Laing himself – could have envisaged the influential career he would forge as an artist.
From bleak to brilliant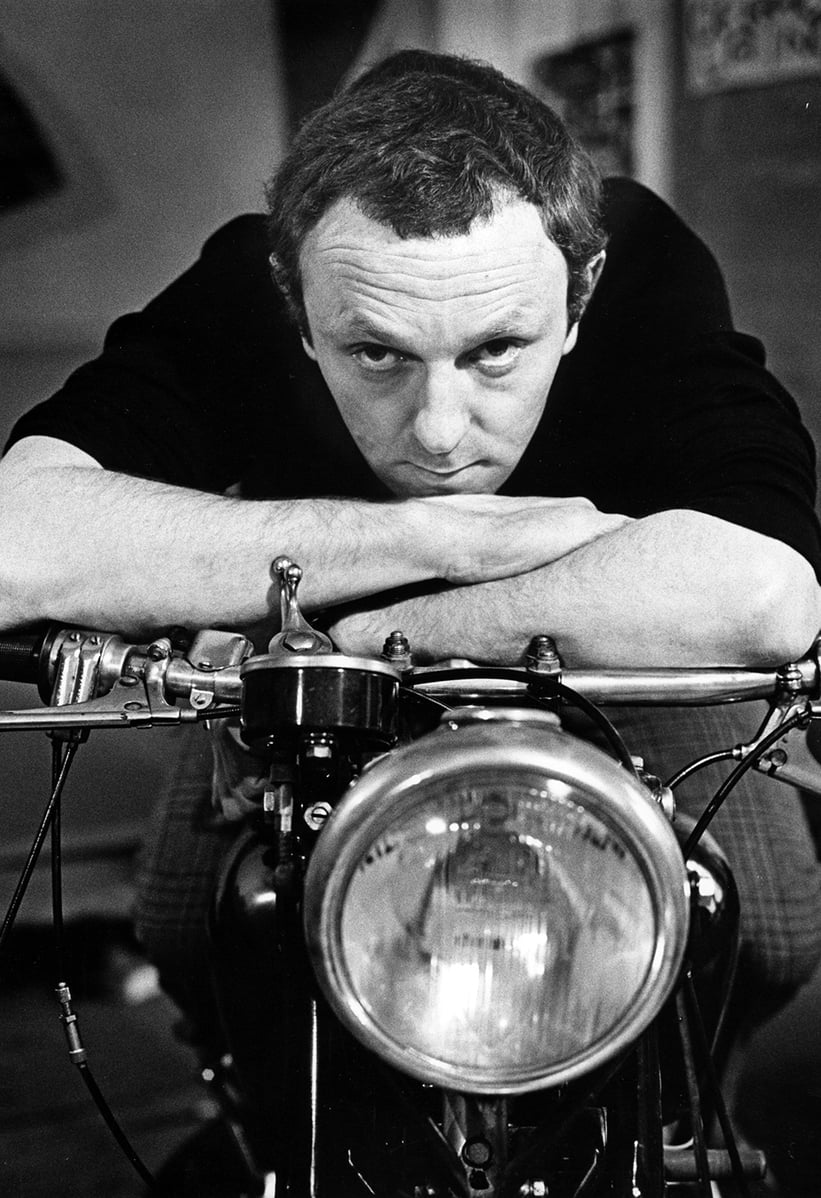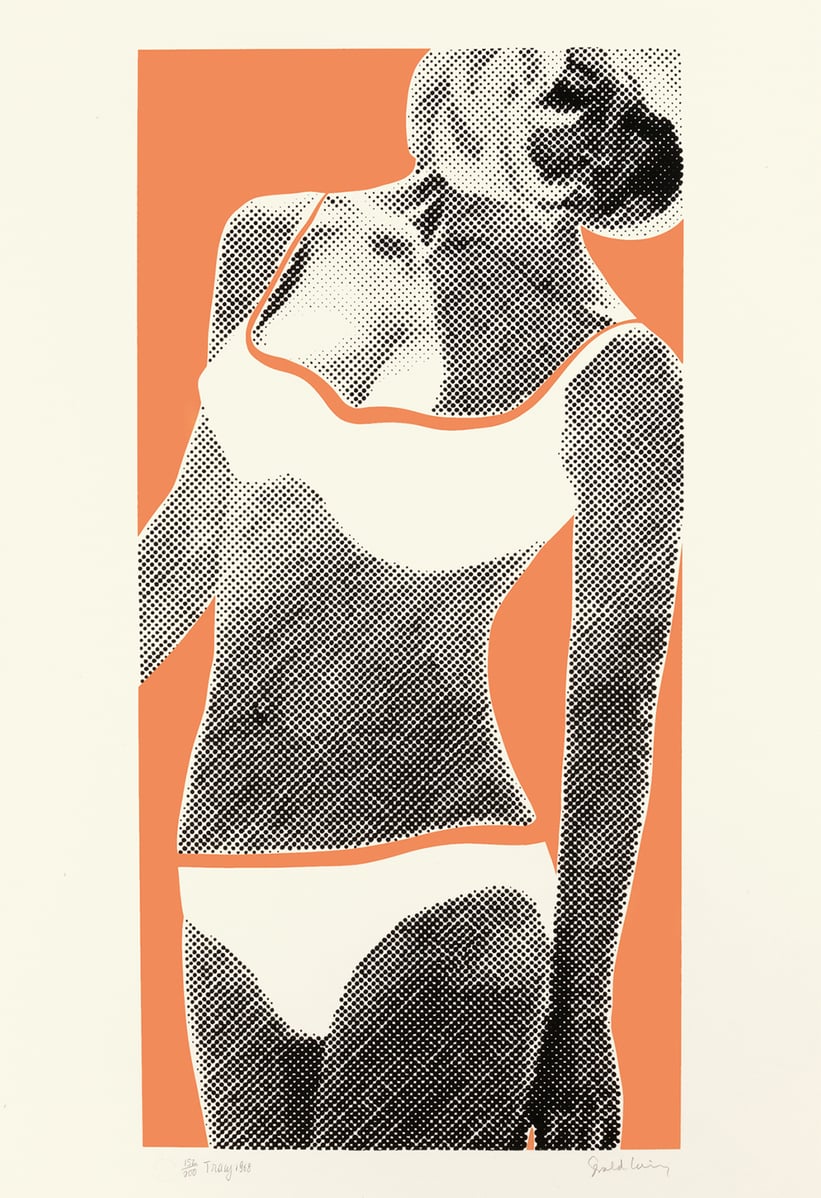 It was during his subsequent two years at art school in London that Laing, irked by an institution so obviously stuck in a painterly past, defined his early pop style, inspired by the timeless grey newspaper images composed of many small dots. Of his early works that quickly propelled him to stardom, the sultry and seductive portraits of Brigitte Bardot and Anna Karina struck the strongest chord. But celebrity would form a small portion of his work's subject matter.
In the summer of 1963, Laing took a holiday job in New York as a studio assistant for pop-art pioneer Robert Indiana, thanks to an introduction by Richard Smith, a visiting tutor at the art school. It was here that the impressionable artist grasped the American Dream, painting and, among other things, sky-diving, drag racing and hot rods – exciting and colourful pastimes, worlds away from positively drab post-War Britain. "He grew up in Northumberland, which I imagine in the 1950s was very dull," Laing's son Sam Ogilvie-Laing told us. "To then suddenly be thrust into a world full of bikini-clad girls, music, hot rods and drag racing must have been a wonderful thing."
The American Dream
Laing's years at Sandhurst certainly made their mark, and he was methodical and regimented in his work, unlike many of his wayward contemporaries. Contrary to popular belief, he wasn't American, either. "Not many British pop artists went over to the States," comments Sam. "He was the one that really embraced it – he was so wrapped up in the American Dream, and so accepted there as a result. He actually represented America in the São Paulo Biennale in 1965."
So taken with the Stateside experience was Laing that, after graduating from art school, he moved to New York permanently. It was then that the love affair with the 'Coffee Grinder' – a Ford Roadster-based hot rod – begun. "He'd just travelled round the States on a Vincent Black Shadow with my mother in the mid-1960s," explains Sam. "Upon his return to New Jersey, he pulled up at some traffic lights, and beside him was this hot rod. My father said 'nice car', and the chap replied 'nice bike', and they swapped there and then. That's how he first came about the thing."
A fleeting love affair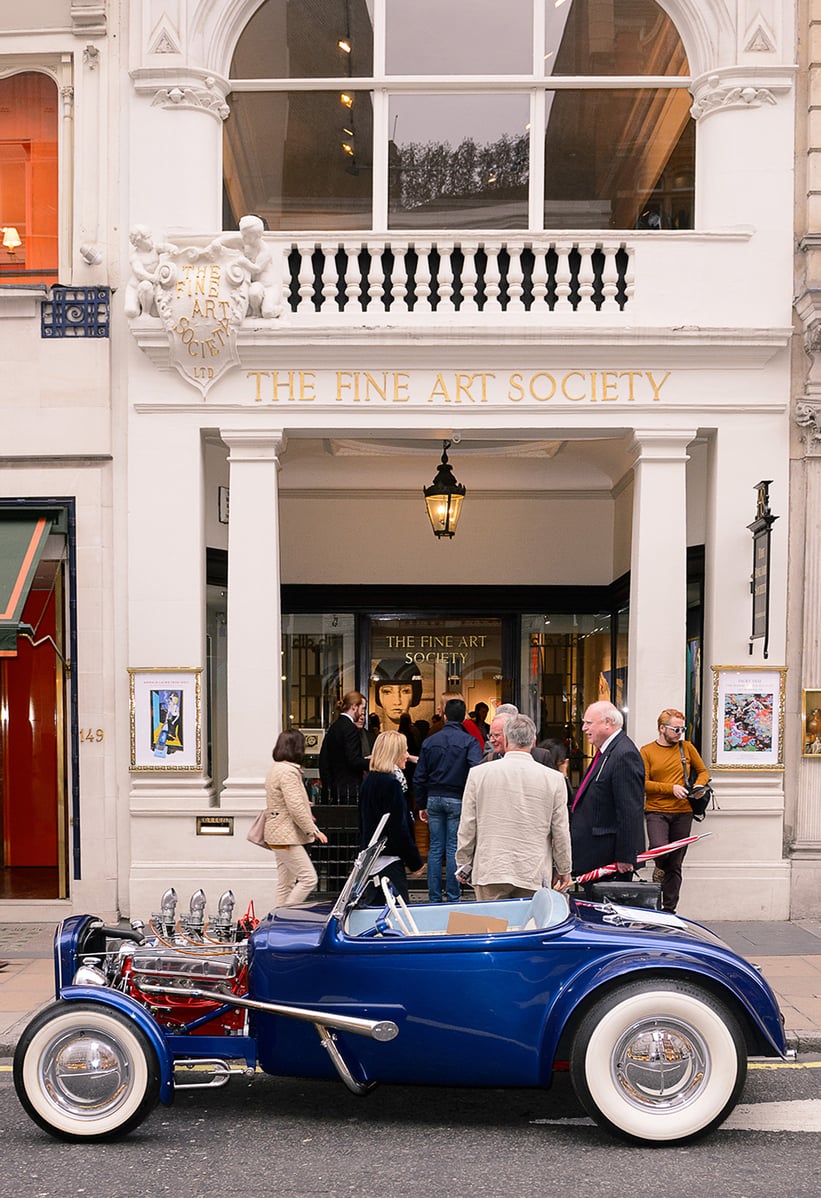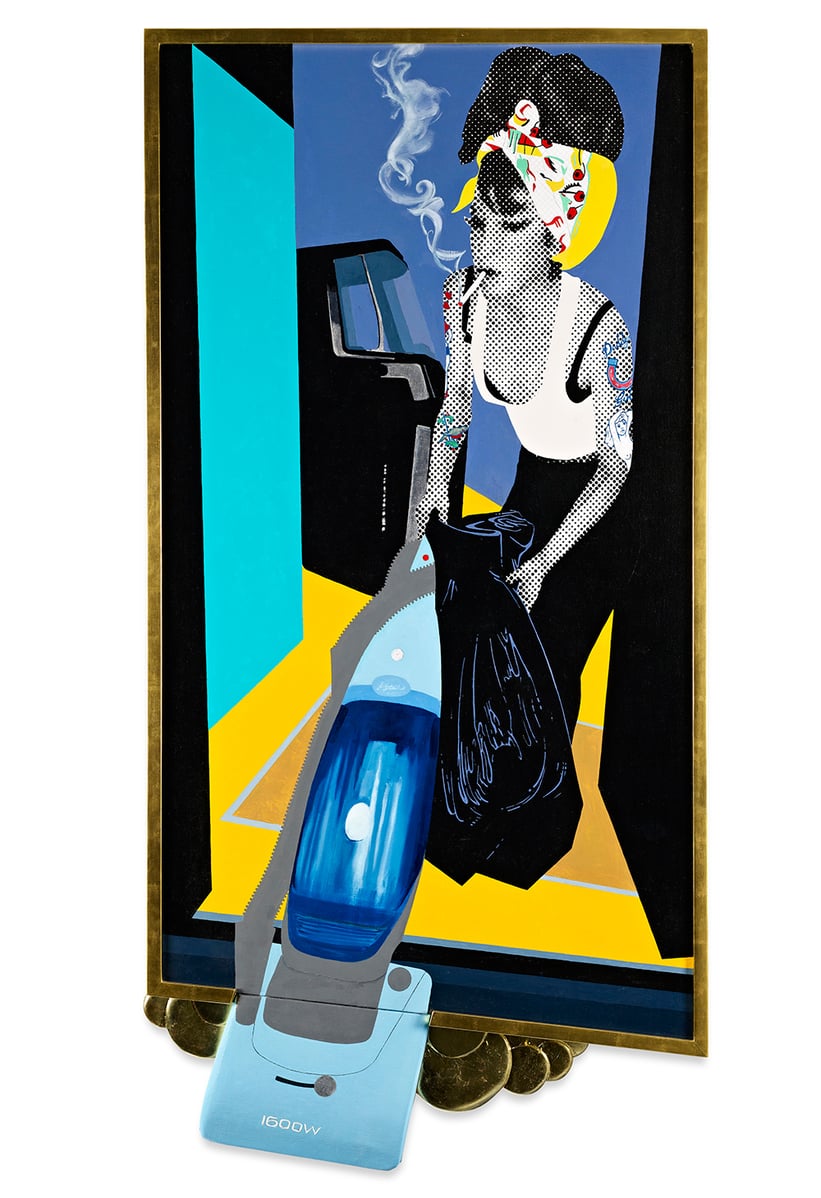 Later, Laing became disillusioned with the US – namely following JFK's assassination and the Vietnam War ­– and returned to England, 'Coffee Grinder' in tow. Nicknamed after its creator Adam Coffee, it became one of the first hot-rods to be imported into the UK. It no doubt caused quite a stir in London, where Laing could be frequently seen crossing Tower Bridge or parked outside the Horse Guards Parade. "He had it for a good couple of years," recalls Sam, "then there was a bit of a déjà vu moment: he was driving around Hyde Park, pulled up at some lights, and ended up swapping it with a chap in a souped-up Ford Cortina."
Back in the UK, sculpture – first abstract then representational – became Laing's principle medium. While he never quite returned to the heady popularity of his 1960s pop-art days, he earned considerable recognition for a number of prominent public commissions. And in the noughties, he dipped back into his signature pop style. First came a number of heartfelt political images of such atrocities as the London bombings and the Iraq war, much to the initial disdain of the media, followed by depictions of celebrities (as he had begun painting all those years earlier) such as Amy Winehouse and Kate Moss. Gerald Laing died in November 2011, exactly five months after Winehouse tragically passed.
Good news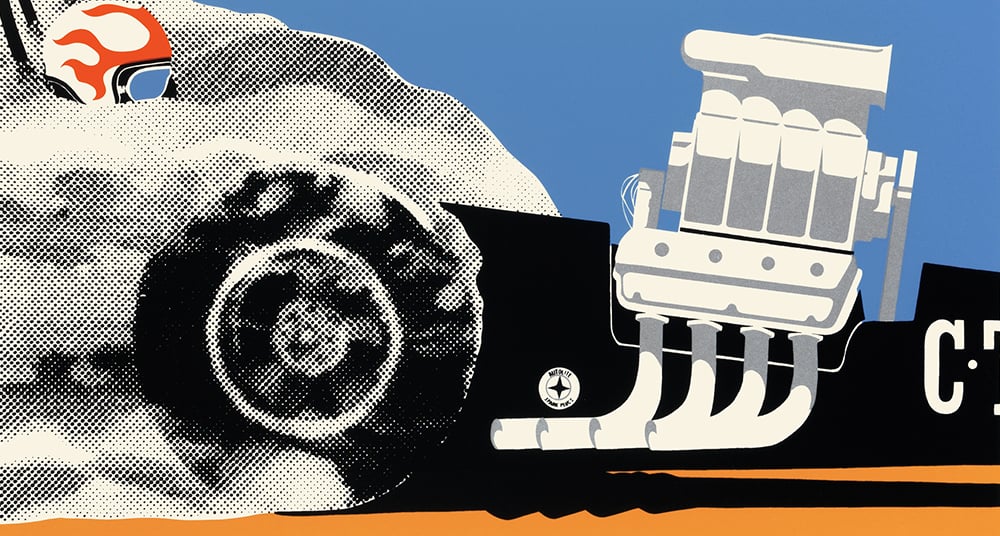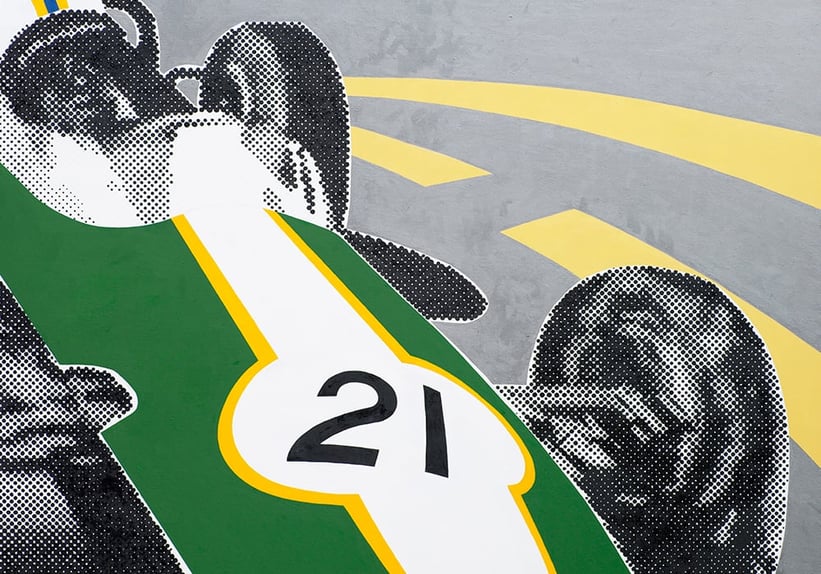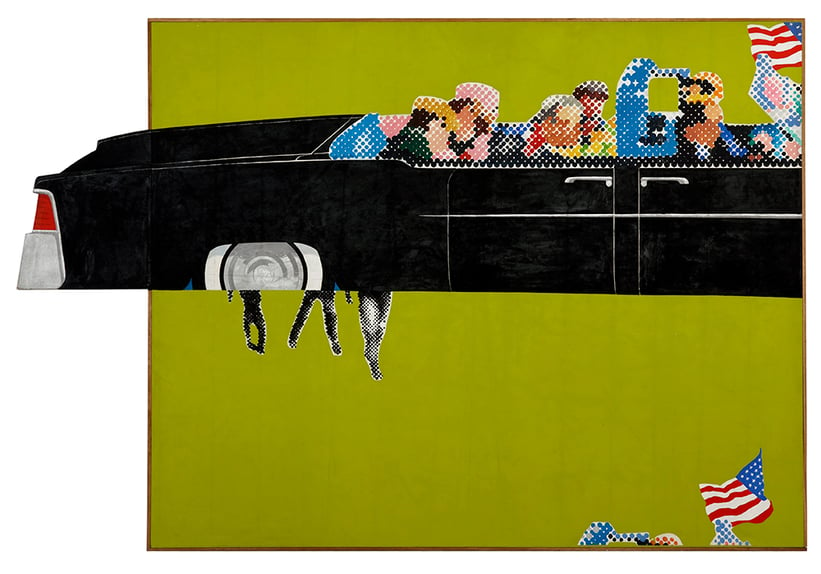 Now a major retrospective of Laing's work is taking place at The Fine Art Society in London until 13 October, featuring his most famous paintings and sculptures. "He was a great friend as well as a great father," concludes Sam. "My brother and I are actually in the process of buying back the 'Coffee Grinder'." Unlike much of what fills the newspapers' front pages at the moment, we're sure this is news Laing would have been delighted to hear.
Photos: Mike Cornfield, Gerald Laing, Hugh Kelly, Getty Images