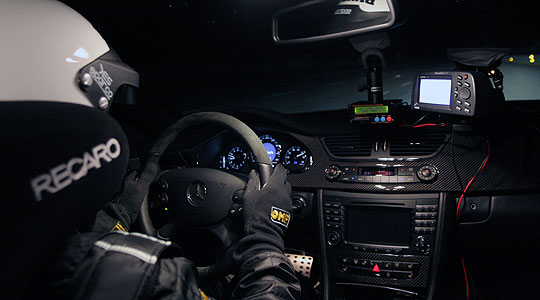 Nardo, Italy. June 2006. The BRABUS Rocket, a small-series production car based on the Mercedes CLS series, set a world record maximum speed for a 'sedan' - 362.4 km/h (225.191 mph), beating the previous figure of 350.2 km/h,also held by BRABUS with the E V12 Biturbo
The heart of the new record car is the twin-turbo V12 engine from the latest Mercedes 600 models - fitted into the tight confines of the four-door with almost surgical precision. BRABUS increases the displacement to 6,233 ccm with a special crankshaft, larger cylinder bore and forged pistons. In addition the engine is extensively modified internally: Airflow in both intake and outlet manifolds of both cylinder heads is optimized and sport camshafts are installed.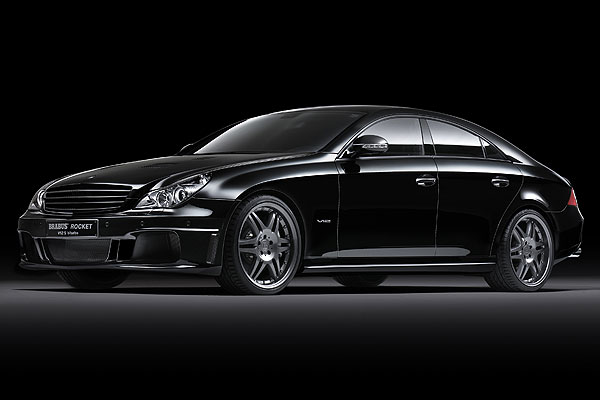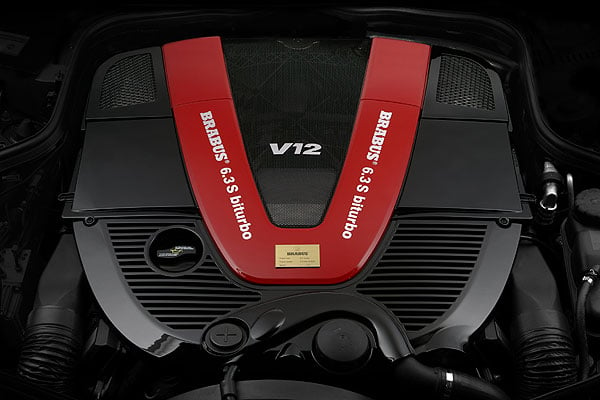 The V12 also has custom-developed larger turbochargers, a more efficient intercooling system and a stainless-steel high-performance exhaustwith four pipes and low back-pressure metal catalysts. Newly programmed engine electronics orchestrate the perfect interaction of all new components and contribute not only to maximum power yield but also to meeting the latest EURO IV emission limits.
The BRABUS S V12 S Biturbo engine is the most powerful TÜV-tested engine of German origin: The maximum power output of 730 hp / 537 kW is produced at 5,100 rpm. Peak torque is 1,320 Nm, but is limited electronically to 1,100 Nm, available from a low 2,100 rpm. In addition to the top speed of 362.4 km/h, limited electronically for street-legal operation to 350 km/h, the BRABUS ROCKET also offers acceleration of 0 - 100 km/h in 4.0 seconds, 0 - 200 km/h in 10.5 seconds, 0 - 300 km/h in 29.5 seconds.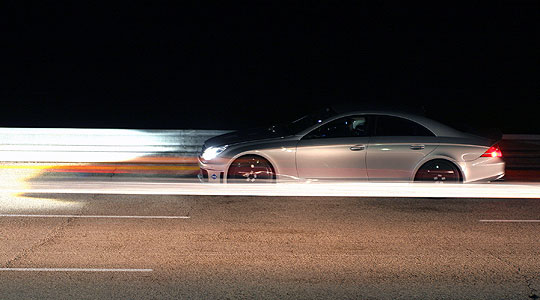 The BRABUS designers have developed a front apron with large air inlets specifically for the ROCKET for optimal airflow to radiator and oil coolers. The specially designed front spoiler received its final aerodynamic tuning in the wind tunnel - it not only reduces lift on the front axle but also contributes to a further improved drag coefficient.

At the rear is the custom-developed BRABUS rear spoiler lip on the boot that emphasizes the bow-shaped design of the rear and together with the front apron improves directional stability by minimizing aerodynamic lift.
Inside the BRABUS ROCKET, the expectations of the most discriminating customers are met. Soft and breathable BRABUS Mastik leather and Alcantara are part of the exclusive BRABUS ambiance as is an ergonomically-shaped BRABUS sport steering wheel and the 400 km/h speedometer.
Text: Classic driver
Photos: Brabus
---
ClassicInside - The Classic Driver Newsletter
Free Subscription!