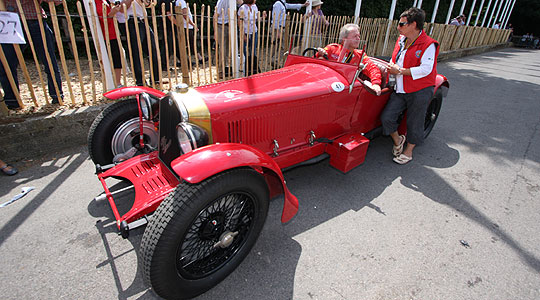 The 2010 Festival of Speed is now just a month away. To get us in the mood, John Simister recalls his red-tinted drives at last year's event...
The overalls are too tight around my middle, a middle which is clearly less slender than I thought it was, and breathing is not easy especially when I try to bend. But with overalls zipped up, I am at least rendered trim enough to be able to look down and see more of my red racing shoes.
I have to unzip them again to climb into the first Alfa I'm to take up the Goodwood hill. It's a 1931 8C 2300 tipo Le Mans, similar to the blue one that was modelled by Scalextric in the 1960s and which regularly beat the too-tall 4½ Litre Bentley on my own particular Plexitrack. But it's not just any 8C 2300. It is the 8C that Sir Henry (aka Tim) Birkin bought in 1931 and in which he won that year's Le Mans 24 Hours.
This extremely special Alfa later went to live in Nigeria, where its doctor owner eventually converted it into a pick-up. You couldn't do that with a modern Le Mans car. Rediscovered in the 1970s and restored to how it had been, it now lives in Alfa Romeo's Centro Storico.
There's plenty of whining when it starts up, because Vittorio Jano created this engine with a lot of gears. It's a straight-eight built around two blocks of four cylinders, with all the gear drives between them. The result is one of the most beautiful engines there has ever been.
It is finned, sculpted, fabulous. And, amazingly, not only are the two blocks identical and reversible but also the two heads and the two pairs of camshafts, the inlet camshaft of one head being interchangeable with the exhaust camshaft of the other.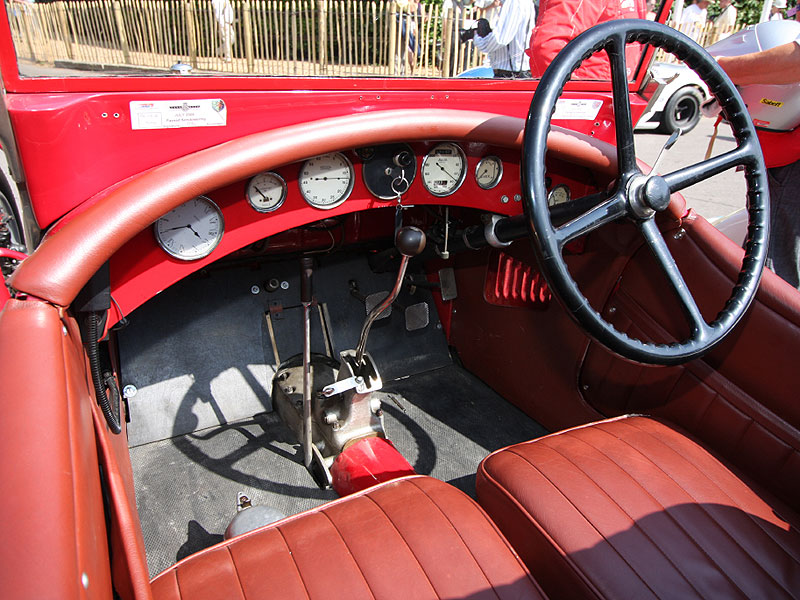 Why? Certainly not with a view to mass production. In this form, it generates 153bhp at a lively 5200rpm from its 2336cc, reckoned to be enough to propel this handsome but unaerodynamic Alfa to 125mph.
I have long been intrigued by this engine but I have never yet driven behind one. It starts with an easy whirr and settles to a tidy idle of unknown speed, because the rev-counter doesn't work. I move the long, gracefully curved gear lever into first gear; the gate is open and the fit of lever into gate is very precise.
For a Le Mans winner it feels very tractable, more as you might imagine a pick-up (for example) to be. I drive gently down to the startline, slightly disappointed that the brake pedal is now in the middle rather than to the right of the accelerator, as built, but relieved that it's one less thing to think about. The speedometer doesn't work either. I'll be driving numerically blind.
It's my turn. We're off, and the 8C has just made a very satisfying start with exactly the right amount of wheelspin. That's a relief. Clutch down – neutral – clutch up to synchronise gear speeds – clutch down – second; it's quicker than waiting for the crash-box's gears to slow by themselves and, done accurately, makes for a fast, silent change. Now third, less slickly. This gearbox demands total accuracy in both timing and movement, and more practice is needed.
This is a long-chassis 8C 2300, and it feels it in the first corner with languid, benign reactions. The steering is unexpectedly light and accurate and, as I give the engine as much head as I dare, I'm rewarded by a crisp-edged beating of exhaust pulses. It sounds more V8 than straight-eight, thanks to the firing order – and I've finally tasted a Jano straight-eight Alfa... delicious.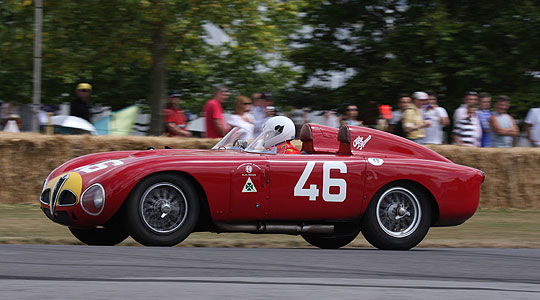 But now it's time to swap eight cylinders for six. Meet the 1953 Alfa Romeo 6C 3000 Competizione Maggiorata.
Juan Manuel Fangio drove this car. Sweat from my palms will shortly join the remnants of his. That's good for starters but there's more. This Alfa represents the end of an era, as the final Alfa of the old days before mass production reinvented the marque for modern times. It uses a version of the six-cylinder engine launched in 2500 form in 1938; cars powered by it, wearing various bodies, continued to 1953 with some examples even emerging during the war years.
After this, the four-cylinder, relatively proletarian 1900 saloon and subsequent coupés took over, but not before the 6C engine had been expanded to three litres with competition in mind, and in 1952 it grew again to 3495cc for the four 3000 CMs.
Four CM coupés were built and two spiders. Fangio came second in a coupé in the 1953 Mille Miglia, and probably would have won had the steering not broken, leaving him with just one steerable front wheel.
This spider still has its Maggiorata engine. The other suffered the ignominy of being reduced back to three litres to suit a revised racing class structure, in which form the poor thing was known as the 6C 3000 C PR, standing not for its use as a celebrity driving opportunity but for Passo Ridotto, or reduced pace. 'Alfa Romeo 6C Reduced Pace wins again!' a publicity poster never quite said.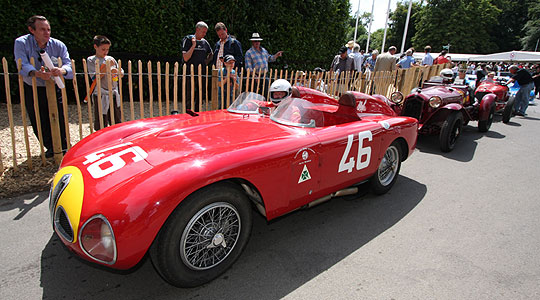 So here I am sitting in a brown leather armchair, eyes peering through a pair of aero screens, head resting on the leather pad behind which flows one of the two fairings. Together they impart a racing look plucked straight from The Eagle Book of Cars and Motor Sport. Carrozzeria Colli created the shape, including the Alfa shield and whiskers emphasised here by a yellow ellipse of face-paint.
There is no speedometer, no handbrake and, despite the presence of a second armchair to my left, no passenger door. This is a proper racing car. Flick on the two fuel pumps, push the button and you're instantly rewarded with an angry harrumph and clouds of sooty blue smoke as instrument needles vibrate into life.
Into first gear (of five). It won't engage; the dog-teeth aren't chamfered enough to guide themselves in and the 6C's red-overalled minders have to roll it back and forth until selection is achieved. It's a long-legged first gear and the Alfa takes off at a cracking pace. This car doesn't do slow.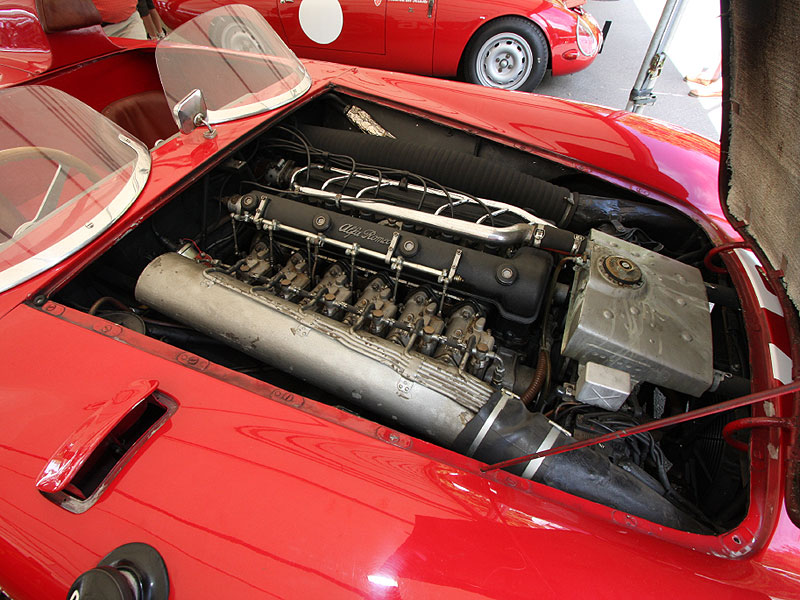 Now it's my turn at the startline again. There's 271bhp on tap at 6500rpm from this sculptural-looking twin-cam, designed by Giuseppe Busso who, much later, masterminded the Alfa V6. It's purportedly able to hurl 930kg of 6C at speeds up to 156mph. An exploratory throttle-blip brings instant response from the line of six single-choke Webers. Good; the plugs haven't fouled and the fuel hasn't vaporised (the fuel-feed pipes are cleverly cooled by running them inside the airbox). Revs up, flag down, go!
The 6C slews this way, that way, as the tyres smoke and try to meld with the surface, but it's easy to contain the snaking and meter the power accordingly. Fun, too; the 6C finds full grip as the first corner approaches and it's pulling with almost savage gusto. The engine might have been co-operative at low revs but it's another animal above 4500rpm, the note turning from grumble to a razor-sharp blare of aural energy which turns my mind into a sonic soup of smoky, sliding, battling images from a heroic past before health and safety were invented.
Fangio had steering trouble in his Mille Miglia 6C, you might remember. Well, both front wheels steer in this example, but the action is so approximate that I'm surprised even the mighty Fangio noticed the difference when one went on strike. The contrast between the engine's precision and the steering's vagueness is unsettling. I hadn't expected to have to allow three feet of wandering room in each direction for every cornering line.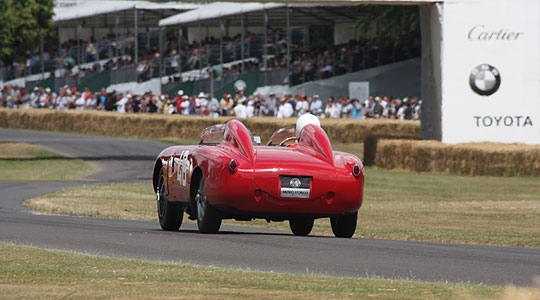 So after my first ragged right-hander, engine threatening to overwhelm all forms of directional control, I elect to go carefully into the curves and save the drama for the straights, on which the 6C is magnificent. Its engine is one of those that seems like a living thing, not just delivering the thrust and fireworks but telling you in great detail about the whole process as it does so. I feel the Alfa Romeo 6C 3000 CM has given me a glimpse of its soul.
The 2010 Goodwood Festival of Speed will take place at Goodwood House from 2 - 4 July. As always, admisssion is strictly by advanced ticket purchase. For further information, see www.goodwood.co.uk
With thanks to Anna Angelini at Alfa Romeo UK and all at the Centro Storico.
Text: John Simister
Photos: Peter Burn / Alfa Romeo
---
ClassicInside - The Classic Driver Newsletter
Free Subscription!