All-AC Cobra race for 2012 Revival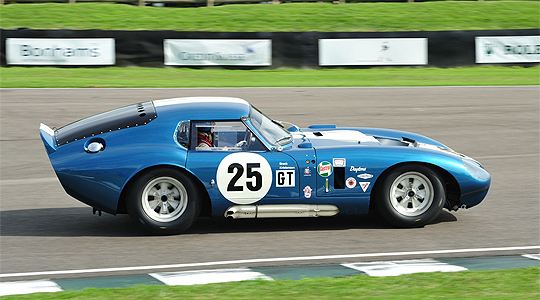 Hold on to your hats, this is going to be quite some race. For next year's Revival meeting, Goodwood has confirmed that one of the grids will be entirely composed of AC Cobras.
In 2011, the Jaguar E-type's 50th birthday was celebrated in similar fashion and resulted in an action-packed, two-driver thriller ultimately won by Jon Minshaw and Martin Stretton's 'semi-lightweight'.
Next year, 30 original AC Cobras in all guises (including, we hope, the Daytona Coupé that won this year's Royal Automobile Club TT Celebration race, seen above) will take to the track for further wheel-to-wheel action over 45 minutes.
As is usually the case at the Revival, top professionals will be paired together, or with talented owner-drivers.
It's not yet known if this means the make and model will be excluded from the TT, as was the case with the E-types this September.
Carroll Shelby himself may well be present to see his creation's fiftieth celebrated in some style – and with an awful lot of noise, hot engines and tortured rubber.
The 2012 Goodwood Revival will take place from 14 to 16 September. As always, tickets are by advance purchase only, and much sought-after. For further information, call the ticket hotline on +44 (0)1243 755055 or visit the ticket section of the website www.goodwood.com/motorsport.
Text: Steve Wakefield
Photos: Classic Driver