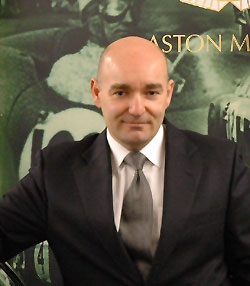 You're looking at the man who's probably sold more Aston Martins than anyone else. Having worked at the company's Mayfair showrooms for twelve years, Alan Baker's now operating as an independent specialist - the London arm of a joint venture with Desmond Smail – and concentrating on the newer models.
He's seen a lot of changes at Astons, from the introduction of the Virage to replace the ever-popular V8, through DB7, the mighty supercharged Vantages (including speccing the V600 and short-chassis convertibles), DB7 Zagato, Vanquish, and today's Gaydon-produced DB9.

Located at Aston Martin Heritage Specialist Ian Mason's premises, in North Kensington London W10, Alan's aim is to continue the type of business he has been so successful with over the last dozen or so years. From late model V8s and DB7s to pre-owned DB9s, V8 Vantages and Vanquish. As a former main dealer sales director he can also advise on speccing your new Aston too, and sourcing today's 'hard-to-get' cars.

All cars will be prepared by Ian Mason, and the company will also make ample use of Desmond Smail's 25+ years in the business.

Practising what he preaches (running, as he does, a V8 Volante, and driving a manual DB7 as an everyday car), what's his favourite Aston? "A DB4GT - although you might be surprised if I said V8 Vantage Zagato!" says Baker.

And of the current 'affordable' cars to buy? "A DB7GT, a great car."

To see all Aston Sales of Kensington's cars in the Classic Driver car database please CLICK HERE.

For further information please visit:
www.astonkensington.com
www.ianmason.co.uk
www.djsmail.co.uk

Aston Sales of Kensington
139a Freston Rd
North Kensington
London W10 6TH
UK Tel:

+44 (0)207 985 0111

Fax:

+44 (0)207 985 0120

Email:

[email protected]
Text: Classic Driver
Photos: Classic Driver
---
ClassicInside - The Classic Driver Newsletter
Free Subscription!