Abarth 500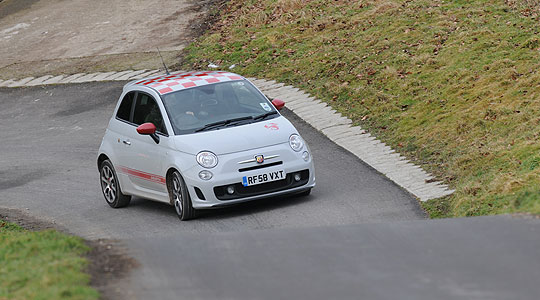 Zig-Zag hill was on our Abarth 500 test route. Quite why this place is so famous, I don't know, but it's an unusual stretch of English road. Personally, I prefer faster, open corners but Zig-Zag, rising towards Cann Common from the Wiltshire village of Tollard Royal, does provide a steep climb through several hairpin bends in open country.

On that sunny day the views were spectacular but the road was wet with icy patches and snow was packed alongside. After a spirited ascent with all the electronic aids doing their stuff, including the new TTC simulating a limited-slip differential, I thought to myself, "If I'd just bought this car, I'd be well pleased."

With Sportmode engaged, engine response was sharp and the 135HP of the 1368cc four-cylinder turbo pulled us up that hill with real verve. It sounds good, too. Braking into those notorious hairpins was utterly secure; there was no excessive understeer on turning in and applying the power. Occasional icy patches were felt as the front wheels started to spin but the system checked all that promptly and got on with the job of zipping up the road.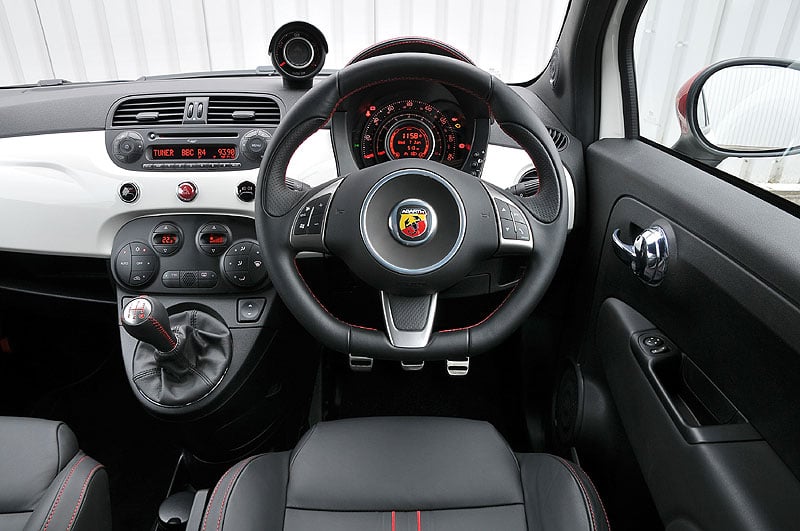 The electrically assisted power steering, more weighty in Sportmode, felt good and surprisingly small wheel movements were required. It's the proper job, this Abarth, and definitely not some cynical bit of tarting up by the marketing men.

If Zig-Zag resembles a typical British hillclimb course, the good news was that we were on our way to the real thing – Gurston Down – where we would be able to really put the new Abarth through its paces, and then switch to the more extreme 'esseesse' version of the car.

Gurston is a narrow hill with technically tricky sections, fast and downhill first, then up through short, tight corners before a long, flat-out climb to the finish. The narrow strip of Tarmac was dry and, off the public road, we could push to the limit. Gurston's downhill start gets you going very fast, very quickly. In third, braking for the first kink to the left, I got a trace of ABS action for a split second, briefly activating the automatic hazard flashers, but we were soon shooting through and accelerating away.




The final lefthander before the long uphill finishing straight betrayed the fact that this is not a production racer. Only there did the electronic safety aids overdo their assistance. Entering the corner at maximum effort, I floored the throttle as the apex was approached; there was a slight engine hesitation and the momentum was lost. But think: this is a road car, set up very well for safe, sporting use. Before racing it we'd work with the software people, making responses that bit quicker. For efficient fast road use, the driver is not over-assisted and there is nothing disappointing about the Abarth 500 in this respect. The fun factor is high.

Next, we had the chance to try a figure-of-eight, second gear circuit, testing the TTC (Torque Transfer Control) system with it turned on and off. Leave it on all the time – that's my conclusion. Turned off, the car washes out very wide under power, with the inside wheel spinning, as any powerful front-wheel-drive car would. Turned back on, the TTC system holds the car in tight to the bend, seeming to pivot neatly around itself, and it is much faster.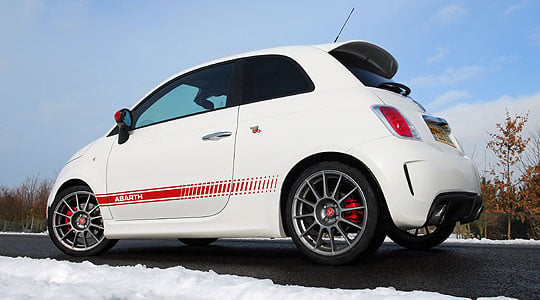 Now to the 'esseesse' with its £2500 performance pack of firmer suspension, uprated brakes, remapped engine giving 160HP and its lower profile tyres (17in wheels replace the standard 16in). As there were only two of these available, I was no longer solo. We all had to be accompanied by a minder, an experienced hillclimb expert.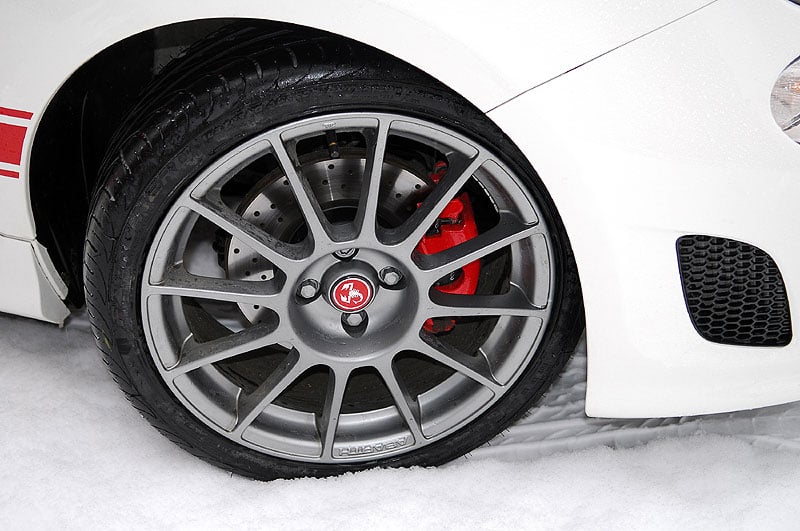 Off the start the esseesse was obviously quicker but, as I crossed the finish line at an indicated 85mph, I realised that it wasn't any faster there than the standard Abarth 500 had been. The extra weight of one passenger, I concluded, was enough to negate the extra 25HP up that incline. The firmer ride was perhaps excessive and I came away from the day thinking that the standard Abarth 500 is the business – the esseesse is possibly just a step too far.




Either way, this super little machine seems set to carve out its own cult. It's great, except for one thing. Like the Fiat 500, there's plenty of room for a tall driver but somehow, in this very different version, they seem to have reverted to a traditional Italian driving position. The steering wheel was fractionally too far way – but that wasn't enough to stop me from ending the day wanting one of these new Abarths.


| | | |
| --- | --- | --- |
| | Abarth 500 | esseesse |
| Engine: | 1368cc in-line 4-cylinder turbocharged petrol | |
| Max power: | 135HP @ 5500rpm | 160HP @ 5750rpm |
| Max torque: | 152lb ft @ 3000rpm | 170lb ft @ 3000rpm |
| Transmission: | 5-speed manual gearbox, front-wheel drive | |
| Fuel consumption | | |
| (combined): | 43.4mpg | 43.4mpg |
| CO2: | 155g/km | 155g/km |
| Top speed: | 128mph | 131mph |
| 0-62mph: | 7.9sec | 7.4sec |
| Price (OTR): | £13,600 | £16,100 |
| Available: | Now | |
Text: Tony Dron
Photos: Michael Ward / Abarth
---
ClassicInside - The Classic Driver Newsletter
Free Subscription!