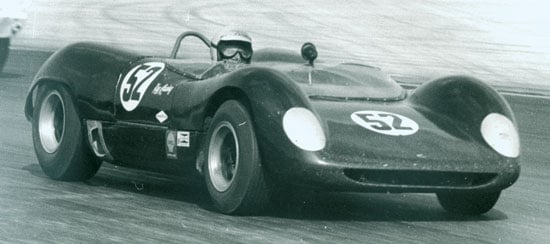 - by Steve Wakefield
"Crossing the Divide" was Cheshire-based auction house H&H's theme for last week's Olympia event, signifying that it was their first in London. Having put together a good selection of cars to cater for all tastes, they sold a good proportion of them including a 1899 Panhard-Levassor for £107,500 and a 1956 Mercedes-Benz 300SL Gullwing for £ 100,851.
"That's a £100,000 car", said the head of department of one of London's other Houses, standing next to me when the 1899 Panhard-Levassor came up. He was spot-on and another reminder to all – these Veterans are fetching some big money now. H&H were hoping the ex-Revson 1965 Brabham BT8 Sports Racer would top the auction, it didn't, but it did sell at £102,125 including premium. It looked very attractive in its white/blue stripe colour scheme.
The 1956 300SL Gullwing, in very good condition with matching luggage, went for £100,851 and begs the question – could you buy a more interesting car, one in the DB4GT/Ferrari 250 league, for this sort of money? Very good showings for a couple of AC Aces. A 1959 Ace Bristol reached £61,812, while a 1958 version of the same model, in not such nice condition, was £45,150.
The very pretty little 1961 Alfa Romeo Giulietta SZ was sold, it reached £40,850 but some of the pre-war cars, such as the 1937 Riley Lynx, and 1935 Riley Sprite did not. There had been a lot of pre-sale interest in the two Lagonda Rapide Saloons, the 1962 car selling for £22,037, its younger brother, a 1964 car, selling for £12,900. Not so much luck for the two Aston Martins – neither sold, despite relatively good bidding.
An adventurous soul bought the 1978 Ferrari 400 for £7,525, good luck, it was a nice car looking for some TLC. No buyers unfortunately for the 1999 Bentley Continental SC Sedanca, and much comment from within the hall of the depreciation suffered on this car costing £275,000 when new four years ago.
H&H's next sale reverts to their more familiar Buxton location and is on the 3rd and 4th of June.
For a full listing, see the Provisional Auction Results