4th European Concours d'Elegance 2004 - Düsseldorf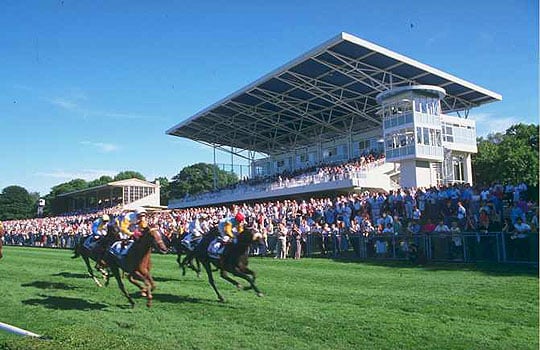 For the past three years the European Concours d'Elegance has taken place at Schloss Schwetzingen but the 4th European Concours d'Elegance will be held this year in Düsseldorf at West Germany's oldest and most prestigious Horse Race Course known as Düsseldorf Galopp, with up to 150 of the World's Finest Coach Built Automobiles competing for the top Honour of Best of Show and the European Grand Prix Trophy.
We have been invited by the City of Düsseldorf in conjunction with their marketing organisation "Destination Düsseldorf" and the internationally renowned Messe Düsseldorf will be providing all the public relations and promotional support for the Event. Düsseldorf Galopp is celebrating its 160th Anniversary this year; the Race Course has a very prestigious and glamorous ambiance with superb permanent facilities including two large Tribunes and excellent hospitality precincts as well as vast car-parking areas. It is only a few minutes from the City Centre and the World renowned Königsallee shopping centre and well served by public transport.
1935 Hispano-Suiza K6 Saoutchik Cabriolet
The City of Düsseldorf, capital of Northrhine-Westphalia situated on the banks of the River Rhine is today Germany's most prestigious and wealthy city and rapidly becoming the fashion centre of Europe. It has excellent communications network with the A1, A3, A52 and A57 autobahns, ICE Intercity Rail Services and Düsseldorf International Airport and its close proximity to Holland and Belgium.


Individual Classes – Various Age Related Classes including:

Favoured Marque. This year our Favoured Marque is Hispano Suiza, which is celebrating its Centenary.

Favoured Coach Builder is H J Mulliner which will be supported by Bentley Motors. Our other Classes will be Age Related and include Special Classes for Ferrari and Bentley as well as numerous Special Awards.

Meguiar's Best in the World Trophy for past Best of Show Winners from all the major Concours d'Elegance around the World will be invited to compete for the ultimate accolade of 'Best in the World'

Special Awards To include Haute Couture Trophy for the most glamorous ensemble, Ladies Cup and Picnic Award to encourage our Owners to dress in period costume that befits their car and the prestigious F.I.V.A. Awards to name but a few. The full list of these Classes, Awards and Timetable are in the enclosed appendix.

International Jury Each year we personally invite well known Automotive Historians and past and present Motor Industry Designers to make up our Judging Teams. This year we expect to have 26 members on our Jury Panel who will have the difficult task of not only selecting the individual Class Winners and Runners-up but the Honorary Team the overall Best of Show Winner and Meguiars 'Best in the World' Trophy.

Show Horse Races In addition to our Concours d'Elegance participants, Düsseldorf Galopp are planning to arrange a series of Show Horse Races during both days as well as parades of:

Horse Drawn Carriages We are planning a number of parades of early Coach-Built Horse Drawn Carriages, during both days, which befits our theme of Coach Built Automobiles and shows the development of coachwork from horse-drawn to automobiles, which we believe will be of great interest to our Owners as well as the Visitors.

Automotive Art Exhibition The European Concours d'Elegance has always been a great supporter of Automotive Art and this year we will have an even larger Art Exhibition with over 30 International Automotive Artists exhibiting their current works.

Specialist Automotive Retailing Areas, selected Classic Car dealers and Automobile Clubs We are also inviting selected Automobile Clubs to have special displays as well as a selection of International Classic Car dealers and Automobilia retailers.
1939 Bentley 4.25 MX H J Mulliner N Fraser
Individual Classes
| | | |
| --- | --- | --- |
| Class A | Veteran/Edwardian Open/Closed | pre-1918 |
| Class B | Vintage Open/Closed | 1919 - 1930 |
| Class C | Honoured Marque - Hispano Suiza | pre-1939 |
| Class D | Post Vintage Thoroughbred Open/Closed | 1931-1945 |
| Class E | Ferrari Special Coachwork Class | pre-1970 |
| Class F | European Grand Tourismo/Sports Cars | 1945 - 1970 |
| Class G | European Competition/Sports Cars | 1920 - 1970 |
| Class H | Special Coachwork | 1945 - 1970 |
| Class I | Bentley, Cricklewood, Derby & Crewe Classes | 1920 - 1970 |
| Class J | Special feature Coachwork – H J Mulliner | pre-1970 |
Special Awards

All Entries will be judged in their respective Classes starting at 0900 hours. Results announced by 1300 hours with Rosette Award Presentations in the afternoon.


| | |
| --- | --- |
| 1. | Most Elegant European Open Car |
| 2. | Most Elegant European Closed Car |
| 3. | Most Elegant American Car |
| 4. | Most Elegant Interior |
| 5. | Lord Montagu of Beaulieu Trophy - Most significant car present of British origin |
| 6. | Classic Motor Magazine Trophy - The car present that the Editors would most like to drive and road test |
| 7 | Chairmans Award/Lorin Tryon Memorial Trophy - Most deserving car present |
| 8. | Ladies' Cup |
| 9. | Haute Couture Trophy - Most glamorous ensemble of contemporary period fashion and car as presented at Awards Ceremony |
| 10. | Special Picnic Awards |
| 11. | F.I.V.A. Trophy - As selected by a special F.I.V.A. Jury |
Opening Times;

Saturday 3rd July 1000 – 1800 hours
Sunday 4th July 1000 – 1800 hours

Admission Charges

Adults 10€
Family Ticket 20€
Children/Student 6€
Special Rates for Automobile Clubs and Groups

www.european-concours.com.
Text/Photos: European Concours d'Elegance/ The Silent Sports Car Club