Despite terrible weather, 10,000 classic car enthusiasts gathered at the European Concours d'Elegance, held this year for the first time at the elegant horse-racing venue that is the 'Düsseldorfer Galopprennbahn'.
Of course you cannot blame the organisers for the weather, but if Saturday had the worst of the natural elements, Sunday was much better and showed the potential of this event to be the most exclusive meeting of its type in Europe. Over 100 years of automobile history was on show for the whole weekend.

Speaking on Sunday afternoon, Otto Lindner Jun. (the official representative of 'Destination Düsseldorf', on whose suggestion the meeting moved from Southern Germany) said "With the European Concours we have a new highlight for our city. The combination of 100 years of the automobile with our famous 160-year old horse-racing course is sensational. This first event shows the potential for years to come".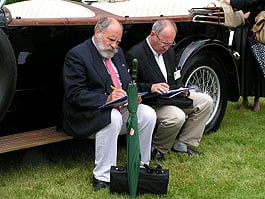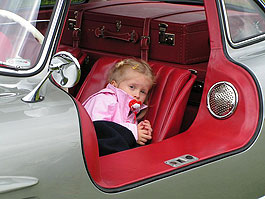 Overall winner of the concours was Erich and Irena Haller from Muttenz, in Switzerland, who had entered their 1928 Hispano Suiza H6B 2+2 Cabriolet. This won the coveted cup 'Best in Show'. Mayor of Düsseldorf, Joachim Erwin, under whose patronage the event was run, presented the award to the winners. An overcome Irena Haller said "This is one huge honour for us. There are so many beautiful cars here; the jury did not have an easy decision. Above all we enjoyed the setting and location of the event. Absolutely 'A1'."




Husband Erich was clearly overwhelmed as well "The combination of the European Concours and the Düsseldorf race course is unbeatable. We hope that the event will have a fixed place in the calendar". Organiser Bob Gathercole knew he now had an obligation "We saw marvellous cars and tremendous horse-racing this weekend. I am sure we will be back and I would like to thank 'Destination Düsseldorf' and the race course for their great support".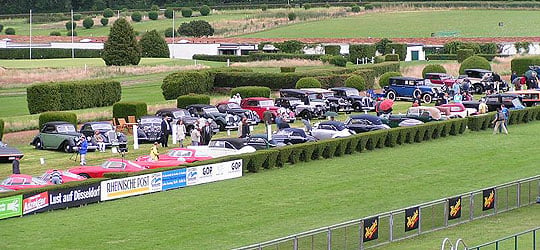 The European Concours d'Elegance at the 'Düsseldorfer Galopprennbahn' in 2004 represented a veritable 'Who's Who' of the International classic car scene - at the very highest level. Cars entered included a 1912 Mercedes 10/20 Erdmann & Rossi Phaeton, a 1931 Bentley 8 litre Vanden Plas Tourer, a 1965 Ferrari 500 Superfast, a 1956 Mercedes-Benz 300SL, a 1955 Porsche Speedster Cabriolet Reutter, a 1930 Cadillac V16 All-Weather Phaeton Fleetwood and a 1937 Horch 853 Sport Cabriolet.
Text: J. Philip Rathgen
Photos: Nanette Schärf & Classic Driver
---
The Prizewinners
Veteran and Edwardians - Automobiles of the Early Period up to 1918
1. Mercedes 10/20 Erdmann & Rossi Phaeton 1912
J. Koloczek
2. Napier T27 Sport Tourer 1907
P.D. Goehr
3. Daimler 22HP Open Tourer 1903
Beaulieu Museum
Automobiles of the Vintage Period 1919 - 1930
1. Auburn 120 Sedan 1929
R. Will
2. Austin 7 Swallow 1929
Dr. V. Wagner
3. Cadillac 341A Imperial Sedan 1928
W. Drücke
Post-Vintage: Full-blooded Automobiles 1931-1945
1. Mercedes-Benz 540 Cabriolet A 1937
Mercedes-Benz Classic Center
2. Mercedes-Benz 540 Spezial Roadster 1937 H.Grassmann
1937 Horch 853 Sport Cabriolet
3. Horch 853 Sport Cabriolet 1937
Frau B.Dunkel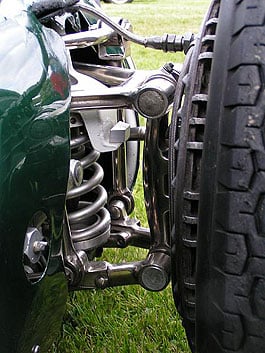 Special Class for special-bodied Ferraris up to 1970
1. Ferrari 500 Superfast 1965
E. Schermerhorn
2. Ferrari 250 GT California Spyder 1960
Frau Ibing
3. 1964 Ferrari 250 LM Competition Coupe
H. Ibing
The Mercedes 300 SL 'Gullwing' is 50
1. Mercedes-Benz 300SL 1956
W. Schmitt
2. Mercedes-Benz 300SL 1955
H. Görke
3. Mercedes-Benz 300SL 1956
F. Rückert
Favoured Marque: Centenary of Hispano-Suiza up to 1939
1. Hispano-Suiza H6B Hibbard et Darrin Cabriolet 1928
E.Haller
2. Hispano-Suiza H6B D'Ieteren Cabriolet 1929
D'Ieteren / P. Cass
3. Hispano-Suiza H6B Flood of Melbourne 1921
A. Anders
Special Feature: Cars with coachwork by H.J. Mulliner
1. Bentley 4.25 Streamline DHC 1936
G. Ellbogen
2. Bentley S1 2 Door Coupe 1956
J. Donner
3. Bentley R-Type Continental Fastback Coupe 1953
H. Schede
You can find the complete list of winners by visiting;
www.european-concours.com.
---
ClassicInside – The Classic Driver Newsletter
Free subscription!
---