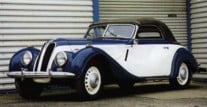 As the auction scene gradually awakens after its annual Christmas break, the first major UK sale comes from Bonhams - back at Hendon on 25th February. Although still a fairly sleepy sale in terms of high-value cars, there are nevertheless two Ferrari Daytonas on offer plus some interesting entries at the more affordable end of the scale.
For the Edwardian collector, there's a 1912 Wolseley 16/20hp Model C5, a 2-seater convertible cabriolet with a 3-litre, 4-cylinder engine. Whilst Wolseley's top of the range 6-cylinder models competed with Napier and Rolls-Royce prior to WWI, the 16/20hp was more of a practical purchase for British and Colonial markets. This car's first owner was Canadian, and after it was discovered in Ontario in 1959 it was restored by Dr Gerald A Rolph, the well-known American collector. Bonhams claims the car is "superbly presented" and estimates its value at £22,000 to £28,000.
The mid to late 1930s was a time of fantastic flair in German automobile design. Low and sleek, the 1940 BMW 327 2-door cabriolet on offer by Bonhams epitomises the manufacturer's dominance of this sector prior to the outbreak of war. Here is a car incredibly advanced for its time, both technically and cosmetically, and the restored, two-tone blue and white 327 at Bonhams carries an estimate of £32,000 to £35,000.
The Cambridge Blue 1974 Aston Martin V8 Saloon, for which Bonhams is hoping to realize £23,000 to £28,000, is noteworthy as a genuine, one-owner-from-new car. It therefore carries detailed documentation covering its 70,000 mile history, including its 1996 renovation to Vantage specification.
The Ferrari Daytona – ultimate driver's car of its era – is represented twice at the Bonhams sale. The rhd 1971 model was first registered as a Maranello demonstrator. It has silver paintwork with blue/black leather upholstery, and its 18,000 recorded mileage is thought to be genuine. The estimate of £55,000 to £65,000 is marginally less than that of the rhd 1973 spider conversion: this one in Rosso Corsa. The conversion was carried out in 1987 via Maranello Concessionaires, and a history of invoices also shows a thorough rebuild over a period from 1996-98.
Finally, a curiosity for the brave is the 1928 Fiat 520 2.2-litre racing car, mechanically stripped for restoration but apparently complete - and accepted by the VSCC in 1989. The car has a rather foggy history, although a letter from Fangio seems to suggest it was raced at some point by his friend Benedicto Campos. What is clear is that the car has been heavily modified over the years and it would require courage to take this racer on, partly in the financial sense and partly because racing a car with no rollover bar and so little protection is not for the fainthearted. Potentially, however, it offers an opportunity to the aspiring Vintage racer for £16,000 - £20,000.
Please see the Provisional Auction Entries.
Text: Charis Whitcombe