21st of December: Damon Hill
Damon Hill, 1996 Formula One World Champion and Chairman of P1. "My recommendation for the perfect Christmas gift would actually last you the whole of 2006!

"Membership of my club P1 offers a unique way to indulge your passion for the latest prestige and performance cars without having to worry about the potential drawbacks of ownership like depreciation, storage and maintenance.
"In return for a joining fee of £2,500 and an annual membership fee of £11,750 P1 offers access to over £4m worth of the cars like the Ferrari F430, Aston Martin V8 Vantage, and I've even bowled my own Ford GT into the fleet - one of only 28 cars in the UK.

Our members are successful, busy enthusiasts most of whom own a number of very nice cars, but either find it hard to find the time to drive them, or keep changing their minds about the cars they want - a problem I shared after retiring from Formula One in 1999 and which led directly to me co-founding P1.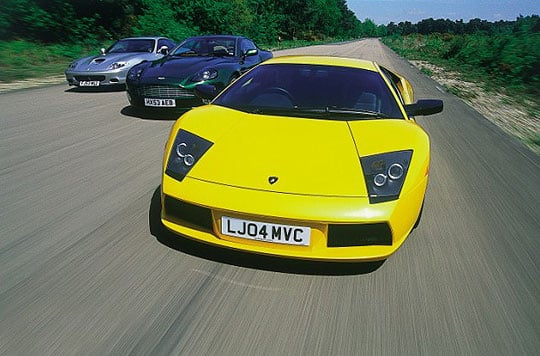 "The diversity in the club's fleet means I (as an honourary member) can use a Bentley Arnage T one day to take my family to an event, try the new Aston Martin V8 Vantage the next, or take my Ford GT or the AC Cobra out for a run, all in the same week if I choose. The club makes a huge amount of sense both financially and practically, as you can dip in to the pool of cars just when you need to, and our members enjoy an average of around 50 to 70 days driving and have up to 6,000 miles to use.

"Most members will drive a huge variety of cars during the year, covering a few hundred miles in each, but you do have to respect members like the one who used 2,000 of his miles in one go, to take the Lamborghini Murcielago from London to Monaco and back via the Stelvio Pass in true Italian Job style!"
About Damon Hill
World Champion driving for Williams in 1996, Damon Hill was one of the few drivers to challenge Michael Schumacher before his all-conquering performance for Ferrari in the late '90s. His motorsporting career started on two wheels, having enjoyed trials riding off-road as a teenager with his father Graham, he then swiftly moved via lower Formulae to F1 with Brabham, then to Williams, Arrows and Jordan. He scored 22 F1 wins out of 122 starts.

Damon and Georgie have 4 children, and live in the UK.
For details of the extensive P1 fleet of cars and how to become one of the club's 250 members visit www.p1international.com, telephone +44 (0)1372 374400, or email [email protected].
Text: Classic Driver
Photos: P1/Auto Italia
---
ClassicInside - The Classic Driver Newsletter
Free Subscription!