The third round of the season for the Shell Historic Ferrari Maserati Challenge took place at the Donington circuit in England last weekend. The historic Ferrari and Maserati cars are split into three grids, depending on their year of construction and technical specification.
Also providing spectacular action on the 3.125 km Donington track were a number of Ferrari F1 cars from the recent past, organised by the Prancing Horse's F1 Clienti department. Among the cars on track was an F2001 driven by Ferrari test driver, Andrea Bertolini.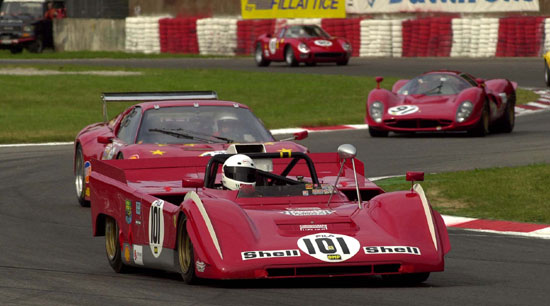 There was a large crowd on Sunday to watch the second leg of the weekend programme. Englishman Tony Smith (Ferrari 256 F1/FL) dominated grid "A," finishing ahead of Carlo Vogele (Alfa Romeo 158) and Jose Albuquerque (Maserati 250 F.) Grid "B" saw a reversal of the finishing order from yesterday's race, with Belgium's Vincent Gaye (short wheelbase Ferrari 250 GT Berlinetta) managing to get the better of Frederico Kroymans (Ferrari 250 GTO) who came home second ahead of Carlos Monteverde.
England's David Franklin (Ferrari 512 Can Am) continued his winning ways, once again taking victory in grid "C" passing the chequered flag ahead of Ray Bellm (Ferrari 312 P) and Jean Guikas (Ferrari 512 BB LM.).
The Eurosport Satellite channel will have special coverage of the Donington event as part of its "Ferrari & Maserati Racing" magazine programme on 11th July at 23h30 CET.
Text/photos - Ferrari