2011 Mercedes SLS AMG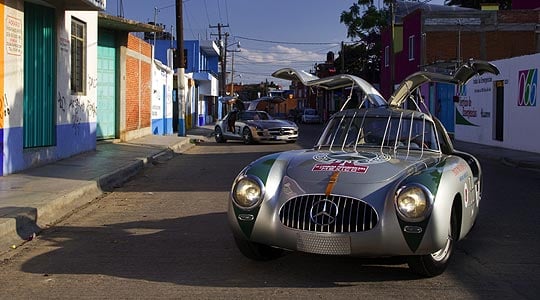 Man, what a great event! writes Don Klein. It's not by accident that Daimler imported journalists from around the world to Oaxaca, Mexico, to drive the SLS AMG 'Gullwing' coupé and witness the unveiling of its stunning GT3 variant.
And it's not just because car journos like guacamole and tequila. It's because Oaxaca lies along the route of the infamous Carrera Panamericana, where Gullwings came first and second in 1952 despite the winning car's unfortunate high-speed encounter with a low-flying buzzard, the viscera of which had to be scraped from co-driver Hans Klenk's face, along with bits of broken windshield and beak.
Anyway, that victory helped Mercedes clinch the FIA Sports Car Championship in '52. Moreover, it helped the company sell a ton of SLs, and Merc's PR folks wanted to make sure that some of that magic rubbed off on the Gullwing's new spiritual heir. To help us connect the dots, Daimler brought along the winning Kling/Klenk SL (replete with gleaming 'Buzzard Bars') and collector Bruce McCaw's '52 Le Mans Gullwing.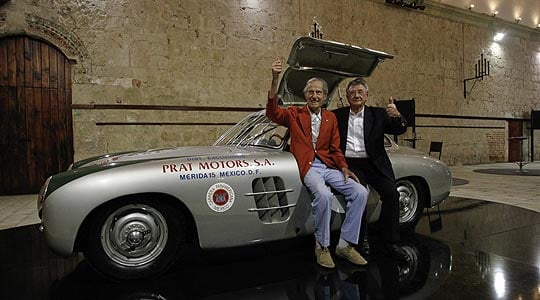 They also invited American race legend John Fitch, now aged 92, who drove a 300 SL roadster in the '52 Panamericana, and Hans Herrmann, who raced there in '54. So just maybe all this had something to do with my impression of the car. I am, after all, human.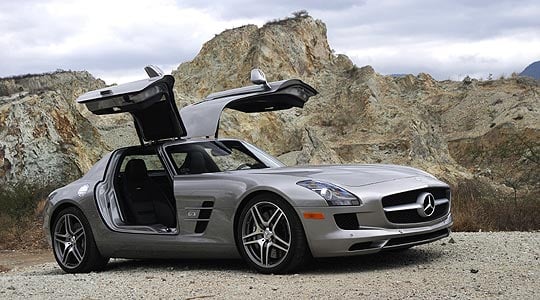 But even without its historical relevance, Oaxaca is a great place to see what the SLS is all about. Once you get past city limits, twisty, climbing, swooping, switchback-packed, guardrail-less, two-lane blacktops abound, and that's just the diet this beast thrives on. To be sure, with 563 horsepower and a huge power band, you can pretty much overtake at will on the highways, but when you get up into the mountain esses, the car really shines. Credit for that goes not only to the torquey 6.3-litre V8 (479lb ft @ 4750rpm) but also to the eager-to-please 7-speed Getrag sports transmission, which can execute gear changes in as little as 100 milliseconds with no loss of tractive force. All you need to do is dial in your mode of choice: C (controlled efficiency), Sport, Sport Plus, or Manual – and have at it.
In all but C, the automatic double-declutching function is active, and I kept the windows wide open to enjoy all that throaty burbling and blipping as I paddled my way up and down through the mountain passes. Ay Caramba!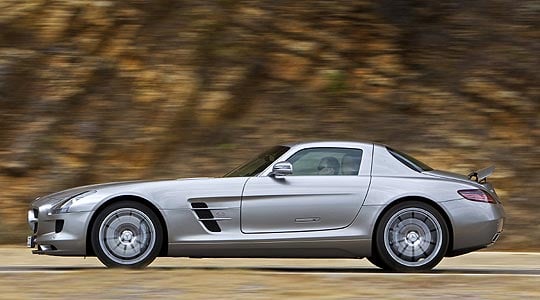 Although the AMG engineers eschewed active body control to afford more road feel, the four-wheel double-wishbone suspension gives you all the feedback you need. Plus ESP (along with massive, internally vented, perforated disc brakes) is always waiting in the wings should you need help. But the steering definitely takes some getting used to. The rack-and-pinion set up provides a constant mechanical ratio of 13.6:1, but the speed-sensitive power steering is so responsive, it's easy to oversteer. It reminded me of when I first got a force feedback steering wheel for my X-Box 360. A tad twitchy. But the learning curve is short, and the only real liability is that you'll miss it when you drive anything else.
Another problem, at least for taller drivers, is the driver's side A-pillar. The flat windshield dictates that it be located exactly where the apex lies in left-hand turns. Not a major problem on the road, but it definitely would be a distraction on the track. Long guys will also find it easy to bump up against the bulge that hides the door hinges in the center of the headliner.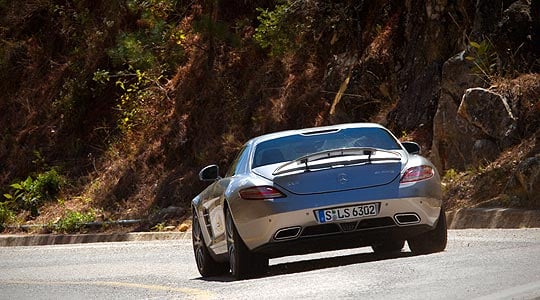 Despite all its classic Gullwing styling cues, the SLS AMG doesn't look like an original 300 SL the way the 'new' Beetle looks like a modified '69, or the 'new' T-Bird looks like a retro-mod '55. The SLS is its own car, on its own terms, designed pretty much from a clean sheet of paper to be a state-of-the-art, competitively priced, modern supercar. It just happens to have a lovely heritage.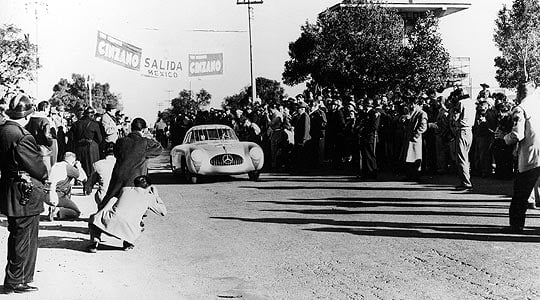 Text: Don Klein
Photos: Mercedes-Benz


---
ClassicInside - The Classic Driver Newsletter
Free Subscription!