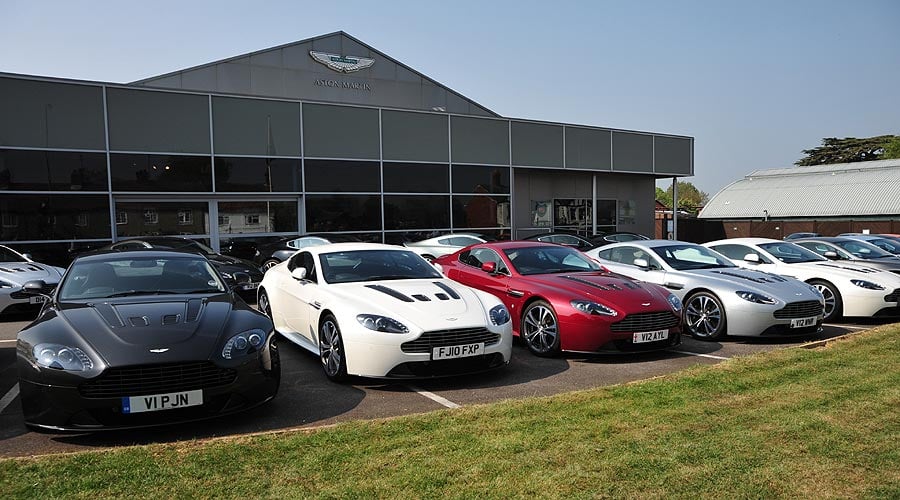 "It's business... but we do enjoy it," stated Works Service supremo Kingsley Riding-Felce in his speech welcoming owners to the first day held at Newport Pagnell in celebration of what many consider the most exciting car in Aston's current range: the V12 Vantage.
By 10:30 on Sunday 17 April, 20 V12 Vantages were gathered outside the customarily sparkling Works Service facility in Tickford St, Newport Pagnell.
With just under 800 cars delivered so far – 250 in the UK – it's worth repeating that this is a genuinely low-numbers Aston, and worthy of comparison to the 1107-unit DB4 and DB5 (of which just 1059 were made).
The new V12 embodies the spirit of the older cars, too – although it's more DB4GT than standard '4. There's an excitement (particularly on a cold or damp morning...) about it that harkens back to an earlier era. Manual 'box, uncompromised, performance-optimised suspension, a 6.0-litre V12 squeezed into every inch of the engine bay and aggressive looks courtesy of the unique-to-V12-Vantage carbonfibre bonnet grilles and assorted aerodynamic addenda – this is a car for serious drivers.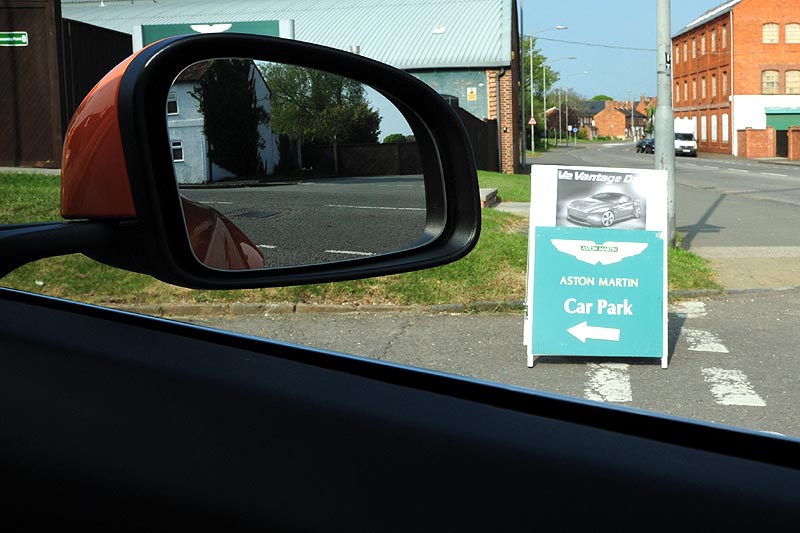 So it was fitting that the meeting should be held here, where many a racing, development or 'DP' Aston has left for fast road testing, circuit work at Silverstone or a high speed run on the nearby M1 motorway. Although world famous for its restorations and service work on Newport Pagnell-built Astons, a significant number of Gaydon and Bloxham cars pass through the doors of Works Service, either for standard maintenance or bespoke upgrade work.
The parking area in front of Works Service reception was a sea of multi-coloured V12 Vantages - and one of those was a press car I'd arrived in, the Montana Orange paintwork shimmering in spring sunshine, alongside its Mako Blue, Hammerhead Silver, Hardly Green and Magma Red brethren.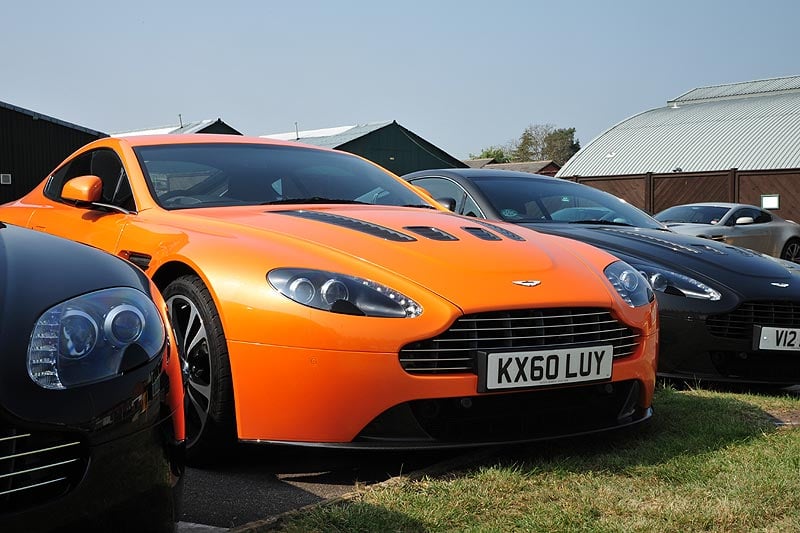 A photo-call of owners standing proudly next to their cars completed the morning's initial activities, so it was time to put coffee cups down and embark on an always-interesting tour of Works Service.
For many present, this was their first time inside the Newport Pagnell service and restoration centre. And it's not bad going to see, in the Heritage Centre, such gems as a DB4 Convertible in its final stages of restoration and a DB4GT Zagato in for some pre-Villa d'Este Concours d'Elegance preparation. Not bad going at all.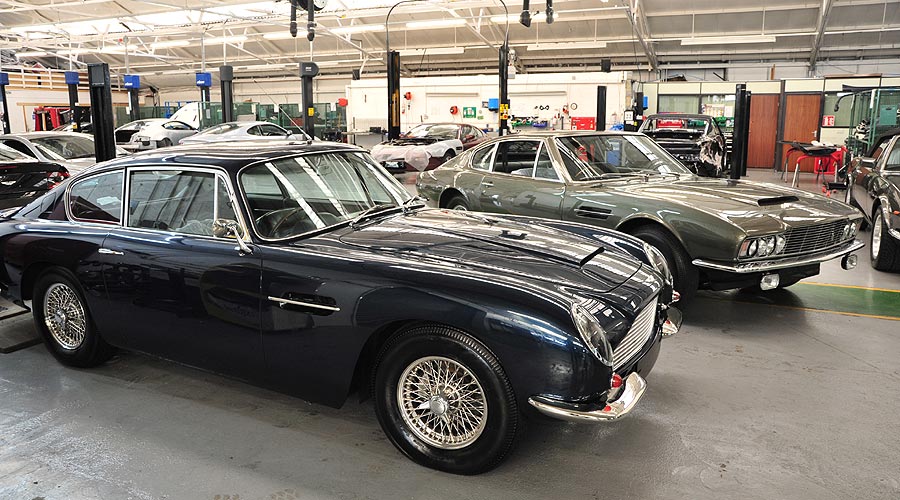 Suitably impressed, and abuzz with the wonders they'd just pored over, the owners took their places for a presentation by Paul Barritt, the Chief Programme Engineer for the Vantage platform, and whose responsibility it was to transform a 'what if...?' exercise based on a surplus DBRS9 engine into an exciting road car launched to the press in May 2009.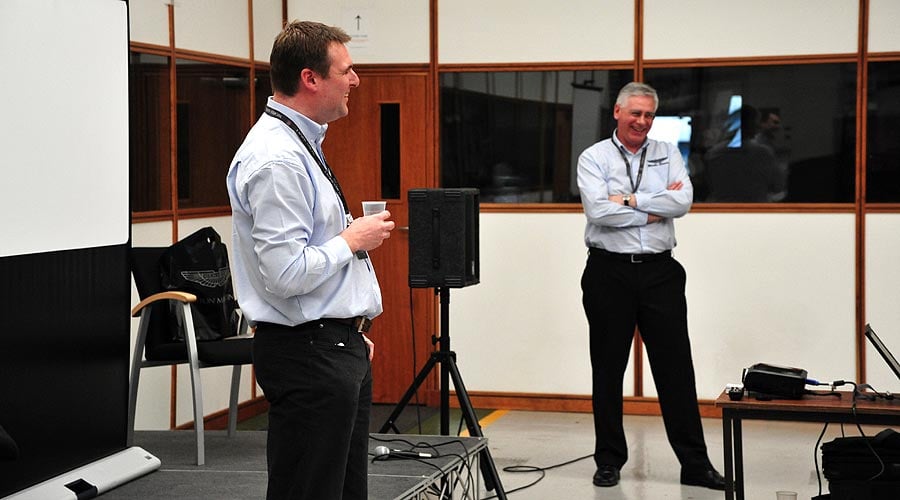 Barritt has been with the company for over 13 years now, and from 2003 onwards has been responsible for the Vantage platform cars, including the V12. Every nut, bolt and cog in these extraordinary cars will have been engineered, improved and eventually signed off by him.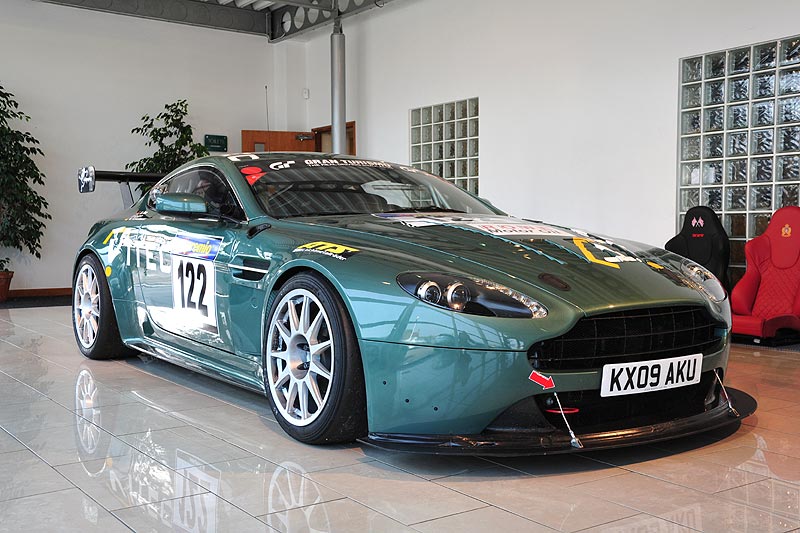 Shoehorning an extra four cylinders and 1300cc capacity under the bonnet of the existing V8 Vantage was no easy task. As a fully legal road car (not a £500k super-exotic, as might have been produced from the 600bhp 'Vantage RS' concept), the V12 Vantage had to meet all necessary crash and emissions tests, as well as having the reliability expected of the marque. A testing programme that included regular daily sessions of 25-30 laps of the Nürburgring (often pulling 1.3g under cornering) and an unforeseen 180/190mph tyre blow-out at Nardo in Southern Italy which wrote off a car, ensured that.
The driver walked away from that one, by the way, proving beyond doubt the inherent strength of the VH platform Astons now built at Gaydon.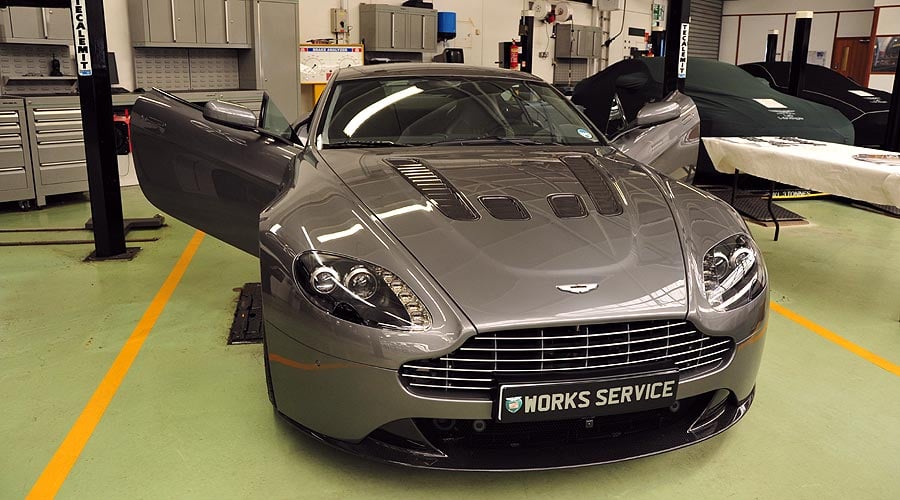 Now, do you know the reason for the unpainted carbonfibre louvres on the bonnet, the feature that "defines the car", as Barritt put it? I didn't. The complex shape, apparently, could not have been painted and polished to the high standards expected at Gaydon. You learn something every day.
We also learnt about the extensive modelling work (both clay and computer) needed before the car went into production and the myriad tiny details required to really make it work. The steering lock, for example, is a touch more restricted compared with a regular V8 – a consequence of revised suspension, big wheels, massive CCM brake discs and the cooling requirements of a tight-packed engine bay. All fascinating stuff.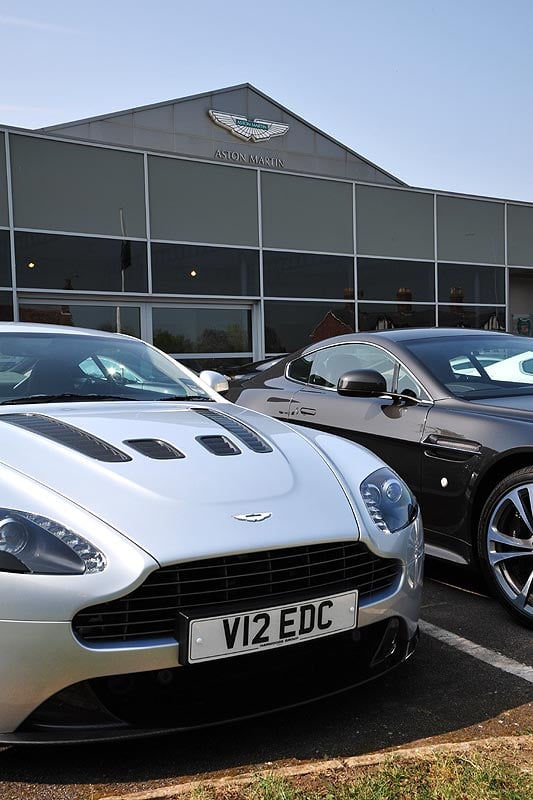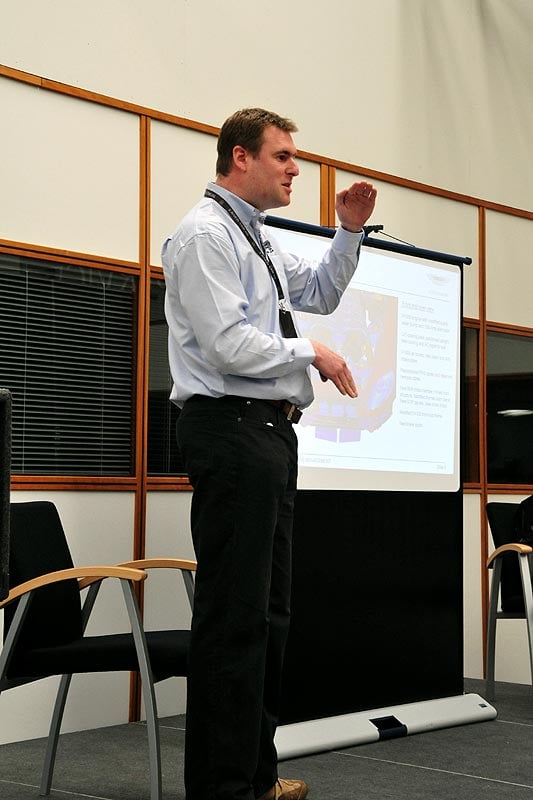 To finish, Barritt described the racing programme at circuits like the 'Ring, where all Astons are tested – the 'ultimate sign-off', if you like. And only a few days earlier the company had announced the introduction of a new V12 Vantage race car in which teams will compete for GT3 honours in 2012. Sitting in reception was the factory-entered V12 Vantage, 'Woody', fresh from its success at the Nürburgring this March.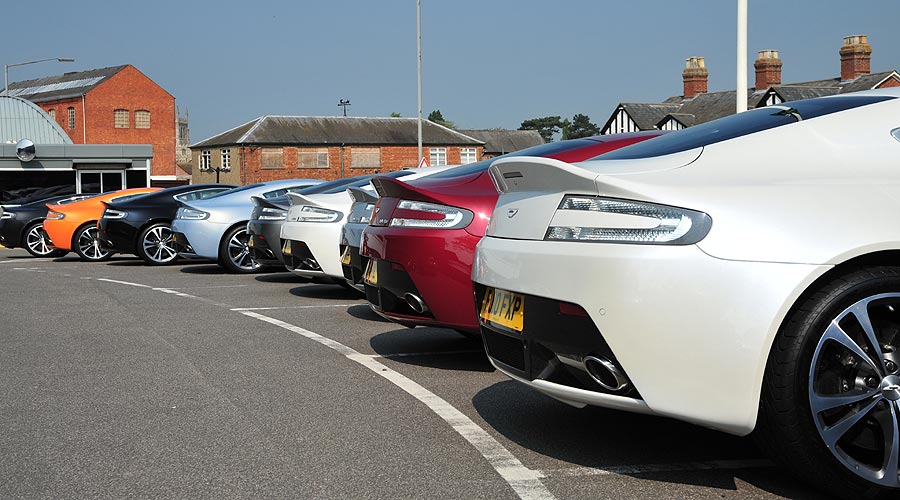 Clearly, 'win on Sunday, sell on Monday' still works, and many owners present at Newport Pagnell will be driving their cars - as we did in 2010 - to Le Mans this June for the famous 24 Hours.
The highly successful event finished just after lunch and, 'business' or otherwise, everyone enjoyed it hugely. Just as Riding-Felce promised.
Text: Steve Wakefield
Photos: Classic Driver

---
ClassicInside - The Classic Driver Newsletter
Free Subscription!