The 2010 Le Mans 24 Hours: 1, 2, 3 for Audi – Heartbreak for Peugeot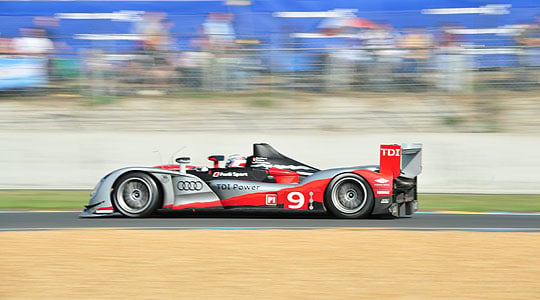 15 June 2010: There were tears in the pitlane as a dramatic Le Mans 24 Hours saw the seemingly uncatchable Peugeots drop out one-by-one with blown engines, gifting a first-to-third finish to Audi. A visibly emotional Dr. Wolfgang Ullrich, Head of Audi Motorsport, celebrated the win, while a few garages away, the principals at a shattered Team Peugeot Total and Team Oreca Matmut looked sorrowfully at what might have been.
The triumph and tragedy of motorsport. Now, before we wax too lyrically, let's put things into perspective. It was only a race; but for many it's the biggest event of the year and a wonderful opportunity for manufacturers to showcase their technology. Peugeot, winners in 2009, had a three-car team of factory 908 HDi diesel coupés, and also entrusted another car to Team Oreca Matmut, run by veteran long-distance manager Hugues de Chaunac.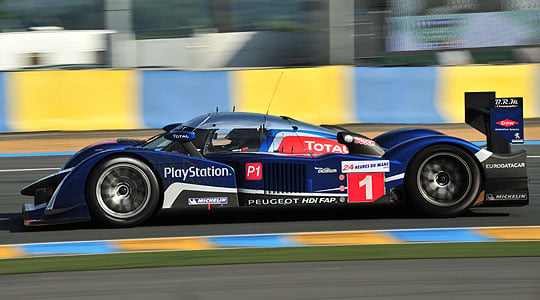 Audi was relying on three factory R15 TDIs, with assistance from Kolles Racing, which was running a brace of older-model R10 TDIs. With the colossal budgets available to the diesel-engined factory teams, it was looking a tall order for any of the petrol cars to get a look into the top six, despite a change of rules this year.
Fastest petrol entries – by a margin – came from Aston Martin Racing, running two Gulf-liveried works cars and supervising an independent Lola-Aston Martin operated by the French Signature Plus team.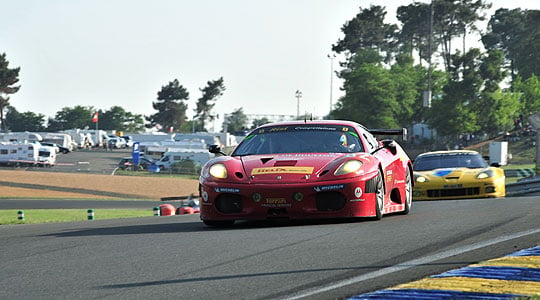 All the above were in the top, LMP1, prototype class, while below that LMP2 catered for lighter, less extravagantly specified sportscars. Two GT categories featured entries from Aston Martin, Porsche, Ferrari and Corvette doing battle for LM GT1 (more modified) and LM GT2 (nearer standard, 'road' specification) honours.
Spectators could be forgiven for thinking that the French Air France air display team had returned for another flypast, as the noise of the first seven diesels, coupled with the sweetest-sounding Aston Martin V12s and blaring American V8s flooded the circuit at 15:00 on Saturday.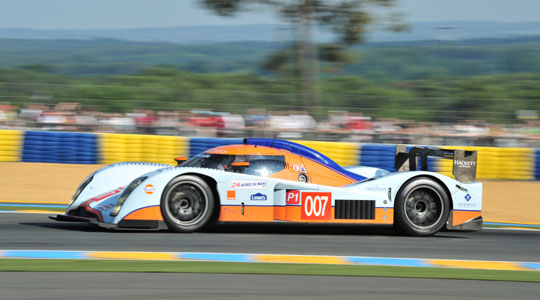 For the first few hours it became clear that, unless mechanical disasters intervened, nothing would stop the French diesels. The Audis had been well and truly beaten on pace and, despite the rule changes, it wasn't going to be a petrol-powered car's day. We've covered the Aston Martin Racing story in a separate article – they looked and sounded superb but could not match the diesels on sheer speed.
Early alarums and excursions included the solitary Jaguar XKR GT2 lasting just four laps, ex-World Champion Nigel Mansell suffering what appeared to be a loss of consciousness in a seemingly minor accident, and the first works Peugeot retiring with suspension damage at 17:28.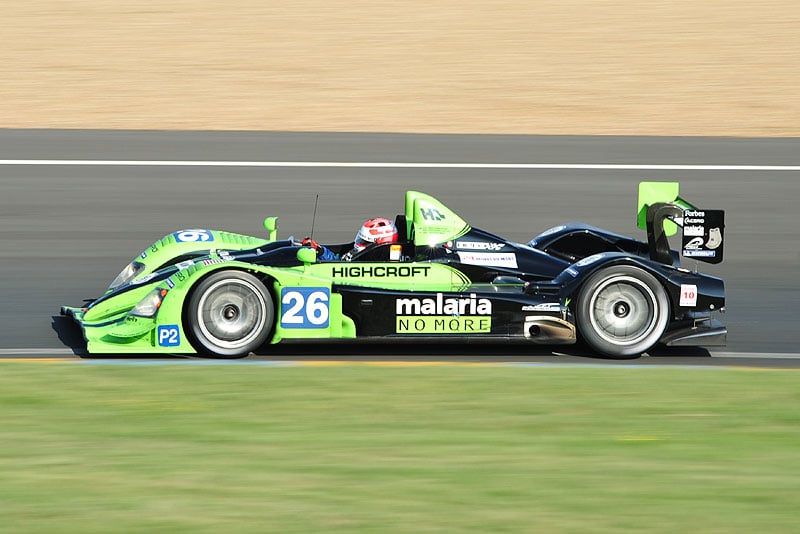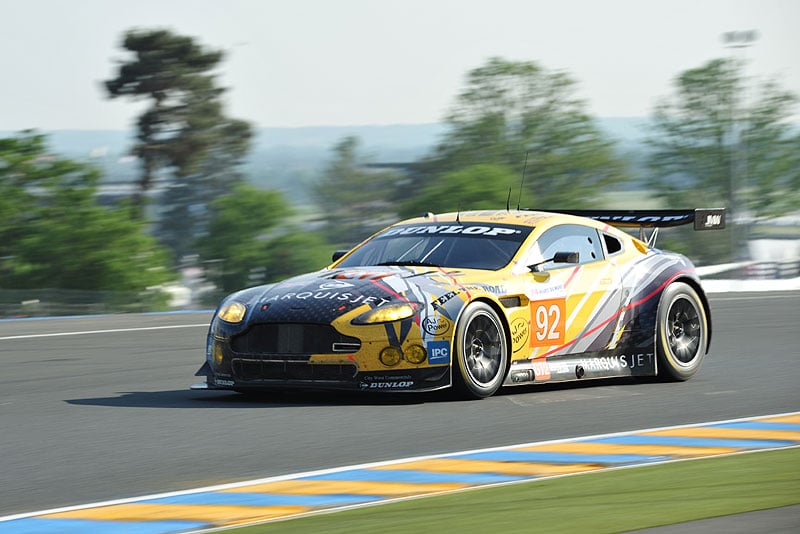 As the race progressed, the German manufacturer just would not let Peugeot go, with one of the three factory Audis in and around the top four, only a lap or so adrift. At half-distance, Peugeots were running first, fourth and sixth, with R15 TDIs in second and third. Six hours later the tables had been turned: Audi one and two, another Peugeot out (engine) with the remaining #1 car three laps down from the leaders in third place.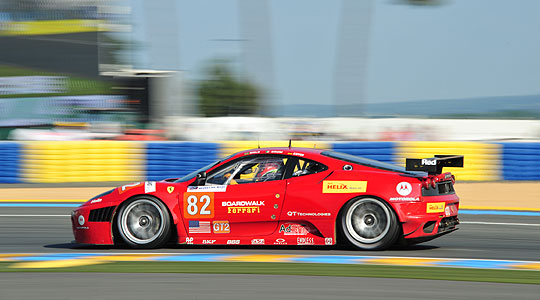 The last six hours were utterly fascinating. Turning up at the circuit at a civilised 9:00, I spent the remaining period of the race glued to the television coverage, watching one of the classic finishes. You sort of knew that Audi would win - but were never quite sure what was going to happen with such a high retirement rate (only 27 cars were classified as finishers). The 2010 race was run at record speed, and such was the ferocious pace that the eventual winners beat the long-standing distance record set by a Porsche 917 in 1971 (on a much faster circuit).
And the eventual winners were...? Yes, it was Audi, and the retirement with terminal engine maladies of the remaining two Peugeots meant the three works R15 TDIs could finish in time-honoured 'line astern' formation. Very, very impressive stuff after 24 hours of the hardest racing imaginable, with Timo Bernhard, Mike Rockenfeller and Roland Dumas victorious in the #9 Audi.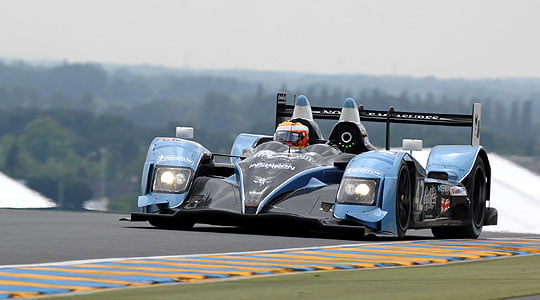 In LMP2, the Strakka Racing Honda Performance Development (HPD) ARX-01C finished a quite superb fifth overall, the second highest-placed petrol car due to problems hitting the #007 Aston Martin late Sunday morning. Nicky Leventis, Danny Watts and Jonny Kane drove an immaculate race - well done.
LM GT1, in its last year at Le Mans in this format, was a fight between Saleen, Ford GT, Aston Martin and Corvette. The #50 Larbre Compétition Saleen S7R of Gabriele Gardel, Roland Berville and Julien Canal ended as winners, despite being off the pace earlier in the race. Tortoises, hares and all that. Interestingly, the 6997cc V8-powered, mid-engined Saleen was seven laps down on the class-winning LM GT2 Porsche at the finish.
Corvette Racing had decided to withdraw from the more expensive LM GT1 class this year, preferring to harry Ferraris and Porsches rather than its traditional Aston Martin DBR9 opposition. It was no less competitive in the less-modified category, though, and the massive crowd was treated to the yellow/black works entries battling it out with sundry Ferrari 430 GTCs and Porsche 997 GT3 RSRs right into the night.
The stunning 'Art Car' BMW M3 failed to dazzle on the track: it looked fantastic but minor mishaps, a couple of punctures, gearbox problems and eventually running out of fuel led to its retirement late on Saturday.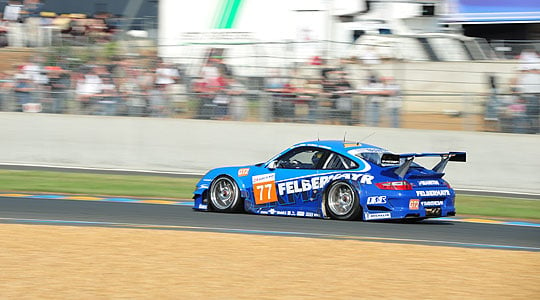 BMWs, Ferraris, Corvettes and the solitary Aston V8 Vantage aside, it was victory in the end for Porsche, though. The blue and white #77 Team Felbermayr-Proton car of Marc Lieb, Richard Lietz and Wolf Henzler won the class, two laps ahead of the Hankook Team Farnbacher Ferrari F430 GTC. Exciting stuff.
So that was Le Mans 2010 – revenge for Audi, after a disappointing race in 2009. For Peugeot, "The decider will be played next year," promised Olivier Quesnel, Director of Peugeot Sport.
2010 Le Mans 24 Hours Results:

| | | |
| --- | --- | --- |
| Drivers | Team | Car |
| 1. Bernhard/Rockenfeller/Dumas | Audi Sport North America | Audi R15 TDI |
| 2. Treluyer/Lotterer/Fässler | Audi Sport Team Joest | Audi R15 TDI |
| 3. Capello/Kristensen/McNish | Audi Sport Team Joest | Audi R15 TDI |
| 4. Ayari/Andre/Didier/Meyrick | AIM Team Oreca Matmut | Oreca 01 AIM |
| 5. Watts/Leventis/Kane | Strakka Racing | HPD ARX.01 |
| 6. Fernandez/Mücke/Primat | Aston Martin Racing | Lola Aston Martin |
| 7. Charouz/Lahaye/Moreau | OAK Racing | Pescarolo - Judd |
| 8. Wallace/Newton/Erdos | RML | Lola HPD Coupe |
| 9. Nicolet/Yvon/Hein | OAK Racing | Pescarolo - Judd |
| 10. Ojjeh/Greaves/Chalandon | Team Bruichladdich | Ginetta - Zytek 09S |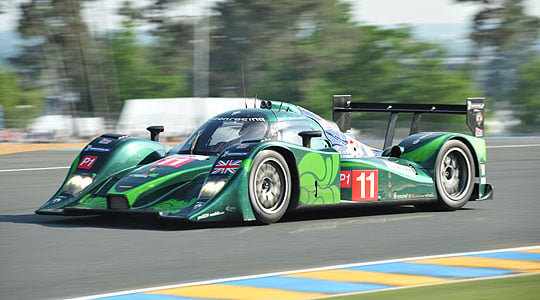 Text - Steve Wakefield
Photos - Classic Driver / Strakka Racing
---
ClassicInside - The Classic Driver Newsletter
Free Subscription!