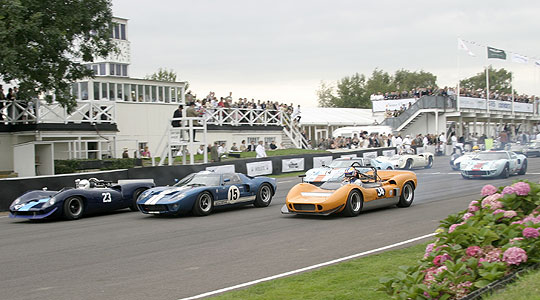 If the action on the track was as spectacular as ever, the activities in the air and all round the 'time-warp' Sussex circuit were the very best yet. A record crowd of 116,000 witnessed the finest historic racing cars in the world do battle against a backdrop of tableaux ranging from reproduction Peking-Paris yurts, to a 1950s Ferrari garage, complete with period Shell fuel pumps and Art Deco styling.

While the cars circulated on the track, spectators were able to enjoy the antics of the troupe of actors employed by Goodwood to play the roles of shifty 1950s spies, grouchy workmen or oily wartime 'spivs' selling nylons and 'genuine' Swiss watches. Among the many new features for 2007 was a concours d'elegance for period aircraft that were displayed on the paddock side of the airfield.

Falling into the 'now why hadn't anyone thought of this before?' category, the winner of the inaugural Freddie March Spirit of Aviation prize was the 1930s Foster-Wikner 'Wicko'' of Irishman Joe Dible. As always, in between races the crowds were entertained by breathtaking displays of wartime fighters that this year had the regular Spitfires and Hurricane joined by three American Grumman 'Cats': a Wildcat, Hellcat and Bearcat performing solo and in formation.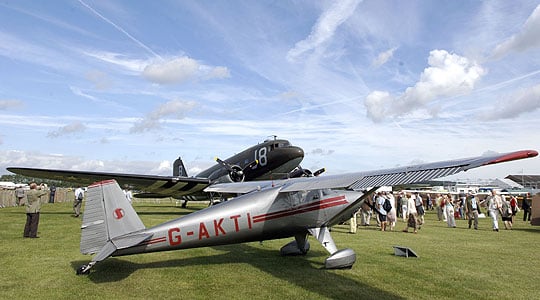 Back to the circuit, and the first race on Saturday (Friday being official practice and the Bonhams sale ) was the Goodwood Trophy for late pre- and early post-War single-seaters. This saw an ERA one-two, Mark Gillies breaking away from the pursuing Ludovic Lindsay in 'Remus'. Next up was the Madgwick Cup, a race for under 2.5-litre '50s sports cars that was a straightforward win for Danish ex-F1 and F3 driver Jac Nellemann, but featuring an almighty three-way fight for second between 'Fearless Frank' Sytner and Graeme Dodd in their Cooper-Climax 'Monacos', and rising star Oliver Bryant in the family's Lotus 15. Sytner kept ahead for most of the race before tangling with the leader on the last lap and spinning out, leaving Dodd to lead Olly over the line.





The Chichester Cup duly gained by John Chisholm in his Formula Junior Gemini-Ford Mk3A, it was time for Saturday's running of the Barry Sheene Memorial Trophy for early sixties motorcycles. Australian ex-World Champion Wayne Gardner on a Matchless won at a canter (as he did the next day) but the eight laps were enlivened by a knee-to-knee encounter between modern racers Jeremy McWilliams and Michael Rutter. And could the Irishman have been indicating to Rutter that it was he who was destined for second place? Anyway, a lot of hand gestures were involved and it was all tremendous fun.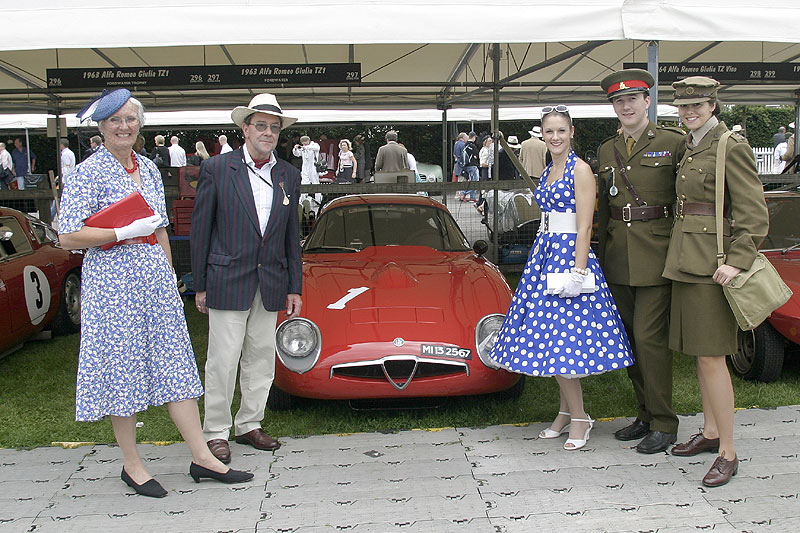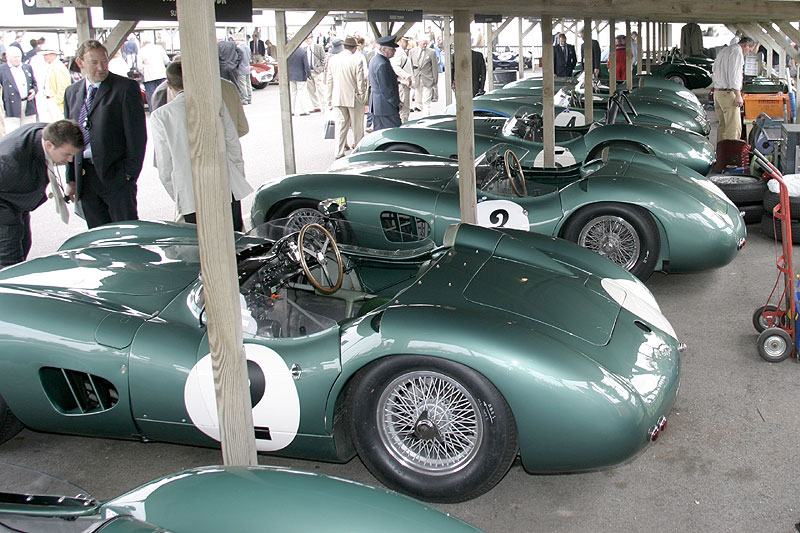 Another departure this year was the change of format for the Fordwater Trophy. Traditionally for production-based sports and GT cars, 2007 saw the entry of several Lotus Elans, TVR Griffiths and Marcoses to compete with slightly purer-blood Ferrari 275 GTBs and Porsche 904s. It was a fantastic race, with a twist at the close as the 'winner', Marcos driver David Methley, was disqualified from the results for barging Jamie Boot's TVR off the track. Boot put in a bravura performance winning him the Will Hoy Memorial Trophy (for the greatest drive in a closed-cockpit car) and second place, behind Don Salvage in Jonathan Suckling's yellow TVR. A special mention must go to London Morgan dealer Bill Wykeham, as well as Joe Bamford, both driving Ferrari 275 GTBs and both putting in times worthy of top six finishers in the TT.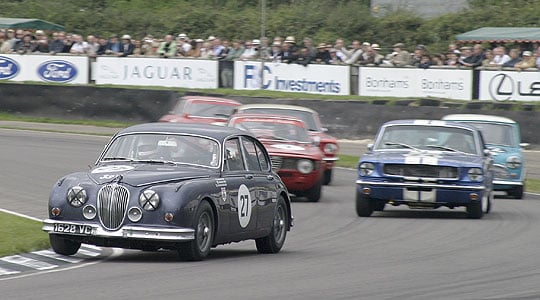 It was then the turn of saloons, 'big bangers' and early 50s sports cars to finish Saturday's programme, with Frenchman Jean-Marc Gounon pulverising the opposition in the first of his Rolex Driver of the Meeting drives, behind the wheel of the Bryants' silver Plymouth Barracuda. Red-flagged and re-started though it was, the St Mary's Trophy proved once again to be a highlight of the weekend.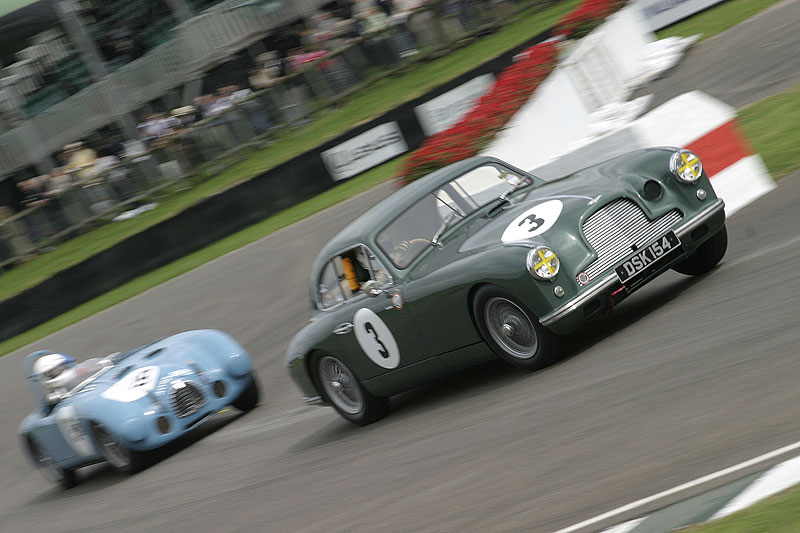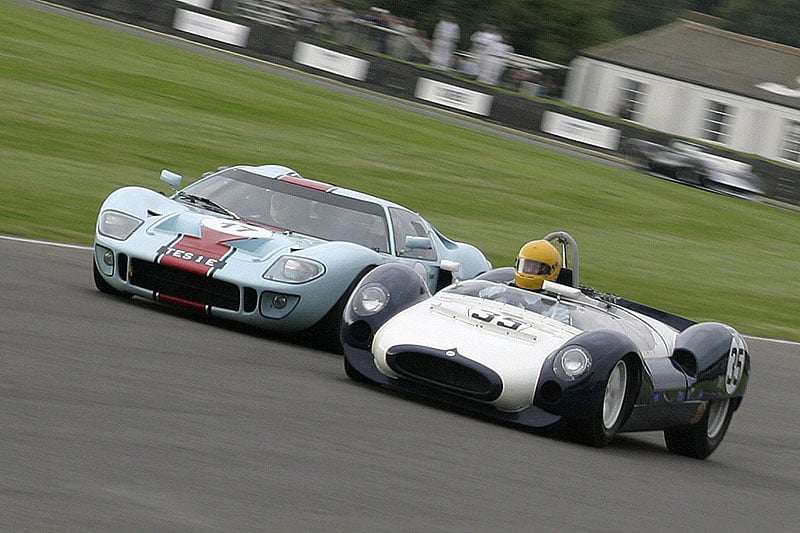 More alarums and excursions befell the competitors in the Whitsun Trophy, Ray Bellm's Ford GT40 victorious after Frank Sytner's Lola T70 Spider left the track (at some speed). When the big-capacity dust had settled it was time for the Freddie March Memorial Trophy for cars in the spirit of the Goodwood Nine Hours, a fourteen-lap race won by Darren McWhirter's Lagonda V12.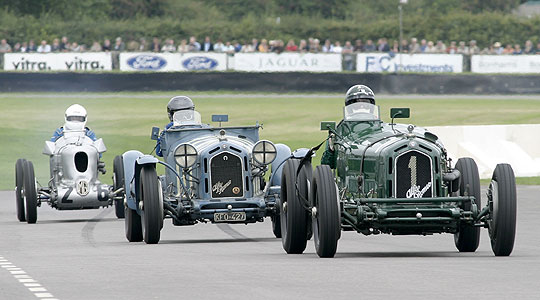 Sunday dawned bright and clear, the track was blessed by British motor racing's conduit to the Almighty, Canon Lionel Webber, and a pair of Spitfires performed the first air display. With spectators just easing themselves into grandstand seats - a collective creaking of vintage underwear and highly polished brogues clearly audible from the other side of the track - racing proper started at 10.00 with the Brooklands Trophy (won by Mark Piercy in his MG). Richard Attwood then drove a superb race to garner the Richmond Trophy for Adrian Hamilton in the high-class purveyor of classic cars' Ferrari Dino. The race was shortened, and Gary Pearson was recovering from a spin, but the 1970 Le Mans winner showed his class with marvellously precise, smooth driving.

The second part of the St Mary's Trophy was won by John Young but not without the need to perform the move of the meeting on Oliver Bryant to snatch the lead back at Fordwater (it doesn't bear thinking about...) on the very last lap. Bryant/Gounon were still winners on aggregate, though.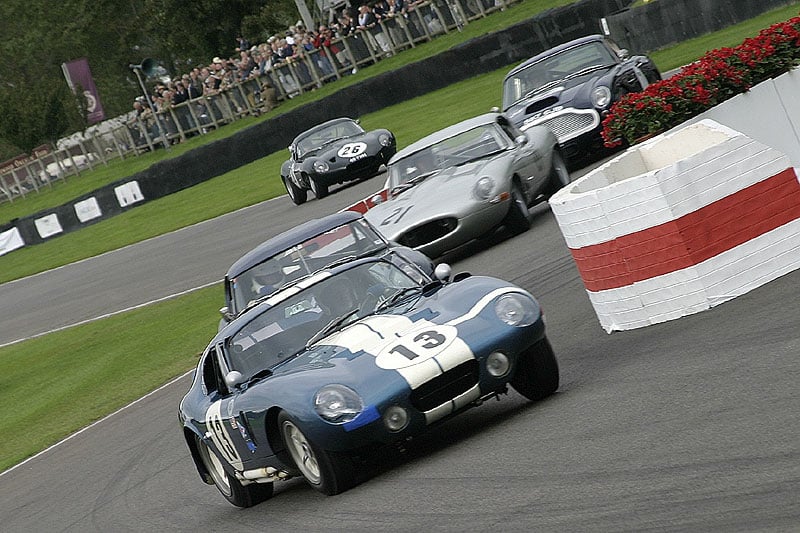 And so to the weekend's headliner - the Royal Automobile Club TT Celebration. With the recent soaraway US auctions one daren't put a value on the grid, but as usual it was a mix of American V8-engined Corvettes and Cobras versus Lightweight E-types, Aston Martins and Ferrari GTs. You just don't get the quality of entry, or driving from the likes of Marc Surer, Hurley Haywood, John Fitzpatrick, Sir Stirling Moss, Desiré Wilson and Rauno Aaltonen anywhere else in the world.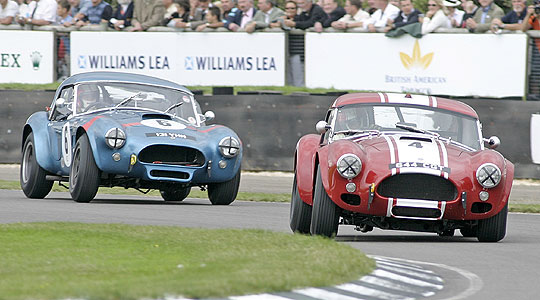 Pole-sitter was last year's winner Michael Vergers, who produced another stunning start to despatch Peter Hardman (Ferrari 330 LMB) at Madgwick and enter the chicane with a handy lead, one that safety cars, a driver changeover to Juan Barazi and the race's eventual red-flagging after 48 minutes could not reduce. Further down the field it was a blizzard of action as Bizzarrini challenged Cobra Daytona Coupé and 250 GT SWB diced with DB4GT. The raced was stopped ahead of its scheduled 60-minute duration due to a severe accident as Martin Stretton's Bizzarrini left the road at Madgwick. Thankfully we understand Martin is OK, albeit with a broken elbow.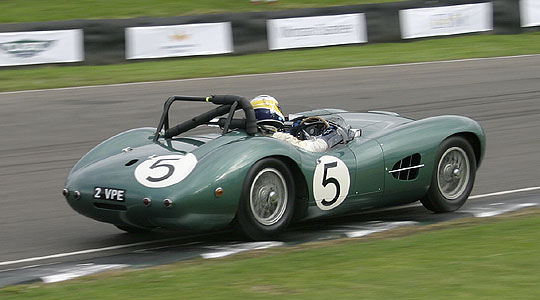 Jean-Marc Gounon had been driving Sir Anthony Bamford's 1963 Ferrari 250 GT0/64 (the car that won the TT in 1963) and despite this car's mechanical failure he was out again for the Sussex Trophy, this time behind the wheel of the same owner's Aston Martin DBR2. The hero of 2006, when he drove the big Aston from the back of the grid to second, this time he started from third but was soon into an unassailable lead, knocking nearly a second off his practice time (down to 1 26.860, and compare that with the 1 25.323 set by Frank Sytner in the following 1500cc F1 race!) in a virtuoso display. Hats off though to the pursuers, Peter Hardman (DBR1) and Stuart Graham (Lister Chevy), true professionals with a 'never give up' attitude.

The final race of the 2007 Revival was a really superb duel between Frank Sytner in his Lotus-Climax 24, trying once again to get a win at the meeting, and Barrie Williams (BRM P261) in the Glover Trophy. Frank seemed to win it easily at least twice before the veteran Williams caught him up and passed only to spin and do it all over again. Right up until the last couple of laps Sytner seemed to have it under control until the BRM driver made his move and this time made it stick. And who said single-seaters were boring?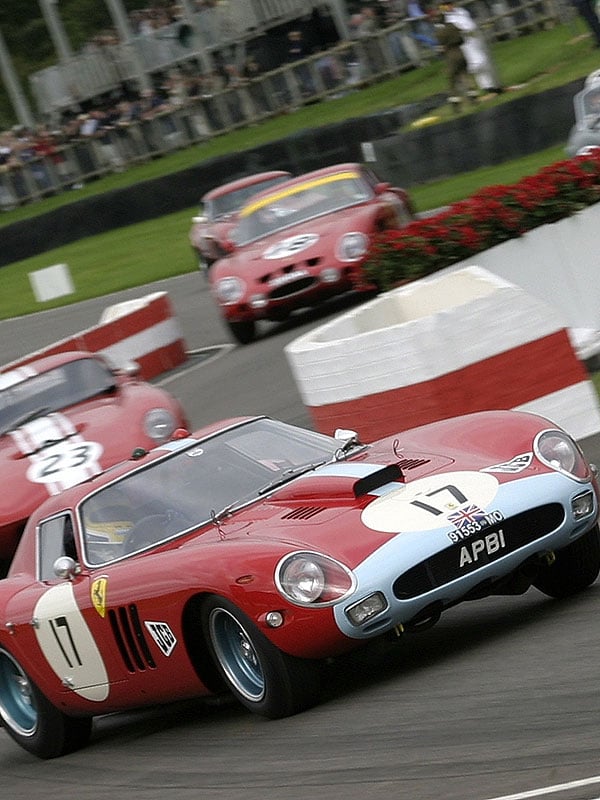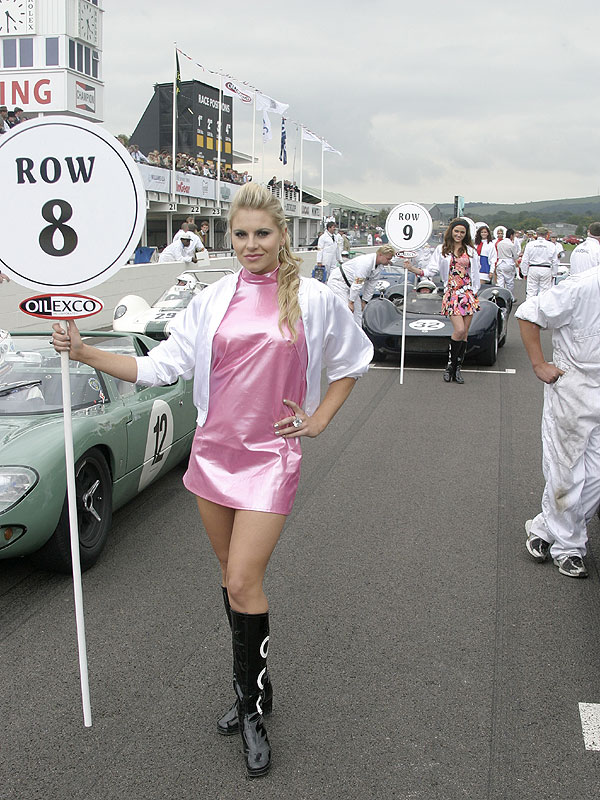 And that was it for another year. A truly brilliant event that gets better all the time and gives you more than you can see in a day.

We haven't mentioned in detail the special track tributes to Roy Salvadori and Cosworth, nor the pre-1967 touring caravans, Ladies Day and 'Pit-Lane Pin-Ups' but you can be assured that these, like everything done under the Goodwood banner, were truly 'glorious'.

The dates for the 2008 event are still under discussion, but it will be September again and we're missing it already.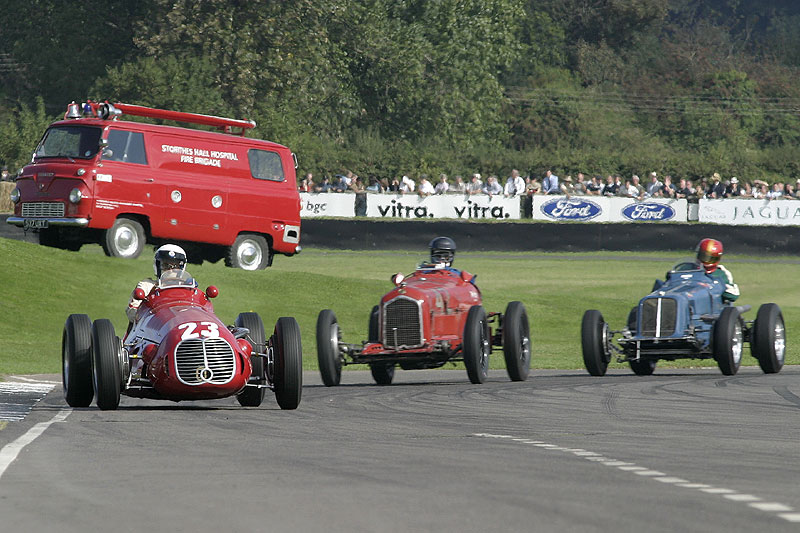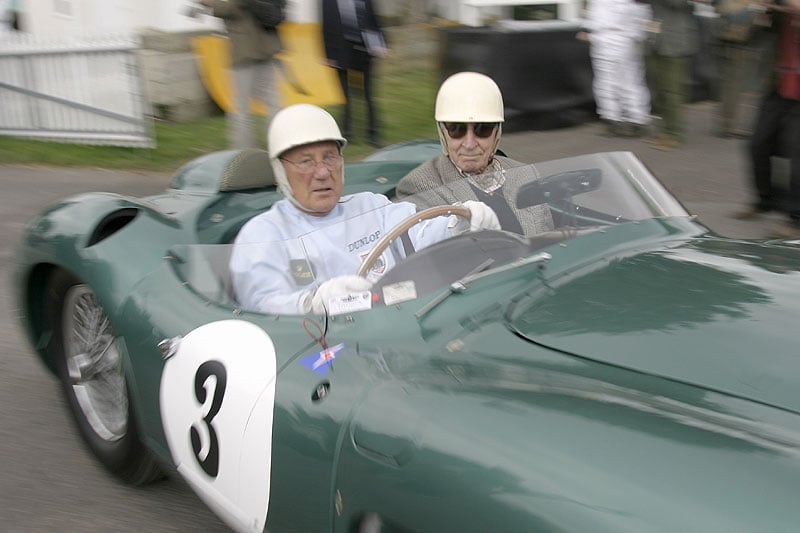 Results and Awards -

Rolex Driver of the Meeting
Presented by the Rolex Watch Company Ltd
Jean Marc Gounon

Spirit of Goodwood Award
Presented by the Goodwood Supporters' Association
Bill Murray and the Larry Miller Racing Team

Best Presented Team
Presented by Penfolds
Chris Williams and Neil Turner

Will Hoy Memorial Trophy (for the greatest drive in a closed cockpit car)
Presented by Mrs Judy Hoy
Jamie Boot

Fastest Lap of the Meeting
Presented by the Countess of March
Frank Sytner - Lola-Chevrolet T70 Spyder - 1:20.784 (Average speed 106.94mph)

Fastest Lap by a Lady Driver
Presented by Bank Sarasin
Desire Wilson - Willment Cobra Coupe - 1:28.204

Freddie March 'Spirit of Aviation'
The Foster-Wikner 'Wicko' - Entered by Joe Dible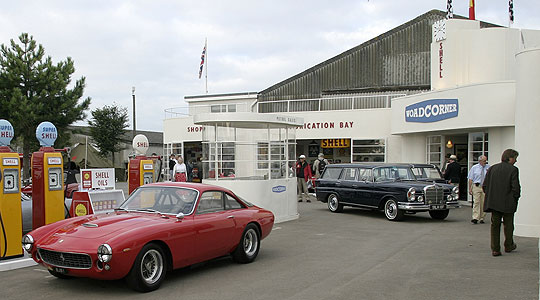 Goodwood Trophy
1. Mark Gillies - 1934 ERA A-Type R3A - 1.31.122
2. Ludovic Lindsay - 1936 ERA B-type R5B 'Remus' - 1.31.682
3. Stefan Shollwoeck - 1932 Maserati 4CM - 1.34.283

Madgwick Cup
1. Jac Nelleman - 1959 Lotus-Climas 15 - 1.27.290
2. Graeme Dodd - 1959 Cooper-Climax T49 Monaco - 1.27.056
3. Oliver Bryant - 1958 Lotus-Climax 15 - 1.27.257

Chichester Cup
1. John Chisholm - 1961 Gemini Ford Mk3A - 1.29.854
2. Martin Walford - 1960 Elva Ford 200 - 1.30.238
3. James Hicks - 1960 - Caravelle Ford Mk III - 1.29.730

Barry Sheene Memorial Race - Part 1
1. Wayne Gardner - 1966 Matchless G50 - 1.29.429
2. Michael Rutter - 1961 Manx Norton 500 - 1.31.047
3. Jeremy McWilliams - 1962 Manx Norton 500 - 1.30.967

Barry Sheene Memorial Race - Part 2
1. Wayne Gardner - 1966 Matchless G50 - 1.28.988
2. Duncan Fitchett - 1962 Manx Norton 500 - 1.29.351
3. Michael Rutter - 1961 Manx Norton 500 - 1.30.201

Barry Sheene Memorial Race - Result
1. Wayne Gardner - 1966 Matchless G50 - 1.28.988
2. Michael Rutter - 1961 Manx Norton 500 - 1.30.201
3. Jeremy McWilliams - 1962 Manx Norton 500 - 1.30.404

Fordwater Trophy
1. Don Salvage - 1965 TVR Griffin - 1.29.528
2. Jamie Boot - 1965 TVR Griffin - 1.28.768
3. Bill Wykeham - 1965 Ferrari 275 GTB/C - 1.30.603

St. Mary's Part 1
1. Jean-Marc Gounon - 1965 Plymouth Barracuda - 1.32.873
2. Barrie Williams - 1963 Ford Galaxie 500 - 1.33.808
3. Jackie Oliver - 1963 Ford Galaxie 500 - 1.33.986

St. Mary's Part 2
1. John Young - 1965 Ford Mustang - 1.32.027
2. Oliver Bryant - 1965 Plymouth Barracuda - 1.32.106
3. Nick Whale - 1964 Mercury Comet Cyclone - 1.32.314

St. Mary's Result
1. Gounon/Bryant - 1965 Plymouth Barracuda - 1.32.106
2. Oliver/Lynn - 1963 Ford Galaxie 500 - 1.33.986
3. Fitzpatrick/Bryant - 1964 Dodge Dart - 1.32.920

Whitsun Trophy
1. Ray Bellm - 1965 Ford GT40 - 1.20.790
2. Nick Whale - 1965 McLaren-Chevrolet M1B - 1.21.493
3. Jean-Marc Gounon - 1965 Ford GT40 - 1.22.233

Freddie March Memorial Trophy
1. Darren McWhirter - 1954 Lagonda V12 Le Mans - 1.32.040
2. Stuart Graham - 1955 Austin-Healey 100S - 1.32.613
3. Nigel Webb - 1952 Jaguar C-Type - 1.34.183

Brooklands Trophy
1. Mark Piercy - 1935 MG R-Type - 1.39.329
2. Tom Dark - 1935 MG Q-Type - 1.39.700
3. Hubert Fabri - 1932 Alfa Romeo 8C 2300Monza - 1.41.933

Richmond Trophy
1. Richard Attwood - 1960-type Ferrari 246 Dino - 1.27.718
2. Gary Pearson - 1958 BRM Type 25 - 1.27.858
3. Rod Jolley - 1958 Lister-Jaguar Monzanapolis - 1.30.240

Royal Automobile Club TT Celebration Part 1
1. Barazi/Vergers - 1963 Jaguar E-Type Leightweight - 1.27.588
2. Golin/Gounon - 1963 Ferrari 250 GTO /64 - 1.27.637
3. Stretton/Williams - 1963 Iso Bizzarini A3C - 1.28.241

Royal Automobile Club TT Celebration Part 2
1. Barazi/Vergers - 1963 Jaguar E-Type Leightweight - 1.27.535
2. Hardman/Verdon-Roe - 1963 Ferrari 330 LMB - 1.27.928
3. Bryant - 1964 AC Cobra - 1.27.960

Royal Automobile Club TT Celebration Result
1. Vergers/ Barazi - 1963 Jaguar E-Type Leightweight - 47.32.800 (1.27.529)
2. Oliver/Lynn - 1963 AC Cobra Le Mans - 47.33.871 (1.29.169)
3. Hardman/Verdon-Roe - 1963 Ferrari 330 LMB - 47.34.828 (1.28.108)

Sussex Trophy
1. Jean-Marc Gounon - 1957 Aston Martin DBR2 - 28.58.931
2. Stuart Graham - 1958 Lister-Chevrolet 'Knobbly' - 22.05.842
3. Julian Majzub - 1958 Sadler Chevrolet Mk3 - 22.16.142

Glover Trophy
1. Barrie Williams - 1964 BRM P261 - 1.25.383
2. Frank Synter - 1962 Lotus-climax 24 - 1.25.323
3. Rob Hall - 1962 Lotus-BRM 24 - 1.27.051
Words - Steve Wakefield
Photos - Roger Dixon / Goodwood - all strictly copyright


---
ClassicInside - The Classic Driver Newsletter
Free Subscription!