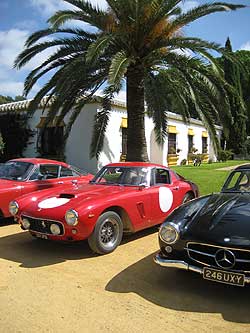 Every two years, Adrian Hamilton and the team from Duncan Hamilton & Co Ltd organise The Hamilton Tour – a private rally for up to 35 cars and 70 people. In 2006, the Tour took in the Andalucian area of Southern Spain, based around four nights at the five-star Las Dunas Beach Hotel.

Andrew Fletcher and Valerie Gahan were among the participants, and this is their account of events, an abridged version of the original included in February's issue of Cars for the Connoisseur. The Editor, Charles Harbord, has generously offered subscribers to Classic Driver a FREE sample issue. See below for details.

Late September was an ideal time for driving in southern Spain and Hamilton had gathered a fine collection of rare cars, old cars, modern cars, fast cars, beautiful cars and beautiful people. A 1953 Ferrari 375 MM Coupe 4.2 V12 (ex-Ascari, Farina and Hawthorn) was crewed by Sir Paul Vestey and Matt Spitzley, and aroused some ribaldry due to its prominent display of sponsors. During Vestey's many years of European motor racing, sponsors' logos were conspicuous by their absence.

Neil and Freda Corner arrived in their 1932 Bugatti Type-55 8-cylinder 2.8-litre twin-cam supercharged, a gleaming yellow and black machine owned and loved by the Corners for 40 years. Freda was sporting a matching yellow and black Bugatti handbag, also 40 years old. Eric and Pauline Heerema enjoyed driving their recently acquired Jaguar D-type. Their Ferrari Monza was also present and was pressed into service following a rally excursion in the D-type… The Heeremas have recently achieved fame with their Sussex sparkling bubbly, a rival to Champagne. 'Nyetimber' has been voted England's best sparkling wine and is said to have something of a cult following, including the Queen herself.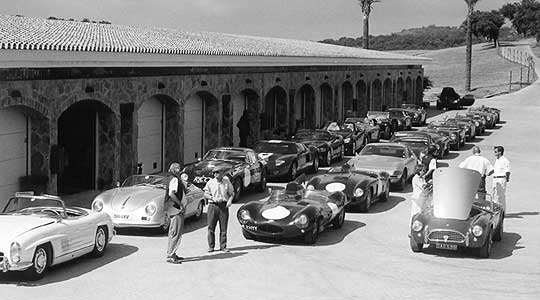 'Mo' (vying with Eric Heerema for supermarket honours on the basis of his very fine Cropwell Bishop Stilton) and Angie Skailes were driving their very pretty Alfa Romeo TZ racer. Meanwhile modern cars included a Ford GT, driven by Martin and Linda Colvill, and Simon Draper in his all-black Dodge Viper V10, sweetly accompanied by daughter Jessica.

The Tour set off from Las Dunas Beach on a glorious sunny morning, heading through the national park of Las Alcornocales towards the famous House of Domecq Winery at Jerez de la Frontera – and a private tour of the cellar, known as 'The Cathederal'. This was followed by an excellent sherry and a fine lunch.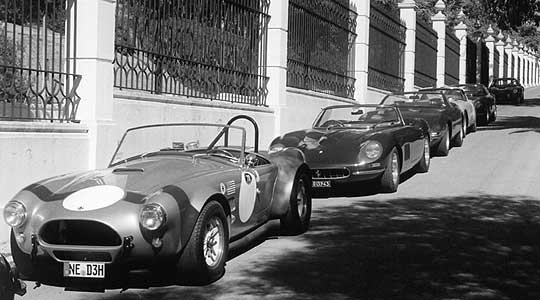 On the second day the Tour took the coastal route towards Cadiz, then inland towards Medina in Cedonia. We carefully followed our route instructions, whizzed past an indecipherable Spanish sign and three miles further on found that the road came to an abrupt end. After going around in circles, along with four other participants, we ended up in a cafe, to discuss this serious problem over our elevenses. Naturally we failed to reach agreement on the best way forward, so all crews set off in different directions, and amazingly all arrived for lunch at El Tonanejo, one of Spain's most famous bull farms where bulls are bred for the national sport.

We were given a delicious lunch of risotto, followed by sweet and juicy local grapes, while seated at tables under trees beside the bull ring. The farm owner joined our table for lunch and we discovered he is also a director of Real Madrid, and a friend of Beckham. He likened Beckham's current football skills to old bulls and old cars: "wearing out".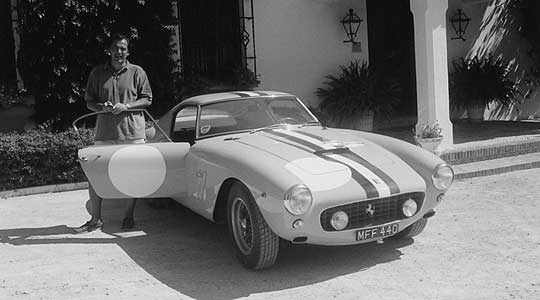 The final day provided a spectacular drive with magnificent views towards Ronda, situated on a towering plateau in the mountains of Malaga Provence. Our destination was the excellent Race Resort Ascari, a new concept recently established in southern Spain by Klaas Zwart, a Dutch oil magnate. It includes a motor circuit of three miles, offering 26 corners modeled on some of the most famous bends in motorsport. After lunch, the Tour participants were invited to spend the afternoon thrashing their cars on the circuit. Fastest lap went to Simon Draper in his V10 Viper but all cars, drivers, passengers and spectators survived without mishap, crashes or arguments.

The final evening comprised (yet more) Champagne and a gala dinner at Las Dunas Beach Hotel. In thanks for an excellent Tour, Thomas Fischer presented Adrian Hamilton with a fine model of a Type 35B Bugatti, as raced by his father Duncan.

Roll on 2008.

Text: Edited from a feature by Andrew Fletcher and Valerie Gahan, which appeared in Cars for the Connoisseur
Photographs: Cars for the Connoisseur
The Editor, Charles Harbord, has generously offered subscribers to Classic Driver a FREE sample of the February issue. Those interested should telephone his 24 hour hotline : +44(0)1747 830 977

Or e-mail him at: [email protected] - mentioning classicdriver.com.

For further details on how to subscribe to Cars for the Connoisseur please CLICK HERE

Adrian Hamilton's fabulous selection of cars for sale on Classic Driver can be found HERE.
---
ClassicInside - The Classic Driver Newsletter
Free Subscription!