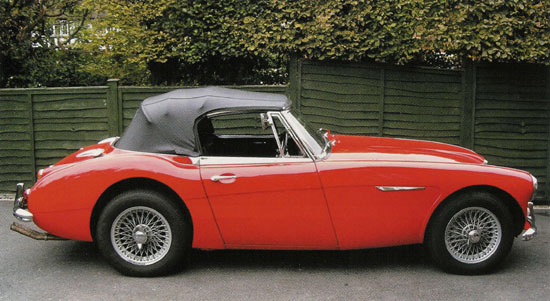 Bonhams regularly hold sales of automobilia, motorcycles and motor cars at the Great Yorkshire Showground, Harrogate and next week's sale will feature items to appeal to the true classic car enthusiast. Included in the sale are some traditional British sports cars such as this 1966 Austin–Healey 3000 Mk III Roadster, estimated at £12,000 – 15,000.
This particular car has had an interesting life. Originally supplied to Canada, it returned to the UK in 1989 and has since been restored to UK specifications – the restoration also including a bare metal respray to its present red livery. Equipped with the 4-speed gearbox and overdrive, it's described as 'benefiting from improvement' in the interior but nevertheless looks an attractive car.
| | |
| --- | --- |
| | |
Five Rolls-Royce are entered. There is a 1934 20/25hp Limousine Coachwork by Hooper, £5,000 - 7,000, a 1979 Silver Shadow II Saloon, £8,000 - 9,000, a 1967 Silver Shadow Saloon £3,800 - 4,200, a 1933 20/25hp Limousine Coachwork by Hooper £10,000 - 15,000 and a very nice 1981 Corniche Convertible at £23,000 - 28,000. In imaginatively titled 'Nutmeg' paintwork with tan leather interior and cream hood, the car picture here is described by the vendor as being in 'generally excellent condition'. A Bentley version, in green or dark blue with matching hood, would probably make a higher price but this does look a good example of a very elegant car when new.
The catalogue is full of items of curiosity. For example the 1994 'Overfinch' Range Rover 4.6-litre estimated at £8,000 - 9,000, or the three-wheeler 1935 Morgan Super Sports Roadster at £15,000 - 18,000. There is a rare 1950 Lagonda DB 2.6-litre Sports Saloon £10,000 - 12,000 and one of your author's favourites, a 1978 Ferrari 400GT Saloon at £12,000 - 15,000. With just 20,680 miles from new warranted by the vendor and in the rght colour combination of Light Blue/Tan leather this could be the one to go for.
Finally the other photographed car above is of course a Jensen CV 8. This 1964 example is estimated at £8,000 - 10,000 and would be an interesting alternative to a Jaguar saloon in this price range, being much more exclusive and having potentially more performance. Believed to have not been used regularly since 1999, it would probably benefit from some mild restoration – and turn out a very nice car.
For a full listing, see the Provisional Auction Lotlist
Bonhams next UK Sale is at London, Olympia, on 1st December, the final Bonhams Europe Sale is at their customary Christmas venue, Gstaad, on 19th December 2003.