11th July 2003 Bonhams at Goodwood Festival of Speed
Talking to James Knight of Bonhams the other evening, he was convinced they had the right entry for one of their top UK sales, the Goodwood Festival of Speed. Judging by the catalogue, just issued, they have succeeded in gaining some significant competition cars, including the last-of the-line Maserati powered front-engined GP car; the 1959 'Tec-Mec'.
The Maserati is 'refer department' but the whole story of the car is a fascinating one and I suppose the value would have to be compared with the many 250Fs (Cameron Miller 'Replicas' and 'Replica – Replicas'), as well as something like a Lotus 16. We'll see on the day.
Of slightly more mundane origins, but nevertheless a very significant racing car, is KPU 390C – the 1964 ex-Alan Mann Racing Ford Cortina. Resplendent in the familiar red and gold colour scheme of the Byfleet based team, the car was one of two entered in the 1964 and '65 seasons which culminated in an overall championship win in 1965 for racing baronet Sir John Whitmore. Estimated at £30,000 – 50,000 this is a sure-fire entry to any of the top historic racing events. As two original 'Jim Clark' are being sold at the TWR auction perhaps the result of this sale will affect the Bonhams price. Fantastic car.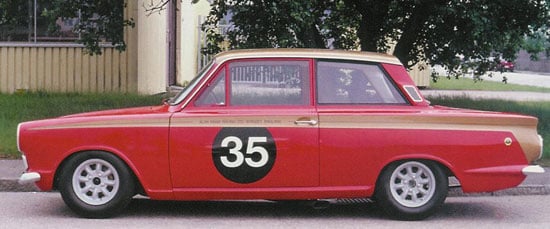 More competition machinery is entered, as befits the location, and includes the 1955 HWM-Jaguar Sports Racing Two-Seater, £250,000 - 300,000. Of a type that would have entered the Mille Miglia, as well as countless British club events, the Jaguar- powered car is an alternative to a Lister or the Coventry company's own C-type.
Of the road machinery there are two superb Ferrari Daytonas, one ex-Sir Anthony Bamford is finished in Black with Grey hide and estimated at £65,000 – 75,000. The other, in Daytona 'must-have' Blue metallic with Tan/Black insert seats, was the 1971 London Motor Show car, and has covered just 2,800 miles from new. In almost as-new condition the car should fetch £90,000 – 100,000.
Only one pre-war car is entered, a 1937 Lagonda LG45 Drophead Coupe at £70,000 - 80,000, but finished in two-tone blue colour scheme it is a magnificent example, having just returned from a sojourn in Monaco.
Preceded by the usual Automobilia sale, which includes some superb Dexter Brown and F.Gordon Crosby works, the motor car sale starts at 2.30 pm. Entry by catalogue as usual which should (please check!) gain you access to the event as well.
For a full listing, see the Provisional Auction Lot List
Text - Steve Wakefield