This listing is no longer available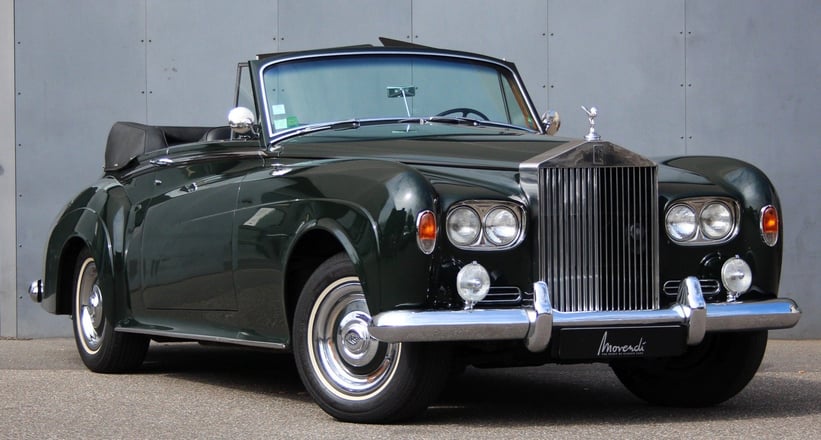 1964 Rolls-Royce Silver Cloud III
Convertible
Location

Performance

155 PS / 115 kW / 153 BHP
Description
- Erstauslieferung über AUTO Becker an Konsul Dr. Carl Underberg
- Einer von nur 25 Linksgelenkten je gebauten Silver Cloud III Convertible
- Vorbesitz laut Überlieferung: Schauspieler Nicolas Cage
- Seit 2009 in französischen Sammlungen
- Coachwork by Mulliner
Fahrzeughistorie:
Es ist außergewöhnlich, einen dieser sehr raren Silver Cloud Adaptionen von H. J. Mulliner bei uns zu haben. Nur 25 Fahrzeuge wurden insgesamt produziert. Dieses schöne Exemplar wurde in Velvet Green an den deutschen Likör Produzenten Dr. Carl Underberg ausgeliefert. Ausliefernder Händler war seinerzeit Auto BECKER, der dieses linksgelenkte Exemplar des Silver Cloud III als einer der 4 Händler für Europa ordern konnte: Ein Großteil der Lieferungen ging in die USA.
Dieses schöne Fahrzeug mit der ungewöhnlichen Farbzusammenstellung Velvet Green mit schwarzem Leder, verbrachte sein Fahrzeugleben wie viele herausragende Fahrzeuge an den schönen Orten der Welt: Deutschland, Kalifornien, Schweiz und letztens Monaco. Auch Schauspieler Nicolas Cage soll zu den Eigentümern gehört haben. Nun ist das Fahrzeug bereit für ein neues Zuhause.
- First delivery via AUTO Becker to Consul Dr. Carl Underberg, Germany
- One of only 25 left-hand drive Silver Cloud III convertibles ever built
- Actor Nicolas Cage is one of the previous owners
- Part of French collections since 2009
- Coachwork by Mulliner
Vehicle history:
It is extraordinary to have one of these very rare Silver Cloud adaptations by H. J. Mulliner in our showroom. Only 25 vehicles were produced in total. This beautiful specimen was first sold in the color Velvet Green to the German liqueur producer Dr. Carl Underberg. Back then the car was delivered by the German car dealer Auto BECKER, who was one of only 4 dealers in Europe in charge to order these special vehicles. Most of the Silver Cloud III deliveries went to the USA.
This beautiful vehicle comes in the unusual color Velvet Green and with black leather interior. The car had owners in Germany, California, Switzerland and Monaco. Nicolas Cage is also said to have been one of the owners. The vehicle is now ready for a new home.