This listing is no longer available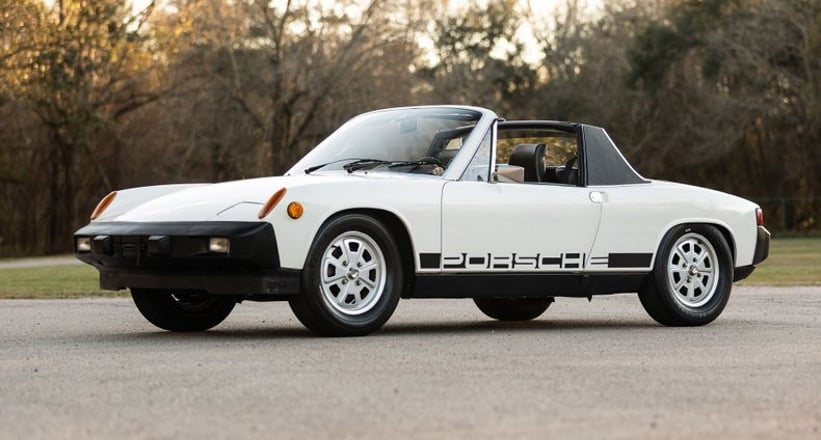 Location
Description
1976 Porsche 914 2.0L
Chassis No. 4762901050
Engine No. GC004022
Transmission No. 1980214 (5-Speed)
Final Production Model Year, Desirable 2.0L 914
A Highly Original & Unrestored Preservation
Near Lifelong California Residency
2020 Inspection, Major Service, and Detailing Performed (invoices included)
Accompanied by Original Owner's Manuals in Folio, Jack & Emergency Equipment
Completed in September of 1975, 4762901050 was finished as seen here in White over Black Leatherette upholstery and sold new on January 23, 1976 to Mr. Hanna of Danville, California – through Ely Porsche/Audi. The 914 would remain in California residency until August 2020, when it relocated to Houston, Texas.
Thoughtfully preserved, never restored, and maintained as needed, paint depth readings confirm original paintwork throughout, complemented by all original fittings and glass with VW-Audi etchings. It appears majority of the trim, lenses and adornments are original as well. The interior's cabin displays original Leatherette upholstery throughout with original square weave carpeting (protected by bespoke Coco mats) and console instruments. The dashboard, instruments and surrounds appear preserved originals as well. The front compartment contains a stowed 12/1973 dated spare wheel under the factory carpeted floorboard, along with original paint, body stampings, factory markings and decals. Preservation is consistent for its correct engine bay and rear compartment with original carpeting, pad and fastened jack. Leading to the 914's tidy undercarriage, which appears solid with much of its original finishes, sills, floors and period undercoating. Upon close inspection, the 914 retains the vast majority of its factory auxiliary equipment, electronics, and numerous untouched original details visible within its three bays.
All lights, instruments, safety equipment and auxiliary systems are in proper working order. The current Clarion radio was installed in 1991. A 2020 inspection and major service included clutch and speedometer cables, inner cv joints, shifter bushings, clean and repair steering column and safety system electronics, rear wheel bearings, general maintenance to engine and all fluid systems, and an extensive cosmetic detailing.
The Porsche comes complete with Original VIN-matched Owner's Manual, Technical Specifications book, Distributors and Dealers pamphlet, and other period pieces in original vinyl folio. This is supported by a records binder, jack and spare tire assembly. We offer this late production and notably preserved 914 2.0L for worldwide purchase and delivery from our Houston, Texas showroom.
$36,500.00
Offers Welcomed
To learn more about this vehicle, please contact our sales department at (281) 497-1000 or [email protected]
INTERESTED SELLING YOUR CAR or COLLECTION?
Our Philosophy is Selling Made Simple! We Are A Leading Buyer of Fine Motorcars since 2005. We Purchase Classic European Sport Cars - One Vehicle or Entire Collections
The above vehicle information is accurate to the best of our knowledge at the time it is posted to this website. It is provided 'as-is', without warranties as to its accuracy, whether expressed or implied, and is intended for informational purposes only. Corrections or additional information is always appreciated.
All advertised prices exclude government fees and taxes, any finance charges, any dealer document preparation charge, and shipping expenses. Vehicles are subject to prior sale. DriverSource is not liable for any errors, omissions, or mistakes.