This listing is no longer available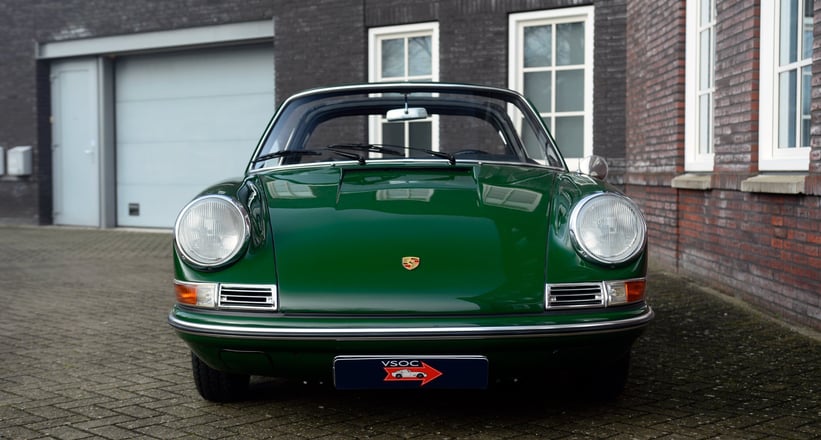 1967 Porsche 911
2.0 SWB Softwindow Targa - Irish green - Matching nr.
Location
Description
Model History
The Porsche 911 was developed as a more powerful, larger, more comfortable replacement for the Porsche 356, the company's first model. The new car made its public debut at the 1963 Frankfurt Motor Show. The car was developed with the proof-of-concept twin-fan Type 745 engine, and the car presented at the auto show had a non-operational mockup of the production single-fan 901 engine, receiving a working one in February 1964. It originally was designated as the 'Porsche 901' (901 being its internal project number). 82 cars were built as 901s. However, Peugeot protested on the grounds that in France it had exclusive rights to car names formed by three numbers with a zero in the middle. So, instead of selling the new model with another name in France, Porsche changed the name to 911. Internally, the cars' part numbers carried on the prefix 901 for years. Production of the first cars began in September 1964.
In 1967, Porsche introduced the high performance 911 S (160hp). The Targa version appeared the same year and was a true example of innovation for the German manufacturer. The Targa version had a roll-over bar, as automakers believed that proposed rollover safety requirements by the US National Highway Traffic Safety Administration would make it difficult for fully open convertibles to meet regulations for sale in the US, an important market for the 911. The name 'Targa' came from the Targa Florio road race, in which Porsche had several victories. For 1969, a fixed rear window roof replaced the rear hood.
This example
This particular example is a wonderful and rare Porsche 911 2.0 short wheelbase Softwindow Targa from 1967. The car was built on 29 May 1967 and was sold new via Schmidt & Koch Bremen, Germany. Original finished in Irischgrün (Irish green) with a black leather interior. The car was fitted with the following options: an antenna, speaker, interference suppression for radio, fog lights and a warning light system. The 911 2.0 litre Softwindow Targa is a very rare specimen as this model was only made in 1967.
After passing several countries and having different colors the owner decided to restore the car back to original.
In 2020 the car was professionally ground-up restored by well-known Porsche specialists Siemerink. The bodywork was completely stripped and repaired where necessary. All the mechanical parts have been serviced or rebuilt where necessary and a lot of documentation of the restoration is available. Since the restoration the car has done less than 500 km and it is very good condition.
This very rare Porsche 911 resides in outstanding condition with its original colours and engine. The first-year Softwindow Targa is one of the rarest 911 models and examples like these are highly sought after.
Price is euro 149.500,-.
Quite possibly one of the best 911 2.0 Softwindow Targa's available to the market today. This example ticks all the right boxes and will simply not disappoint upon viewing.
Please call for information +31 (0) 252 218980 or [email protected]
Very Superior Old Cars is a classic sportscar consultancy company founded in 1992. We work for our customers to assist with all aspects of their car interests. From acquisition consultancy with restoration advice and management to private sales in our boutique art gallery.
VSOC is centrally located between Amsterdam and The Hague, only 17 km (11 miles) from Schiphol Airport. There is a broad selection of classic sports cars on display, in very good or excellent condition, varying from beautiful yet affordable sports cars to rare and valuable collectors' items. When you intend to visit us in The Netherlands, we would advise you to make an appointment so that we can give you some quality time. If you arrive by plane or train, we would be happy to pick you up at the airport or train station. Besides Dutch we speak English, German, French and Italian.