This listing is no longer available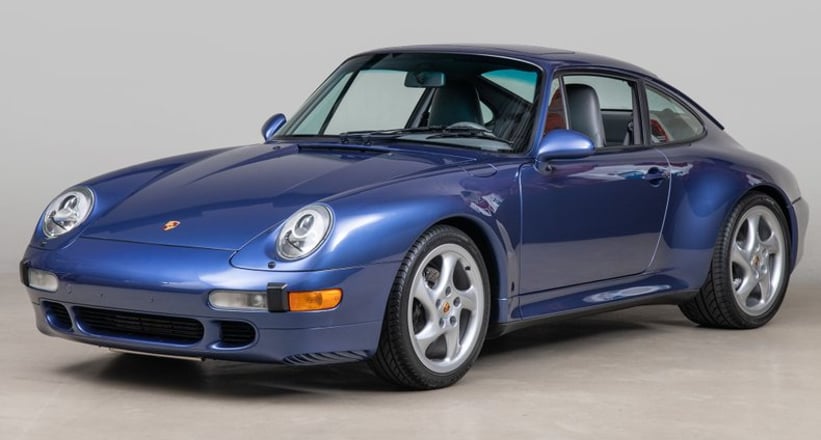 1997 Porsche 911 / 997 Carrera
Summary
Location
Description
Click here to view high resolution photos https://www.flickr.com/gp/[email protected]/X2trf7
One of 759 examples built in 1997 - built for 2 years
Documented 17,799 original miles per CarFax report
Stunning optional Zenith Blue Metallic with Classic Grey Leather interior combination
Porsche Certificate of Authenticity – Matching numbers
6-speed manual transmission, 3.6-liter flat six engine
Includes original window sticker, books, Porsche COA, tools, compressor, jack, and spare
The last of the air-cooled Porsche 911s, the 993 is the final evolution of the storied air-cooled lineage from Porsche. The 993 boasts all of the innovations and refinement that Porsche learned from building the 911 for 30+ years, creating a simple yet distilled package of excellent driving dynamics, everyday comfort and accessible performance. The C2S uses the same wide body as the coveted 993 Turbo but retains the purity of the 911 with only rear wheel drive. With an incredible amount of mechanical grip, boasting all of the updates to the 993 platform and a direct driving experience with enough power to get into trouble with, the 993 Carrera S is a fantastic performer in all conditions. With only 759 C2Ss sold in the US in 1997, this makes the late-model 993 a very rare air-cooled car indeed.
This Porsche 911 C2S completed production on February 20th, 1997. Optioned in the optional Zenith Blue Metallic with a Classic Grey Leather interior, the 6-speed manual car was paired with an uprated 3.6-liter air-cooled flat six engine with 283 horsepower. The C2S also had a number of additional factory options added. The window sticker shows a Limited Slip Differential with traction control, Power Seat Package (8-way), Brake and Shifter in Carbon and Aluminum, 18" "Turbo Twist" wheels, Motor Sound Package, Hi-Fi Sound Package w/10 speakers, AM/FM Radio with CD player, and Porsche floor mats. The total MSRP for this car was $72,110.
The first owner of this C2S was George Schultz, purchasing the car on June 6th, 1997 from Beaudry Porsche of Tucson, Arizona. George ended up adding the most miles to the Zenith Blue car, putting 14,157 miles on the car in just under 5 years marked by a yearly and vehicle maintenance Porsche Tucson on February 14th, 2002.
In 2015 the 911 was reported with 16,277 miles during a service which consisted of a maintenance inspection, fluids checked, and an oil and filter replacement. The most recent owner, a resident of Southern California, wrapped the entire front end in paint protection film to preserve the original Zenith Blue Metallic paintwork.
Upon arrival at Canepa, each and every collector car for sale is put through an extensive and diligent process called the "Canepa Difference." This includes a major and comprehensive mechanical inspection where all systems are checked and serviced as necessary. They also receive an award-winning concours-level detailing, a thorough cleaning of each and every surface that ensures that every car is a sight to behold. Finishing off with a foam-pad-only polish to enhance the paint finish, each and every car is a perfect example and a personification of Bruce Canepa's impeccable attention to detail.
This rare C2S comes with its original window sticker, Porsche Certificate of Authenticity, books, jack, tools, spare, and compressor. Ready for its next owner to enjoy the 6-speed manual rear-wheel drive air-cooled 911, this is a car that lives to impress the driver and those who ride in it. Whether you keep it as a future collectable or enjoy it as a daily driver, this C2S is ready for whatever road you find yourself traveling down.