This listing is no longer available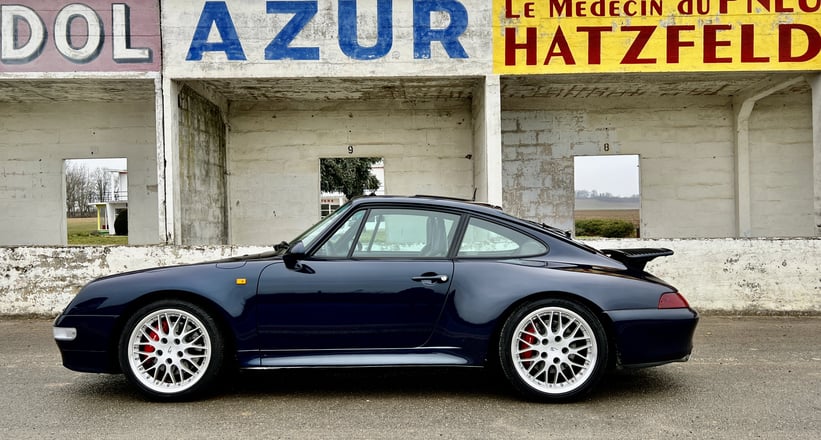 1998 Porsche 911 / 993 Carrera
Carrera 4S X51 300 hp
Location

Performance

300 PS / 221 kW / 296 BHP
Description
Timeless Porsche 993 4S Blue ocean metal delivered to Stuttgart on 16 03 1998 , X51 3.8 300 hp with only 106600 kms , notebook and complete history . Fully revised in our workshop , expertized , Price on request.
Still today and especially in its version " 4S X51 " this 993 Carrera is undoubtedly the most accomplished and mesmerizing of air-cooled Porsche. Introduced in 1995, the Carrera 4S pushes this effect to its peak with forms of sensuality… irresistible! , it has in good part the "turbo-look" of the superb 993 Bi-turbo. We find the spoiler and lower body more sporty and a lower body height of 10 mm at the front and 20 mm at the rear (sports chassis option present on our car). At the finishing level the 4S benefits from the equipment of the Turbo, which makes it a more "high-end" model as much as more sporty in its appearance. Still in 1997, the ultimate evolution of this already legendary Carrera is equipped as an option with a more powerful engine ( X51). It is the 3.8 L engine (type M64/21S) 300 hp at 6500 rpm, appeared on the 964 Carrera RS and equipped with the 993 Carrera Supercup and the 95 RS.
Our beautiful midnight blue metallic and these grey leather sport seats offer a magnificent combination perfectly preserved the car has always been maintained in the network with its notebook , it still has its original initial paint almost in its entirety. Delivered with approved value expertise, virgin technical control and French registration.
Options:
X51 Exclusive motor kit 3.8 300 hp
X26 Leather covered steering wheel airbag module
X51 3.8-litre engine 3.8 L 300 hp
139 Heated G-seat
650 Sunroof
335 Belts 3 pts
340 Heated D seat
030 Sport suspension
454 Cruise Control
340 Heated seat, right
601 Xenon Headlights
373 Recent Type Sports Seat (MY1995-1998), Left, Electrically Adjustable Height
374 Recent type sports seat (MY1995-1998), right, electrically adjustable height
454 Automatic Speed Control
545 Fuel tank 92 liters
567 Tinted windshield High
601 Litronic (xenon) headlights
602 Stop light Araised
XRG 18" Technology wheels with special paint
XEG Radio with navigation system
____________________________________________________________________________________________________________________________
Indémodable Porsche 993 4S Bleu océan métal livrée neuve à Stuttgart le 16 03 1998 , X51 3.8 300 ch avec seulement 106600 kms , carnet et historique complet . Entièrement révisée dans notre atelier , expertisée , Prix sur demande.
Aujourd'hui encore et surtout dans sa version " 4S X51 " cette 993 Carrera est incontestablement la plus aboutie et envoutante des Porsche refroidi par air. Apparue en 1995, la Carrera 4S pousse cet effet à son paroxysme avec des formes d'une sensualité… irrésistible ! , elle dispose en bonne partie du "turbo-look" de la superbe 993 Bi-turbo. On retrouve ainsi le spoiler et bas de caisse plus sportifs et une hauteur de caisse abaissée de 10 mm à l'avant et de 20 mm à l'arrière (option châssis sport présent sur notre auto). Au niveau finition la 4S bénéficie des équipements de la Turbo, ce qui en fait un modèle plus "haut de gamme" autant que plus sportif dans son allure. En 1997 toujours, l'ultime évolution de cette Carrera déjà mythique est équipée en option d'un moteur plus puissant ( X51). Il s'agit du moteur 3.8 L (type M64/21S) 300 ch à 6500 tr/mn, apparu sur la 964 Carrera RS et équipant la 993 Carrera Supercup et la RS de 95 .
Notre belle midnight blue metallic et ces sièges sport en cuir gris offre une magnifique combinaison parfaitement conservée l'auto à toujours été entretenue dans le réseau avec son carnet , elle possède toujours sa peinture initiale d'origine quasiment dans sa totalité . Livrée avec expertise valeur agrée, contrôle technique vierge et carte grise Française.
Options:
X51 Kit moteur exclusif 3.8 300 ch
X26 Leather covered steering wheel airbag module
X51 3.8-litre engine 3.8 L 300 ch
139 Siège G chauffant
650 Toit ouvrant
335 Ceintures 3 pts
340 Siège D chauffant
030 Suspension sport
454 Régulateur de vitesse
340 Siège chauffant, droit
601 Phares Xénons
373 Récent siège sport de type (MY1995-1998), à gauche, hauteur réglable électriquement
374 Récent siège sport de type (MY1995-1998), à droite, hauteur réglable électriquement
454 Contrôle automatique de la vitesse
545 Réservoir de carburant 92 litres
567 Pare-brise teinté Haut
601 Litronic (xénon) phares
602 Feu stop Araised
XRG 18" Roues avec peinture spéciale
XEG Radio avec système de navigation